Why celebrities have turned the tables on brands by ending their endorsements
Virat Kohli took a surprising decision to choose to not renew his deal with Pepsi as he said he would not endorse any product which he would not use.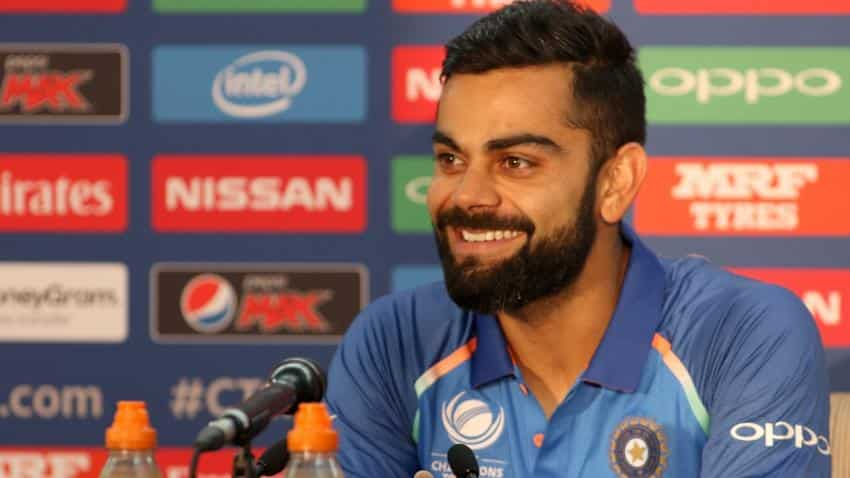 Indian skipper Virat Kohli addresses a press conference at the Oval in London on June 17, 2017. Photo: Surjeet Yadav/IANS
Key highlights:

Virat Kohli decided recently to stop endorsing cola brand Pepsi
He said he would not ask people to consume something that he himself does not
Amitabh Bachchan ended his 14 year association endorsing the brand Pepsi in 2014
While it has seen several times where brands dump their celebrity brand ambassadors over certain controversies or scandals, Virat Kohli's decision recently to stop endorsing cola brand Pepsi despite being offered a lucrative deal came as a change.
In the past we have seen even cola brands ending ties with their celebrity endorsers due to controversies. This was seen with Salman Khan when cola brand Thums Up decided to end their association with the star who at that time had was steeped in controversies. Even Snapdeal had ended their ties with Aamir Khan after a controversy regarding his comments on rising intolerance in the country.
International tennis star Maria Sharapova who had admitted to doping later resulted in an exodus of brands from her portfolio. The same was with Tiger Woods after news of his several affairs came to fore.
However, Kohli's decision to dump Pepsi is one of the few but growing examples of how celebrity brand endorsers are today taking it endorsement seriously.
He refused to renew the contract which ended in April this year saying that he would not ask people to consume something that he himself does not.
Besides this, Kohli will no longer endorse fairness creams or products of that genre, an official who works with Kohli told PTI.
This is definitely a bold stand taken by the Indian cricket captain to endorse brands and products he utilises and believes in. This is considering that cola brands can offer very lucrative deals. While his deal with Pepsi was not disclosed, his deals with Puma and MRF itself are worth Rs 100 crore each and the deal with cola brand was expected to be somewhere along the same line.
But Kohli is not the only celebrity that has dumped a brand selling a product which is unhealthy or frowned upon in society.
Actor Amitabh Bachchan ended his 14 year association endorsing the brand Pepsi in 2014 when he was confronted by young schoolgirl about being the face of a product that is full of negative ingredients. This he said made him brake off his association with the cola brand.
Other Bollywood actors such as Anushka Sharma, Kangana Ranaut, Ranbir Kapoor, Nandita Das and Randeep Hooda have all dumped the fairness creams category as a whole and have taken a stand that they will never endorse such brands or products. Many of them are reported to had even turned down deals to become the brand ambassadors of such products.
Another sports celebrity that has shunned endorsing cola brands is Olympic medal winner at Rio PV Sindhu. She clarified soon after winning the Olympics that she would not endorse cola brands or anything harmful for health.
Even the one time king of brand endorsements, cricket legend Sachin Tendulkar, had turned down a group of advertisers saying that he would never endorse any alcohol or tobacco brands.
Actor Aamir Khan has also reportedly turned down from endorsing a luxury car brand which had offered him a huge deal. The reason for this decision was that the actor currently only wants to work on ads that are socially relevant and that the brand did not come under the umbrella of social issues.
Even Akshay Kumar is said to have turned down a lucrative deal to endorse a paan masala brand.
One of the reasons why celebrities today are picky with which brands they endorse is due to backlash from people on social media and the greater public scrutiny that they come under as role models.
For instance, Deepika Padukone received severe backlash on Twitter and social media sites over her recent endorsement of Coca Cola. Some of the people called her irresponsible for endorsing such a drink.
Even former James Bond star Pierce Brosnan faced a barrage of tweets and comments condemning his endorsement of Pan Bahar masala in their ad campaign.
According to K V Sridhar, Founder and Chief Creative Officer of Hyper Collective there are two reasons for celebrity brand endorsers to be so picky these days is when they have money they can afford to be selective and how close the values of brand and them match.
"When you do have enough money then you do everything. When you have money, you have a choice on which brand you can endorse and which you do not want to. Added to this is the social media scrutiny that these celebrities have to endure these days," said Sridhar.
He further says that the vales of the celebrity and the values of the brand must match, because if they do not match then there is friction.
Ram Gudipati, Founder & CEO of brand consultancy firm Brand Harvest too says that every celebrity today is social and interacts with their audience and fans, and this is a reason why they have to picky with brands.
"Virat is seen as the epitome of fitness and his association with Pepsi would be seen as counterproductive. It will also be seen as a hypocrisy as cola brands are being reported as unhealthy in media," Gudipati said.
He too points out that money at this stage for celebrities such as Kohli and Amitabh Bachchan is not an issue. "They have reached a stage where Rs 6-7 crore won't matter."
He further points that this can even add to their benefit as they can charge a premium for those brands they do endorse. "Take for instance Aamir Khan, he is said to charge a high rate of Rs 8 crore per day. He can charge such a premium as the value he brings to the table for a brand. Even Amitabh Bachchan for that matter, what he charges and what value he drives for a brand is several times more," said Gudipati.
Sridhar Ramanujam, Founder & CEO of Integrated Brand-Comm says that Kohli has now become one of top sportsmen globally and with that comes reputation which he has to manage. He further adds that brand endorsement rules have become strict too as celebrities today cannot endorse things they don't use.
Recently, the Advertising Standards Council of India (ASCI) released new rules that held celebrities responsible for the claims made in ads in which they appear.
"Celebrities have to worry about their reputation more than the money, as that is taken care of. They have to come across as concerned about the society," said Ramanujam.
ALSO READ:
Updated: Sun, Sep 17, 2017
11:40 am
Mumbai, ZeeBiz WebDesk