Brand Mascots vs celebrity endorsements: At 50, Salman Khan has aged but Amul girl hasn't
Amul girl, with all her wit and cheeky commentary on social and political views, carries on unhinged.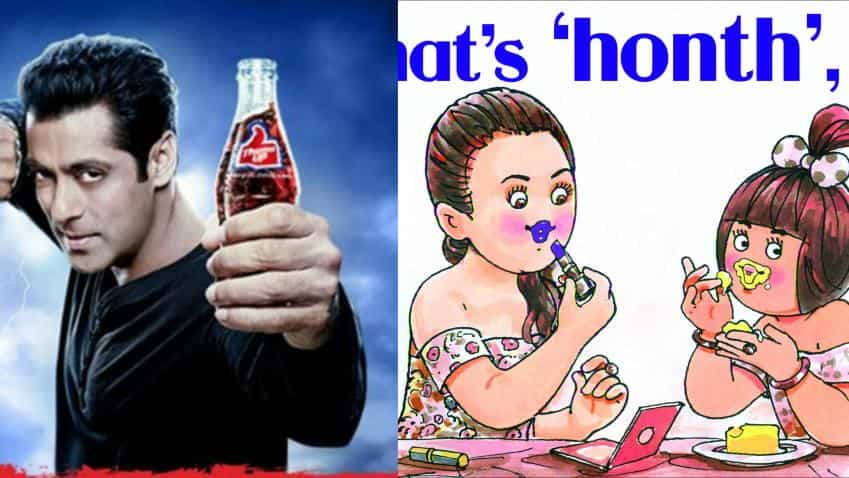 Salman Khan from ThumsUp and an Amul girl.
Updated: Fri, Oct 28, 2016
04:40 pm
Mumbai , ZeeBiz WebDesk
There is an opinionated girl that adorns hoardings and newspapers and there is a veteran actor who's brand bears the brunt every time he opens his mouth. The former is Amul girl and the other is Salman Khan. 
The Amul Girl brand mascot has captivated hoardings as well as newspapers with her clever wit and play of words on various issues. It would be unfair on Khan to term him as the only one who has invariably harmed few of the brands he chose to endorse. There have been other cases as well. For instance, another Khan, Aamir, whose comments on 'intolerance' led to e-commerce giant Snapdeal facing backlash on social media and subsequently not renewing his contract. 
Internationally, tennis star Maria Sharapova admitted to doping which resulted in an exodus of brands from her portfolio. 
With the advent of social media and lines between private and public lives blurring, celebrities are more often coming in the line of fire for expressing their views on sensitive issues. The brands that they endorse are ending up absorbing a lot of brunt of public ire. 
Amul girl, with all her wit and cheeky commentary on social and political views, carries on unhinged.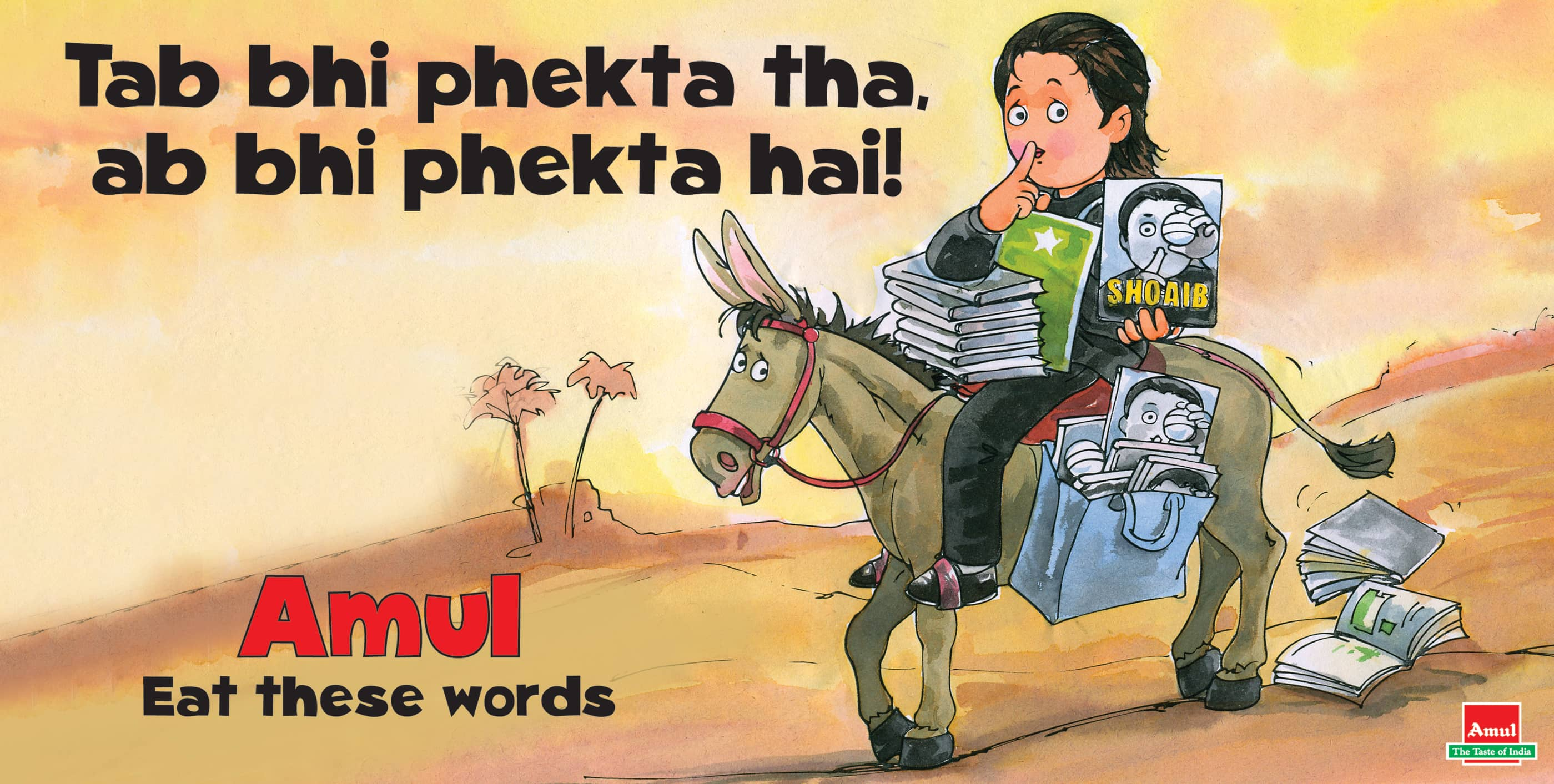 "I have been against celebrity endorsements as they do not add anything for a brand. Brands are paying a lot of money to celebrities to endorse it and what is the kind of return on investment (ROI) for it? This is especially when they endorse several other brands," says Rahul Dacunha, Creative Director of Dacunha Communications, who handles the Amul girl campaign.
The price of celebrity endorsements can be high as in the case of Salman Khan, Thums Up is estimated to have paid him around Rs 18 crore for the endorsement deal. Aamir Khan's deal with Snapdeal was estimated to be a whopping Rs 30 crore. Even Ranbir Kapoor is estimated to charge Rs 20-30 crore per endorsement.
The cost of brand mascots on the other hand is nearly negligent. A reason why there are some brands apart from Amul that choose to still use brand mascots.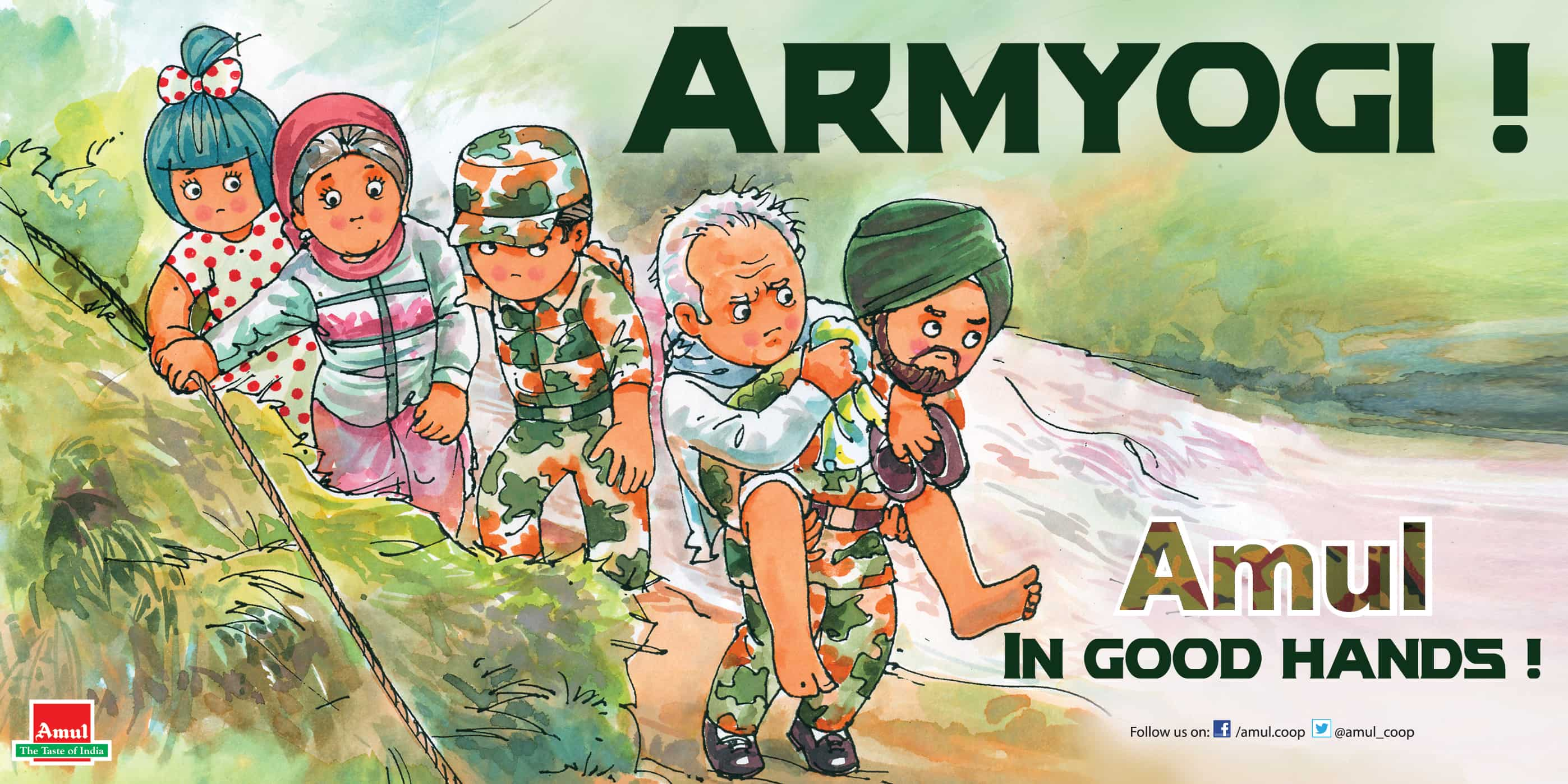 Other such examples include Air India's Maharaja, Vodafone's Zoozoo, ICICI Prudential's Chintamani, the Michelin Man, Kelloggs' Cornelius Rooster, KFC's Colonel Sanders and McDonald's Ronald McDonald.
R S Sodhi, Managing Director of Amul, "We believe very strongly in the concept of the CCC – the central continuing character, in this case a mascot like the Amul girl. She creates instant brand recall and over 50 years the consumer associated her with Amul."
However, all brands do not share the same vision and those using mascots are getting slimmer. 
Asian Paint's brand mascot Gattu has disappeared and was replaced by a plain 'AP' logo. 
Even cola brand 7UP, part of PepsiCo, abandoned their brand mascot Fido Dido for Bollywood actor Mallika Sherawat and Anushka Sharma.
So despite the benefits of brand mascots why do a lot of brands such as 7UP choose celebrity endorsements over it?
Harish Bijoor, brand expert and CEO, Harish Bijoor Consultants said, "Brand mascots are the old way of doing things when celebrity endorsements were not the norm. Brand mascots represent standardisation and consistency. As days changed marketers understood that it was just static imagery. Celebrity endorsement is a way to get the most contemporary faces to represent your brand."
He adds that brands that don't want to spend much would go for a low-cost brand mascot, as celebrity endorsements are very expensive.
Sridhar Ramanujam, Founder & CEO of Integrated Brand-Comm points out that a brand mascot takes a very long time to build and that could be a reason for their dying popularity. 
"Marketing managers today don't think long term. They tie-up with a 'star' and look for instant fame," he said. There is instant awareness with celebrity endorsements, he says.
Brands today change their identity very fast. That is why brands don't have mascots today. But for old and long running brands, mascots make sense for them as it keeps the continuity of the association.
Dacunha agrees. He says, "Maybe many ad agencies think celebs are a quicker way to get brand recall than a big idea or a mascot. Big ideas or mascots take time to build and enter the consumers mind."
Moreover, there is also a question of continuity and maintaining a brand mascots standards despite changing agencies or the creators hands. 
For instance, in the case of the Amul girl campaign, it has been passed to Rahul from his father Sylvester. It is Dacunha along with Mahesh Jhaveri and Jayant Rane who have been working on the campaign nearly 365 days of the year for decades on years.
However, this dedication towards a brand from an ad agency is seldom seen today in India. When asked about what the plans were to pass the Amul girl campaign to the next generation, Dacunha said that he hadn't given much thought to it.
Get Latest Business News, Stock Market Updates and Videos; Check your tax outgo through Income Tax Calculator and save money through our Personal Finance coverage. Check Business Breaking News Live on Zee Business Twitter and Facebook. Subscribe on YouTube.