Consumer electronics industry welcomes govt move for Budget allocation towards MSIPs, EPF
The government has increased the allocation for incentive schemes like M-SIPS and EDF to Rs 745 crore in 2017-18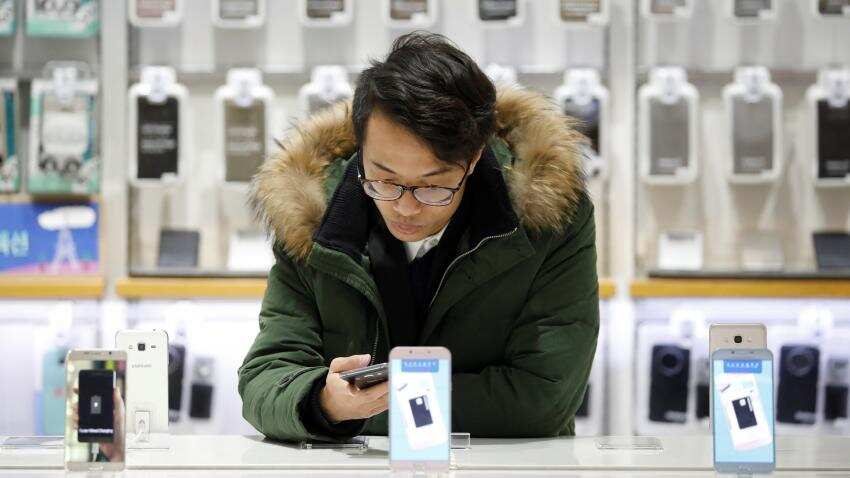 A man looking at a mobile in a store. Photo: Reuters
Updated: Wed, Feb 01, 2017
08:18 pm
Mumbai, ZeeBiz WebDesk
There was some things for the electronics manufacturers to benefit from in the Union Budget 2017 announcement for Finance Minister Arun Jaitley. While recognising tech industry he said that the government is creating an eco-system to make India a global hub for electronics manufacturing.
"Over 250 investment proposals for electronics manufacturing have been received in the last 2 years, totalling an investment of Rs 1.26 lakh crore. A number of global leaders and mobile manufacturers have set up production facilities in India. I have therefore exponentially increased the allocation for incentive schemes like M-SIPS and EDF to Rs 745 crore in 2017-18. This is an all-time high," Jaitley said.
Manish Sharma, President & CEO, Panasonic India & South Asia, and Executive Officer, Panasonic Corporation welcomed the announcements saying, "The Union Budget 2017 will have a long term impact, it needs to be analyzed further when it comes to the appliances and consumer electronics industry. This budget, a lot of impetus has gone to rural economy and allocation on infrastructure by the honorable finance minister. From a consumer electronic company point of view we were expecting direction on the upliftment in supply chain and logistics in India. The budget allocated towards MSIPs and EPF looks progressive and will surely reduce dependency on imports in the industry."
He further added, "We look forward to the next draft of GST to come forward, however the government's move on imposing a 2% special additional duty on populated printed circuit boards (PCB) used for mobile phones imported into the country, will provide adequate protection to the domestic industry and give the necessary impetus to Make-in-India under the GST regime."
Anirudh Dhoot, Director, Videocon said, "With 100% rural electrification, lowered tax rates for MSMEs, and increased allocation towards schemes like M-SIPS and Electronic Development Fund (EDF), the budget fosters positive steps to further accelerate manufacturing capabilities and boost employment in the country. High disposable income as a result of lower tax rates will lead to higher purchasing power of the individuals. This will lead to increase in demand of consumer goods."
"Also, we are happy to learn that GST is on track and will be implemented in April 2017. In addition to this, the Abolishing of Foreign Investment Promotion Board to ease the inflow of Foreign Direct Investment (FDI) will expand investments significantly. All this will play an extremely important role in realization of Government's dream of 'Make in India'," he added.
Arvind R Vohra, Country CEO & MD, Gionee India said, "We are positive, that the Government's increased allocation and incentives in schemes like M-SIPS and EDF will provide the necessary push to the mobile and internet manufacturing economy . Also the allocation of INR 10,000 crore in BharatNet provides the much needed boost for the penetration of Digital India into the rural segment, and for strengthening the consumptions of smartphones"
Rahul Agarwal, MD & CEO, Lenovo India says, "The Tech-India agenda in the budget is a great highlight for the IT companies. We are pleased that the budget addresses the last mile connectivity issue which was a missing link in the earlier plans.  Digi Gaon and Bharat Net are positive steps and will inevitably boost IT penetration. Focus on Digital Literacy will act as an enabler for job creation and skill development. Thrust on such initiatives provide an impetus for companies like Lenovo. However, we would expect more proactive measures from the government on ease of doing business as the cost of compliance in India is higher as compared to other countries, because of which large scale manufacturing is not yet shifting to India."
Nitin Butani, Vice President, Zeeva said, "The reduction of tax on select income brackets leaving more disposable income in the hands of consumers is a boon for all consumer goods makers like us. We expect to a positive resulting impact within the consumer electronics market. It is also very encouraging and positive to see budget policies positioned to support the start-up community and help them grow into sustainable and stable firms. We hope to see continued government support for start-ups."
Vishal Gondal, CEO and Founder, GOQii said, "Emphasis on improving Healthcare and Digital infrastructure of the country have been the key areas of focus for the government in this year's Union Budget. I believe that this digital penetration will also help healthcare become more affordable and accessible for the people in this country. Till now, the health data in India was fragmented and government's move to consolidate it with the Aadhar Card is a positive sign as it shows that preventive healthcare is a priority for this government. To boost this sector further, government is trying to attract more investment and reduce the cost of medical devices. We are hoping that this benefit will be extended to the wearable healthcare segment too which has been propagating the concept of preventive healthcare in India. In addition to this, with the tax rebate for the startups, the government is ensuring that the future of the business lies with them."