Budget 2017: ICRA expects government to keep fiscal deficit target of lower than 3.5% of GDP for FY18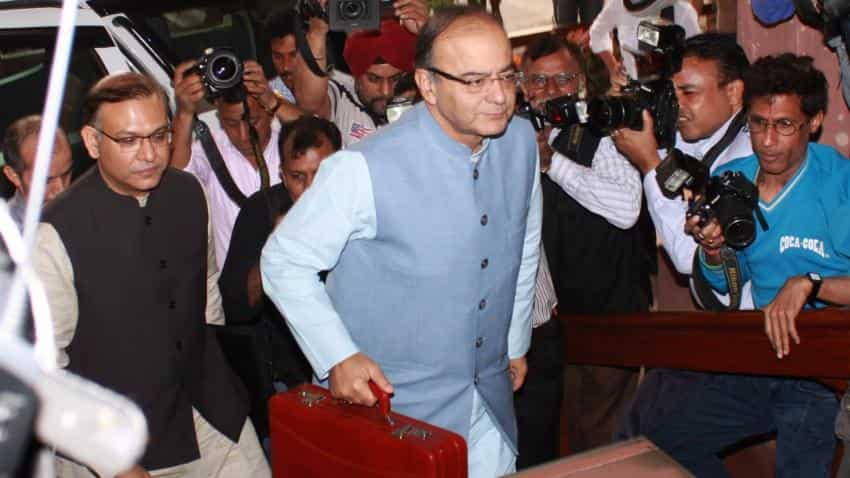 Finance Minister Arun Jaitley entering the Parliament building for presenting the Union Budget 2016-17. Image Source: IANS/Amlan Paliwal
As the Government of India prepares to announce its Union Budget 2017-18 in February, its unlikely to budget a fiscal deficit target higher than 3.5% of gross domestic product (GDP) for the fiscal year 2017-18 (FY18), said ICRA in its latest report on Budget 2017 expectations.  
The country's Union Budget for 2016-17 (FY17) had indicated a fiscal deficit target of 3.5% of GDP for FY17 and 3.0% of GDP for FY18. 
"In ICRA's view, the Government of India (GoI) is unlikely to budget a fiscal deficit for FY18 that is higher than 3.5% of GDP (i.e., the BE for FY17) or lower than 3.0% of GDP (the rolling target for FY18). Assuming nominal GDP growth of 11.2% in FY18 (relative to the Advance Estimate for FY17 released recently by the CSO), a fiscal deficit range of 3.0-3.5% of GDP in FY18 translates to Rs. 5.1-5.9 trillion, in absolute terms," cited the ratings agency in a report. 
According to ICRA, the government's Budget 2017 comes after it announced demonetisation of old currency notes of Rs 500 and Rs 1,000 on November 8, which led to massive cash crunch across the country and is likely to have negative impact on the economic activity in some sectors in the next two to three quarters.
It expects the country's economic growth to stabilise with a lag even after the government's remonetisation move.
"With limited demand growth, moderate capacity utilisation and stressed balance sheets of various corporates, any meaningful recovery in private sector investments is unlikely in the next one to two quarters. Therefore, we expect the Government to significantly expand its budgetary allocation towards infrastructure sectors, and permit CPSEs to raise additional funds through institutional finance and market borrowings. Modest relief in the form of reduced direct taxes and subventions to the lower income groups could also be provided, to give a fillip to consumption growth," ICRA said. 
On interest rate cuts by the Reserve Bank of India (RBI), ICRA has projected that there is a room for incremental repo rate cut of 25 basis points over the next six months. The RBI will present its next monetary policy meet on February 8.
ICRA expects the government's announcement of goods and services tax (GST), demonetisation, digital transactions and Income Declaration Scheme (IDS), among others to widen the country's tax base whereby resulting in imminent reduction of corporate tax rates. 
ALSO READ: Budget 2017: Should Arun Jaitley relax his fiscal deficit target? 
"In ICRA's view, the augmentation of the revenue base is likely to be directed toward infrastructure and social spending, and any significant reduction in the corporate tax rate would be accompanied by lowering of exemptions," it said in a research note. 
On personal income tax, ICRA expects the government to maintain the exemption limit and slabs at the present levels. However, its expects the government to give some rebate to the salaried class in the upcoming budget. 
"...A rebate of Rs 5,000 (equivalent to an increase in the exemption limit from Rs 250,000 to Rs 300,000) could be provided to the taxpayers, to give some concessions to the salaried class. This would simultaneously boost sentiment by raising the disposable income of the bulk of the tax payers without posing too much of a risk to inflation, while retaining them in the tax net," ICRA said in a note. 
On indirect tax for most industries, the ratings agency do expect any significant change other than simplification and removal of inverted duty structures. However, the state governments' indirect tax revenues (including sales tax, excise duty on alcohol and stamps and registrations collections) are expected to be adversely impacted in the second half of fiscal year 2016-2017 (FY17) because of the deferral of consumption after the note ban.
Besides, ICRA expects the government to increase the service tax rate in the upcoming budget to align it closer to the rate expected under the GST, which is likely to be implemented by September 2017.
On sector-wise expectation from Budget 2017, ICRA expects the government to increase public sector spending and incentivising private sector to take up new projects in infrastructure and construction sectors thereby aiding in revival of investment cycle. 
ICRA said, "To revive private sector interest in taking up new projects, the infrastructure sector expects creation of an independent regulator for specific infrastructure sub-sectors, and steps towards easing of regulatory environment. The sector is also looking at further steps to improve long-term funding availability for the infrastructure sector. In this regard, higher allocation towards NIIF is expected." 
ALSO READ: Budget 2017: Industry, experts want corporate tax slashed to 25%
On road sector, the ratings agency expects the government to come up with measures to improve the long-term fund availability to the sector. 
For real estate sector, ICRA expects the government to propose some measures in Budget 2017 to boost consumer confidence as well as demand for real estate.
"Given the moderate pace of implementation of the Pradhan Mantri Awas Yojana (PMAY) programme till date, the enhancement in budgetary allocation, higher subsidies/incentives for private developers and frameworks for land aggregation/allocation under the scheme can help in improving participation in the affordable housing scheme," ICRA noted. 
For commercial real estate developers, further relaxation in certain taxation norms for Real Estate Investment Trusts (REITs), such as capital gains on sale of asset, will be a favourable development, it said. 
On coal mining sector, it expects the government to enable greater competition in the sector by enabling Coal Mines Act 2015 whereby allowing commercial coal mining by private entities.
"To enable greater competition in the coal mining sector, allow commercial coal mining by private entities by invoking the enabling provisions of the "Coal Mines (Special Provisions) Act, 2015," ICRA said.
For the oil and gas sector, it expects the government to provide adequate subsidies and incremental budgetary allocation to the oil marketing companies (OMCs) for strategic oil reserves project .
"Reduction in cess on crude oil production from the current level of 20% ad-valorem. Incremental budgetary allocation for strategic oil reserves project," ICRA said in its Budget 2017 expectations report.
"Reduction in custom duty on LNG import to encourage consumption in various sectors, especially in view of the Government of India's efforts to increase gas consumption in total energy mix and low prices of competing liquid fuels," it added. 
ALSO READ: Budget 2017: Payment gateway cos expect govt to offer incentives, tax breaks & exemptions to boost digital transactions
Get Latest Business News, Stock Market Updates and Videos; Check your tax outgo through Income Tax Calculator and save money through our Personal Finance coverage. Check Business Breaking News Live on Zee Business Twitter and Facebook. Subscribe on YouTube.
Written By:
Tejal Yerunkar
Updated: Tue, Jan 24, 2017
04:19 pm
Mumbai, ZeeBiz WebDesk