Can a campaign to remove tax on sanitary pads help Indian women adopt better hygiene?
Nearly 88% women in India do not use sanitary napkins and majority do not know the importance of menstrual hygeine. However the issue has been sidelined over the years to give importance to social media campaigns.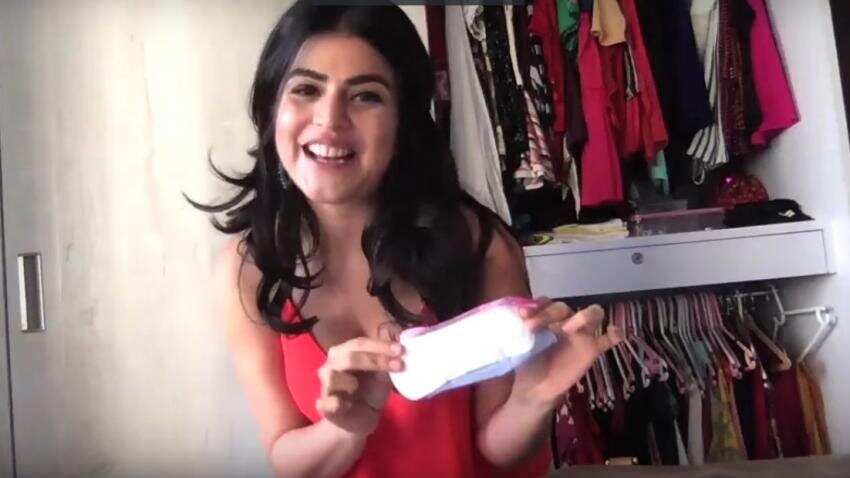 Screen grab from Indian actress, Shenaz Treasurywala's video petition to remove tax on sanitary pads. Image Source: Youtube
"Saying the words 'sanitary napkins' in public is like saying 'Voldemort' in a Hogwarts corridor," stand-up comedian, Aditi Mittal once joked about the unspoken language amongst women when it came to their monthly periods.
Making the transition to womanhood has never been easy but with existing taboos in India only a handful are aware of the use of sanitary napkins, menstrual hygiene and proper disposal of sanitary pads.
Out of nearly 350 million menstruating women in India those using sanitary napkins penetration was lower than 15%, as per Times of India report on June 28, 2016.
A 'menstruation practices' survey conducted by Nielsen analysts in 2016 showed that 80% of 1200 post menarche respondents or girls who have had their first period were not aware of the importance of washing menstrual cloth.
Only 28% of nearly 2000 respondents of the survey were using sanitary napkins versus 74% who used cloth.
A recent initiative about which quite a lot has been spoken of is that of She Says with the popular hashtag –#LahuKaLagaan, meaning – the 'Price of Blood.'
"We had started this initiative last year in collaboration with Global Citizen to spread awareness and through the campaign a lot of statistics came to light about the usage of sanitary napkins," She Says Lead Advocate Prageeyaa Khanna said.
She Says is an organisation based in Mumbai, dedicated to end sexual discrimination and increase empowerment of women in India.
The objectives of the organisation pertains to making sanitary napkins tax free, ensuring the implementation of governmental schemes on providing low-cost pads and vending machines for the dispensation of sanitary pads be spread to other parts of the country.
"An essential commodity by definition means something if the supply is not available in the market it would hamper your day to day consumption. Sanitary pads are still not considered an essential commodity by the Indian government," Khanna said. 
The campaign which drew up a major uproar on Twitter and Facebook brought in celebrities to make the sales pitch to Finance Minister, Arun Jaitley even stronger of – Removing sanitary pads from Goods and Service Tax ambit.
"Periods are a biological phenomenon and I do not feel the government should make any money over a woman's period," Khanna said. 
The tax levied on sanitary napkins can vary anywhere between 12-14.5%.
The Delhi Government recently announced a reduction in tax from 12.5% to 5% on pad packets costing more than Rs 20.
Among the states with higher taxes was Rajasthan at 14.5%, Chhattisgarh at 14%, Punjab at 13% and Arunachal Pradesh at 12.5%.
Under the new GST proposed which is expected to be implemented from July 1, the tax on sanitary pads is expected to be 12% under the third tier commodity goods.
Singer Vishal Dadlani, actor Aditi Rao Hydari, Shenaz Treasury, food writer Kunal Vijayakar and comedians - Cyrus Broacha, Mallika Dua and Rohan Joshi were few people who asked for the removal of tax on this 'luxury product.'
"We have over 11 million Twitter impressions for the #LahuKaLagaan campaign," Khanna said.
Asked if the campaign would send a bigger message to the government if more women were using pads Khanna said, "That could take a very long time. You need to understand that tax and awareness both go hand in hand and they are two sides of the same coin. You cannot have one without the other." 
Johnson & Johnson owned Stayfree began the 'Support a Woman' program with Nadathur Trust and in partnership with Samhita Social Ventures Pvt Ltd that provided access to NGOs to address social issues.
The company encouraged donations from people and said that it would provide six months' free supply of Stayfree sanitary napkins to 'the beneficiary.'
Everyone remembers Whisper's 'Like a Girl' campaign that brought the message of increasing confidence levels of women. The company boasted about receiving an 'overwhelming' response on social media.
Yet, all the social media campaigns would not help rural women to buy a pack of pads even if it was provided at a cheaper rate and those who do treat it as an essential product would buy it regardless of the price.
Moreover even though the removal of tax is important, hosting this campaign on social media sites might not reach the ears of women in rural areas in time.
She Says' Khanna said that they were working towards taking this awareness down to grassroots and rural folks however their primary aim was to first address the pricing and accessibility of a sanitary napkin.
"The moment we said 88% women India not using sanitary pads the educated and marketing people think only 'AA' problem the first 'A' stand for 'Affordability' and the second 'A' stands for 'Availability' in our experience we found a third 'A' -- Awareness on menstrual Hygiene is missing. Creation of awareness and talking about the taboo on menstrual hygiene is the biggest challenge," India's Menstrual Man Arunachalam Muruganantham said.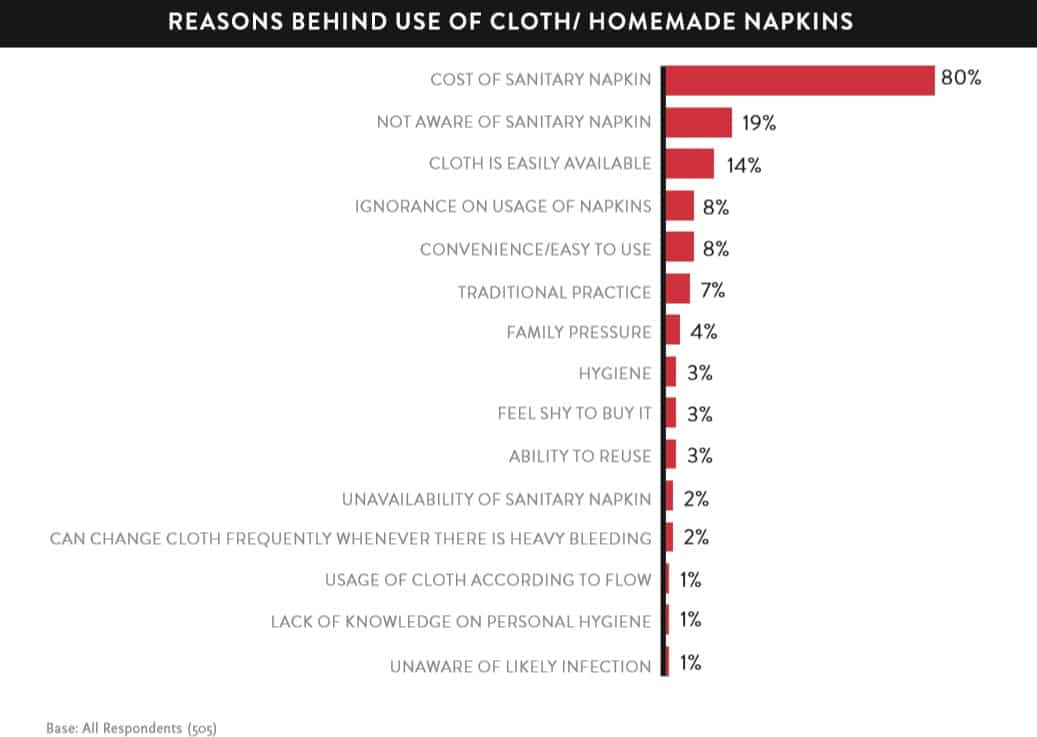 Often referred to as India's 'Pad Man,' Muruganantham is a social entrepreneur who is known to have worn a sanitary napkin to break the taboo of the product that is not openly spoken about in India.
Muruganantham, when asked about tax on sanitary napkins, said, "Yes, it should be removed. Once the women get awareness on personal hygiene the price should not be a hindrance to buy pads by poor women."
Cost of Menstruating
On an average, a woman spends 2,100 days of her life menstruating. An average pack of 10 sanitary napkins costs about Rs 30-40. 
Muruganantham, who started producing low-cost sanitary napkins in Coimbatore, in the early 2000s said that the root cause of 'high cost of the product lies in its fixed cost for machinery which is necessary to convert fibre used in sanitary napkins into absorbent cellulose.'
Zeebiz sent questions regarding the tax on sanitary pads and cost incurred by companies to Whisper who said they will not be participating in the story and Stayfree did not reply. 
Plethora of Low Cost Initiatives But No Follow Through Insight 
The number of initiatives to provide low-cost pads to the masses were a plenty but the follow through and progress of these schemes by the government is very hazy.
In 2016, the government had sanctioned funds of an undisclosed amount to provide sanitary napkins to school going girls.
The users of the napkin would pay Rs 6 per pad and workers of the organisation Asha were meant to distribute these pads.
In 2011, the late Jayalalithaa launched a 'Napkin Revolution' wherein over 41 lakh adolescent girls in the 10-19 age group in rural areas, 7 lakh new mothers and over 700 women prisoners stood to benefit from free napkins. 
In 2014, under the Swachh Bharat Mission, PM Narendra Modi has included sanitary pad dispensers, which began as pilot projects up north.
Along with the dispensers a plan for installing incinerators was also talked about whereby used pads would be disposed using electrical or physical fire-based incinerators.
After starting a pilot project in 2015 in Madhya Pradesh, the government was supposed to take Project Udita last year to a total of 90,000 aganwadis which provided women sanitary napkins via vending machines.
"We have not received any update on the status of vending machines and other free napkin schemes in the country from the government even after filing RTIs for the same," Khanna said.
However few non-profit organisations have been working to get pads to the women like the initiative Kanika Thrissur in Kerala where elderly women produce organic pads called Soukhyam – meaning 'healing' were also inspired by the work of Muruganantham.
Another called Nayan Hygiene & Health Care in Madhya Pradesh sell pads for Re 1.
Aajeevika Mission is another organisation that works in collaboration with the government to provide a pack of eight pads for Rs 20 to women in Madhya Pradesh.
Muruganantham's Jayaashree Industries which is a product of his own investment and inventions started the campaign 'Blessed to Bleed.'
He also started the campaign 'Menstruation is not an illness,' and currently has installed 4,800 pad producing machines across India. 
The cost per machine as per Jayaashree Industries website was Rs 75,000 and currently each machine produces 1,500 pads per day.
But the masses will be able to avail of cheaper pads only when governmental schemes see a proper follow through, which Muruganantham underlined as one of the problems faced on account of the 'poor administrative system.'
"We have sent out legal representation to the relevant ministries. Basis that we said we would file a PIL (Public Interest Litigation). But we did not hear back from them and that is when we started the campaign Lahu Ka Lagaan, Khanna said who further added, "We are asking to make sanitary napkins tax free the reason we are focusing only on this product is because a large portion of the country do not know what they are and they don't have access to sanitary napkins. So it almost becomes a luxury products more than a necessity."
Get Latest Business News, Stock Market Updates and Videos; Check your tax outgo through Income Tax Calculator and save money through our Personal Finance coverage. Check Business Breaking News Live on Zee Business Twitter and Facebook. Subscribe on YouTube.
Updated: Fri, Apr 28, 2017
03:14 pm
Mumbai, ZeeBiz WebDesk