I don't think Nintendo knew how big Pokemon Go was going to be: Jon Cook
VML's Global CEO Jon Cook and Chief Creative Officer, Debbi Vandeven in their first visit to India speak on their plans in India, GST, Pokemon Go and more.
(From left) VML's Global CEO Jon Cook and VML's Chief Creative Officer, Debbie Vandeven. Photo: VML
Kansas City is popularly known for the 1952 movie Wizard of Oz. However, there is another thing that small city in the US is also known for, that is the home of top global advertising agency VML.
The company at the start which was not too pleased with the association with its association movie learnt to embrace the essence of the Wizard of Oz (Heart, Brain, Courage and Home), explained VML's Global CEO Jon Cook and Chief Creative Officer, Debbi Vandeven who were recently to explain their expansion plans in India.
The Zeebiz team caught up with Cook and Vendeven to find out what they have in store for India and around the world.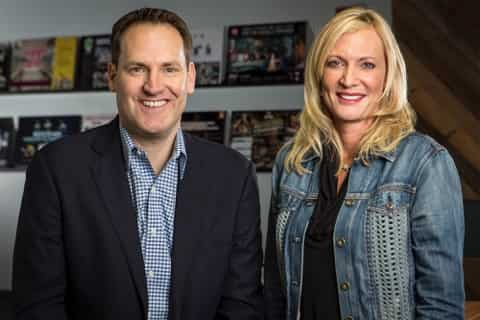 "A lot of companies when the expand to India they tend to make it an offshore production or development hub. India kind of got unfairly known for just being that. That reputation grew around the world. We didn't want to be that, we wanted the office here to be capable of world class creatives and world class technology. Anything less than that we are incomplete here," said Cook.
Will the introduction of GST impact ad agencies revenues in India?
Cook: On the surface it would look like it would prevent spending. I think it is going to be really good for advertising because its going to make advertisers and advertising agencies more focused on the true value for their ideas. It is going force people to think what they spend and how they spend it, which inherently forces the advertiser to be more bold and more impactful with their ideas. What will suffer are bad ideas and average work, because nobody wants to pay for that and wanted to anyway. It will put a bigger premium on good ideas and I think that is healthy for our industry.
What is the potential for brands to leverage Pokemon Go?
Cook: I think brands have a huge opportunity in Pokemon Go specifically, but in gaming in general I think it forces brands to be as entertaining as the game itself because you would quickly die as a brand in a gaming environment. A smart gaming operation would quickly kick that brand out if it did anything less entertaining than the game itself. I think from an agency perspective the ones that are working with brands pushes us to be as entertaining as the game. A lot of brands understand that they have to be bolder and better to compete in a gaming climate because you have to add value to it.
Vendeven: With Pokemon Go I was looking for which brands would jump in, but a brand would have be relevant. They have to add some type of value to the game and not just exist there.
Cook: There will be brands that will think just having a billboard in the game will be enough. They will convince themselves that by just being a part of it, it will be a good idea. You see it all the time. There will be brands that enhance the game and functionality and others who are there.
Is Pokemon here to stay or a passing trend?
Cook: I think a few things. One it will get bigger because brands are going to take it to the next level. I don't think Nintendo knew how big it was going to be but hopefully they are smart enough to build on it. I think brands are the ones that will take it to the next level. On a macro level I think Pokemon Go is going to teach masses about augmented and virtual reality so that true business applications will take advantage of it. That would not have existed before but now that you have got millions of people on it that understand the technology.
They (Pokemon Go) were at the right time at the right place with smartphone penetration increasing. People playing Pokemon Go are those who watched it as kids and are now at the right age and have disposable income.
In some way I think with Pokemon Go there is going to be a negative effect, as people are going to overuse it and try to force the use of augmented and virtual reality. The technology has been sitting there for more than a decade and I do worry that brands and marketers are going to create things that we just don't need and by the time they create those the world won't need it.
What is the next area of focus for VML Globally?
Cook: The next area of focus would be to get a really good capability in technology and marketing and the creativity around market. Our focus over the next few years or for as long as we can foresee would be to bring those two together in a very seamless way where as a consumer you don't feel that you are seeing technology or marketing, but a brand brought to life in a combination of ways.
How is the Indian advertising and marketing space different from global markets?
Cook: India has so much volume and mass and that's a positive, but sometimes it tends to be a bit more conservative in how they use digital channels. I don't mean that as a negative, I just mean the population is so big and inherently the brands feel that they are taking a bigger risk when they go off the script a bit. We hope to drive in India and hope we come to use the mediums in a more aggressive way because its a market which is learning to use the channel in a better way.
Vendeven: What we are finding is that the market is a little more conservative than the US. In the US we have a lot of legal issues that come into play, there is a lot of testing of work that can hurt the creative and we look for clients who are a little more brave. You should be able to change things fast enough in digital and not spend budgets that are so big in digital that you can't change it if you need to. Its like Pokemon they didn't expect to be as big as it is. But I honestly think in India I am very excited about the growth. It has beaten the US as far as the growth now. 
Get Latest Business News, Stock Market Updates and Videos; Check your tax outgo through Income Tax Calculator and save money through our Personal Finance coverage. Check Business Breaking News Live on Zee Business Twitter and Facebook. Subscribe on YouTube.
Updated: Wed, Aug 17, 2016
05:18 pm
Mumbai, ZeeBiz WebDesk