Demonetisation may compel government to provide stimulus: India Ratings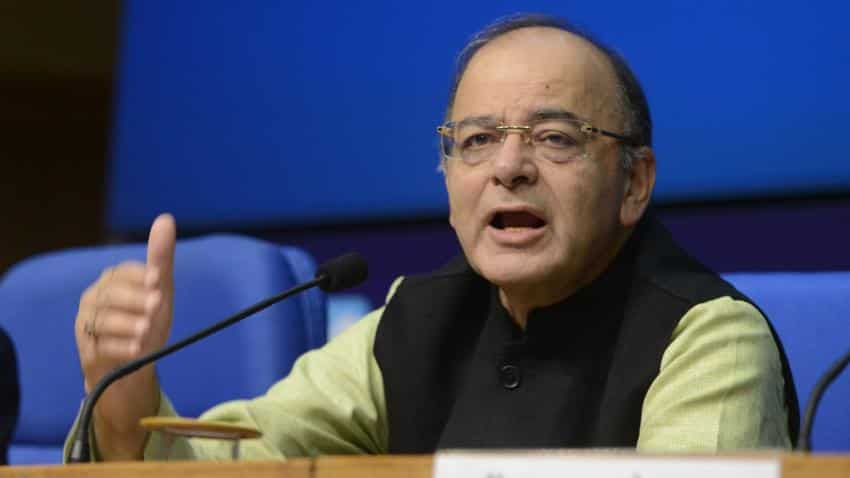 Arun Jaitley, Minister of Finance & Corporate Affairs, Government of India. Image Source: IANS
Updated: Wed, Jan 25, 2017
05:34 pm
New Delhi , PTI
Finance Minister Arun Jaitley in his Budget 2017 on February 1 may have to provide stimulus to the economy reeling under the 'Tsunami' of demonetisation, India Ratings and Research said on Wednesday.
Amidst an uncertain global scenario, the Fitch Group company said that the Indian economy was cruising well till the tsunami of de-legalisation of high denomination currency hit the country.
"...The major dilemma for the finance minister in the Union Budget FY18 is -- will a fresh round of fiscal stimulus be required to offset some of the ill effects of the currency de-legalisation," it said, in a report titled 'De-legalisation Tsunami May Compel Government to Provide Stimulus in Union Budget FY18'.
India Ratings estimates that gross domestic product (GDP) growth in the current fiscal will decline to 6.8% from its earlier estimates of 7.8% and "based on the present situation, the adverse impact may flow into 2017-18 too".
The sudden decision of demonetising Rs 500 and Rs 1,000 notes and the "chaos created thereafter" due to the limited availability of new currency has caused significant disruption to the economy, it said.
The informal sector is not a standalone sector and has strong-weak linkages with the formal sector, depending on the nature of goods/services dealt in. Therefore, where business in the informal sector has come to a grinding halt or down by 30-40% and beyond, it has resulted in either 'nil' or lower income generation, the agency said.
"Therefore, the ripple effect of de-legalisation is proving to be quite disruptive for the overall economic activity and employment," India Ratings said.
ALSO READ: Budget 2017: Should Arun Jaitley relax his fiscal deficit target?
It further said as the government embarks on preparing the budget, "the central question before it is - whether a fresh round of fiscal stimulus is required to offset some of the ill effects of currency de-legalisation".
According to the agency, Indian public finances (central, state and local bodies) suffer from committed expenditure syndrome as a large part of current expenditure is inflexible and cannot be reduced/curtailed in the short-run.
"Therefore, the fiscal room for stepping up expenditure has to either come from higher revenue collection or higher fiscal deficit. With growth expected to fall not only in FY17 but also in FY18, the government is clearly staring at lower tax collection," said India Ratings.
The headroom for the government to provide a stimulus either from the consumption side or investment side is quite limited and if a boost is to be provided then perhaps it will require compromising the fiscal deficit target and the fiscal consolidation process, it added.
India Ratings believes, the implications of the integration of the railway budget into the general budget will show an increase in capital expenditure.
ALSO READ: Budget 2017: ICRA expects government to keep fiscal deficit target of lower than 3.5% of GDP for FY18