Tired of paying record high petrol, diesel prices? These credit cards can help you save big
 The government has linked petrol, diesel prices the the ones prevailing in international markets with the hope that consumers would benefit. However, the move has boomeranged as fuel rates have soared to record highs.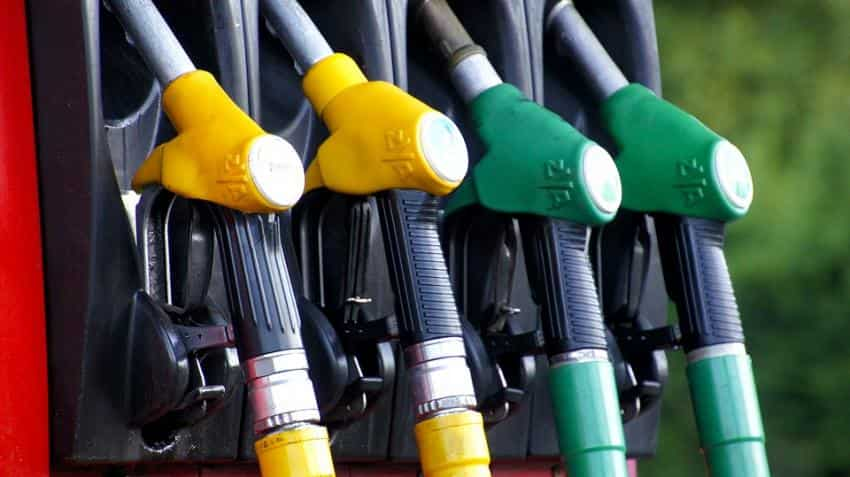 Representational Image: Photo: Pixabay
OMCs like HPCL, IOCL and BPCL take into consideration the international crude oil prices, government's excise duty and various state's Value Added Tax (VAT) to derive the final retail prices of fuel products including petrol and diesel. These two fuel products  have seen a hike of nearly Rs 3 per litre in just 10 days in various state capitals. While petrol prices have been rocketing along too, it is diesel prices that are grabbing everyone's attention as they are at levels that have never before been seen in the country. The rise in fuel prices have been the outcome of higher crude prices which soared to near $80 per barrel and depreciating Indian currency against US benchmark dollar index. 
Data given by Indian Oil shows that on Wednesday, petrol was available in Delhi at Rs 77.17 per litre, Mumbai at Rs 84.99 per litre, Kolkata at Rs 79.83 per litre and Chennai at Rs 80.11 per litre. Whereas diesel price in New Delhi stood at Rs 68.34 per litre, in Kolkata at Rs 70.89 per litre, Mumbai at Rs 72.76 per litre and Rs 72.14 per litre in Chennai. 
Thus, from May 14 till today, petrol prices have risen by Rs 2.51 per litre each in Mumbai and Kolkata, whereas New Delhi had slightly higher hike by Rs 2.54 per litre and Chennai the most by Rs 2.68 per litre. At the same time, diesel prices have risen by Rs 2.41 per litre each in New Delhi and Rs 2.26 per litre in Kolkata. Whereas, Mumbai and Chennai saw the most hikes - by as much as Rs 2.56 per litre and Rs 2.58 per litre respectively. 
The situation is grave and it is burning a hole in the pockets of every Indian who heads to a petrol pump near him/her. Taking into consideration the rising petrol, diesel prices, there are no solutions or relief in sight. In that case, let us put the onus of saving money squarely on the consumer. Yes, savings can be made and here let us list the benefits of using credit cards in purchasing fuel and thereby save your hard-earned money.
Here's a list of credit cards by banks, you can use to pay for your fuel purchases.
IndianOil CITI Platinum Credit Card
Earn 4 Turbo Points for every Rs 150 (2.67%) of fuel purchased
Full waiver of the fuel surcharge (1%) on fuel purchases
1 Turbo Point equals Rs 1 worth of fuel.
Your card must be swiped on Citibank EDCs only to avail the above benefits.
HDFC Bank Bharat Cashback Card
Enjoy 5% CashBack on Fuel Spends - which is upto Rs 150
1% fuel surcharge waived off on fuel transactions - for minimum transaction of Rs 400. Maximum cashback of Rs 250 per statement cycle
Cash back is obtained as points.
Avail up to 50 days of interest free period from the date of purchase (subject to the submission of the charge by the Merchant).
SimplySAVE Advantage SBI Car
Get freedom from paying the 1% fuel surcharge at any petrol pump
Transact an amount between Rs 500 to Rs 3,000 at any petrol pump in India to avail the offer
Earn 1 Reward Point per Rs 100 spent
Kotak Royale Signature Credit Card
Maximum fuel surcharge waiver allowed in a calendar year is Rs 3500
Save railway surcharge waiver for transactions on www.irctc.co.in and for transactions on Indian Railways Booking Counters. Maximum railway surcharge waiver allowed in a calendar year is Rs 500
Earn up to 4X reward points on every Rs. 150 spent across all spends done on your Kotak Royale Signature Credit Card
Axis Bank Privilege Credit Card
Valid on transactions between Rs 400 and Rs 4,000 only
Service tax charged on fuel surcharge is non-refundable. No reward points are earned on fuel transactions
Maximum benefits upto Rs 400 per month
On any transaction over Rs 2,500, contact the Bank to convert a big credit card purchase into EMIs.
RBL Bank Titanium Delight Card
This card is valid for fuel transactions between Rs 500 and Rs 4000. Maximum waiver of Rs 100 per month.
Gain Reward Points for all your domestic and international purchases and redeem them for the products you love.
Get a welcome gift of 2000 Reward points on 1st swipe within 30 days and payment of joining fees by first payment due date
Get 1000 additional points on spends of Rs 10,000 within 60 days
Standard Chartered Super value Titanium Credit card
This one is best for those who like spend more amount on fuel, as the card provides a maximum cashback of Rs 200 in every billing cycle at rate of 2.5%.
For availing the above benefit, a minimum amount of Rs 750 must be spent on fuel by you.
Apart from this, there is surcharge reversal of 2.5% offered on the transaction amount. On other spends, for every Rs 100 spent, cardholders' get 1 reward point.
IndusInd Bank Iconia Credit Card
You can get a fuel surcharge waiver every time you purchase fuel for a minimum transaction of Rs 400 and maximum of Rs 4000. IndusInd Bank can impose a cap for the maximum fuel surcharge waiver allowed per month.
There 2% also provided on weekend spends, and 1.5% weekdays additional points. It also gives reward points on fuel spends at any company petrol pump.
It needs to be noted that, for availing maximum benefit on fuel credit cards, a customer must remember four pointers - annual fees, fuel surcharge, usability at all fuel stations and redemption of rewards and points
Updated: Wed, May 23, 2018
04:55 pm
Mumbai, ZeeBiz WebDesk