New Rs 100 notes are coming this April 2018?
Rs 100 may be soon distributed in India in two formats both banknotes and coin pattern. RBI so far has revamped four bank notes in a move to eliminate fake currency.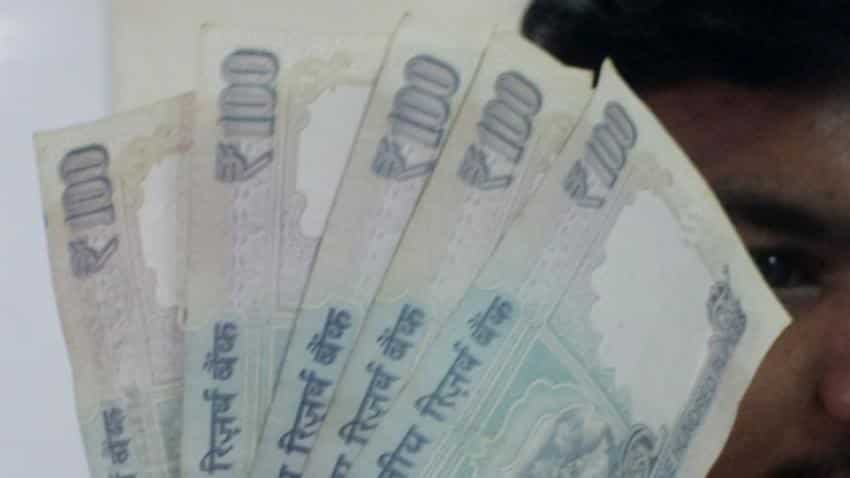 A person showing Rs 100 banknotes. Photo: IANS
Key Highlights: 

Since demonetisation, RBI has introduced four new banknotes in India
Rs 100 notes were only 7.1 million pieces valuing up to Rs 35,600 crore in FY17
Rs 200 and new Rs 50 notes are the latest to added in India's currency chest
After successful launch of Rs 200 and new Rs 50 notes, the Reserve Bank of India (RBI) is reportedly expected to start printing new Rs 100 notes in Mahatma Gandhi (New) Series from the first month of fiscal year FY19. 
A Livemint report mentioned that according to central bank sources, the RBI will start printing new Rs 100 notes in April 2018. The existing Rs 100 notes will be withdrawn gradually without any disruption.  
Size and dimensions of the new Rs 100 notes will be similar to the existing ones so that automatic-teller machines (ATMs) can dispense the new notes without any alterations to the machines.
Since the PM Narendra Modi's demonetisation move on November 08, 2016, the central bank has been revamping India's currency chest by introducing banknotes like Rs 2,000, Rs 200, new Rs 500 and new Rs 50. 
Redesigning of the banknotes is carried to ensure elimination of fake currency. 
Last month, RBI launched Rs 200 and new Rs 50 notes in the country. RBI said, ''In India, we have currency denominations of Rs 1, 2, 5, 10, 20, 50, 100, 500 and 2000. As such, in the lower end of the denomination series, Rs 200 is the missing one."
Introduction of new currency and design has been brought in consideration of various factors like ease of transaction for the common man, replacement of soiled banknotes, inflation and the need for combating counterfeiting, as per RBI. 
Not only new Rs 100 banknotes will be distrubuted in India, but also soon this currency will be launched into a coin pattern too. 
Government of India, in a notification on September 12, 2017, said, "The ministry in exercise of the powers conferred by clauses (d) and (e) of sub-section (2) of section 24 of the Coinage Act, 2011 (11 of 2011), the Central Government, has decided to coined Rs 100 – which are presently distributed in notes form, and introduce Rs 10 and Rs 5 coins with new features at the Mint for issue under the authority of the Central Government to commemorate the occasion of Birth Centenary of Dr. M. S. Subbulakshmi and Dr. M.G. Ramachandran Birth Centenary."
Rs 100 coins will be launched in two format first one baring the mark of Dr. M. S. Subbulakshmi and the second one barring of Dr. M.G. Ramachandran Birth Centenary.
According to RBI's annual report for FY17, there were 7.1 million pieces of Rs 100 notes valuing up to Rs 35,600 crore as on March 2017 compared to 4.3 million pieces totalling up to Rs 19,400 crore as on March 2016.
 
Updated: Wed, Oct 04, 2017
12:58 pm
Mumbai, ZeeBiz WebDesk