Jayalalithaa out of danger, says Nadda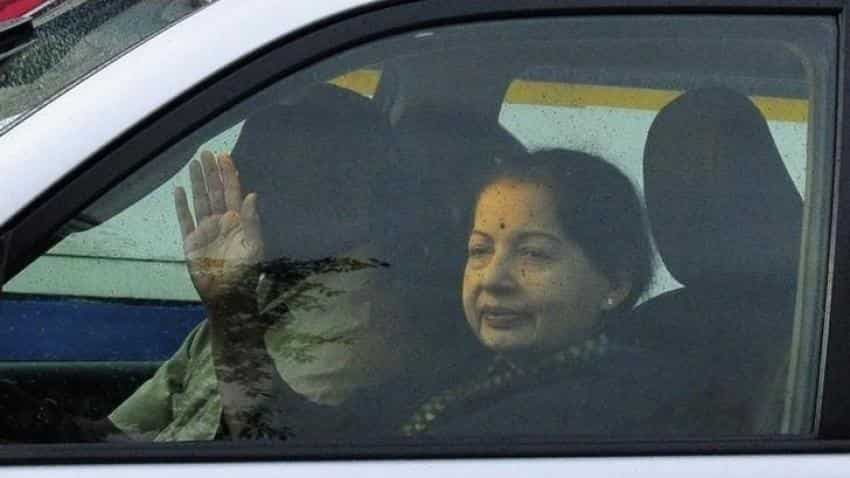 Jayalalithaa waves to her supporters from a car after leaving the jail in Bangalore. Image Source: Reuters
Tamil Nadu Chief Minister J. Jayalalithaa is out of danger, Union Health Minister J.P. Nadda said on Monday.
"She is out of danger but she needs ICU care," Nadda told India Today news channel.
The minister`s comments appeared to make no impact on Jayalalithaa supporters across Tamil Nadu who offered prayers for her recovery even as doctors at Apollo said they were doing their best.
Crowds began to mass outside the hospital from Sunday evening as news spread like wild fire that the AIADMK leader, who has been continuously in hospital since September, had suffered a cardiac arrest.
"Our doctors are closely monitoring (her) condition and they are trying their very best," tweeted Apollo Hospitals Joint Managing Director Sangita Reddy. She said the Chief Minister`s condition was "critical".
Maharashtra Governor C. Vidyasagar Rao, who has additional charge of Tamil Nadu, visited the hospital on Sunday night.
But he did not issue any statement after his hospital visit. On earlier occasions, Raj Bhavan used to issue statements each time he visited Apollo Hospital.
Apollo announced that Jayalalithaa, 68, suffered a cardiac arrest on Sunday evening. 
"She is being treated and monitored by a team of experts including cardiologists, pulmonologist and the critical care specialists," it added.
It said Richard Beale, a doctor in London, had been consulted and that he concurred with the line of treatment.
In an another tweet, the hospital said: "The Hon`ble CM is the beloved leader of the masses. Please join us in praying for her speedy recovery. #GodblessAmma #Jayalalithaa."
A large number of police personnel was deployed at the Apollo hospital. Security was also stepped up across the sprawling state where Jayalalithaa enjoys widespread support.
Tamil Nadu ministers and legislators gathered at the hospital along with a mass of AIADMK activists and Jayalalithaa fans. 
Many broke down outside the hospital as they collected behind police barricades. 
Some men and women, their hands folded, offered silent prayers for Jayalalithaa`s early recovery. Some tried to enter the hospital premises but were restrained.
Jayalalithaa`s posters were held high by her supporters.
Some parts of Chennai experienced shortages of milk as traders jacked up prices fearing a shutdown.
President Pranab Mukherjee joined the political class in wishing Jayalalithaa a speedy recovery.
"Distressed to hear about Jayalalithaa suffering a cardiac arrest, my prayers for her speedy recovery," said a post on the President`s Twitter account.
DMK chief M. Karunanidhi and his son and party leader M.K. Stalin also conveyed their best wishes for her recovery.
"Let her be healthy soon," tweeted Railway Minister Suresh Prabhu.
"Praying for Jayalalithaaji`s quick recovery. I hope she gets better very soon," said Congress Vice President Rahul Gandhi.
West Bengal Chief Minister Mamata Banerjee expressed her concern. "May God bless her."
"Maharashtra prays for her speedy recovery," posted Chief Minister Devendra Fadnavis. Rajasthan counterpart Vasundhara Raje tweeted: "Prayers for the speedy recovery of Jayalalithaaji. May she get recover soon."
RJD chief Lalu Prasad said: "Totally worried about the health of Jayalalithaaji... Let`s all pray for her."
Jayalalithaa was first admitted to the hospital for treatment of fever and dehydration on September 22. 
Apollo Hospital earlier said she was on the road to recovery and she could take a decision on going home.
Meanwhile, authorities in Kerala strengthened security on the border with Tamil Nadu. Police were told be alert in Thiruvananthapuram, Kollam, Idukki and Palakkad districts that border Tamil Nadu.
Updated: Mon, Dec 05, 2016
11:29 am
IANS