H1-B Visa: Can PM Modi change President Trump's mind?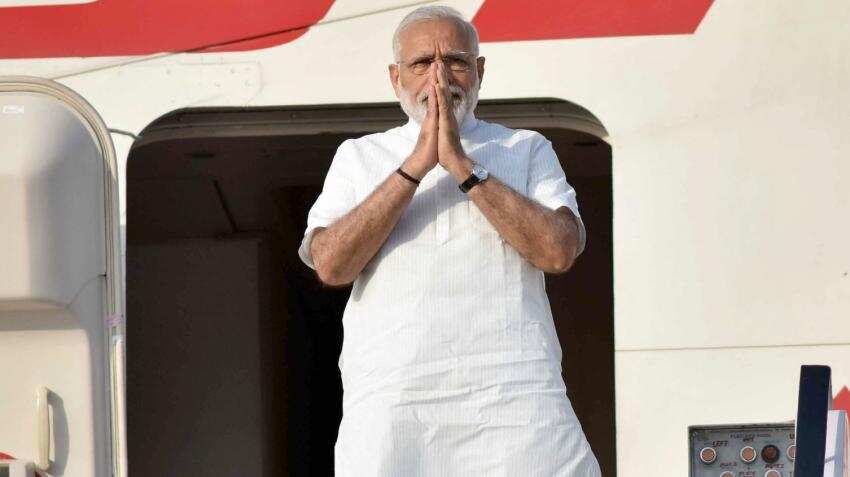 Prime Minister Narendra Modi emplanes for his visit to Portugal, USA and Netherlands. Image Source: IANS
Updated: Sat, Jun 24, 2017
10:26 am
Mumbai, ZeeBiz WebDesk
Highlights

PM Narendra Modi is on his two-day visit to the US starting next week from June 25 to 26 .
During his meet with Trump, Modi will explain how the H-1B visa programme has benefited both countries.
This will be Modi's first official trip to the US after Trump took charge in January this year. 
Prime minister Narendra Modi is visiting the United States (US) next week to meet president Donald President wherein he will hold discussions on India's concerns over possible changes in H-1B visa rules.
Modi is on two-day visit to the country from June 25 to June 26. He will meet Trump on June 26, Monday.
This will be Modi's first official trip to the US after Trump took charge as president in January this year.
In order to provide employment opportunities to American locals and curb misuse of H-1B visas, Trump in April this year signed an executive order named 'Buy American and Hire American'.
In the executive order 'Buy American and Hire American', Trump tasked the US Secretary of State, Attorney General, Secretary of Labour, and Secretary of Homeland Security "to suggest reforms to help ensure that H-1B visas are awarded to the most-skilled or highest-paid beneficiaries," Moneycontrol.com reported.
A total of 13 Bills are pending in the US Congress related to the larger issue of immigration, out of which four Bills are about H-1B, six Bills are about outsourcing and three are about immigration, it said.
The Trump administration in an order in April also said it would combat "fraud and abuse" within the H-1B visa programme, saying it favours foreign workers at the expense of American jobs, cited Livemint report. 
H-1B visas have dominated Trump's presidential election campaigns in 2016, whereby he promised American citizens that he would bring back outsourced jobs to the US and provide employment to its locals if he wins the elections. 
The H-1B visas are visas that allow foreign nationals to work in the US and are the most sought after work visas by Indians. 
H-1B visas are also used extensively by US-based technology companies for transfer of skilled techies to US-based locations, moneycontrol.com said.
The US is the second largest market in the world for Indian IT companies as about 60% of their revenues from services exports come from America.
India has time and again raised the issue of H-1B visa with the US authorities and asked them to liberalise the visa regime as Indian companies contribute significantly to the American economy, PTI reported.
India's IT outsourcing industry which is over $155 billion has been a beneficiary of the US H-1B visa programme for several years, cited the moneycontrol.com report.
The  H-1B visa programme has been the most favoured route by IT companies to send Indian engineers to the US, and the Indian IT industry has long been accused of misusing the current system to send more people to the US, it added. 
The technology companies depend on H-1B visa to hire tens of thousands of employees each year.
The US government at present uses a lottery system to award 65,000 visas every year and randomly distributes another 20,000 to graduate student workers, according to earlier Reuters report. 
Trump's review of the H-1B visa programme threatens Indian IT services companies like Infosys, Tata Consultancy Services, Wipro, among others, which advise large companies on tech issues and carry out a range of tasks for them and are heavily dependent on the H-1B visa programme. 
"The H-1B visa issue will be one of the issues on the table during the PM's visit," The Times of India reported quoting Trade Secretary Rita Teaotia, as saying. 
To address growing concerns on H-1B visa rules among domestic IT companies, Modi during his two-day visit to the US will explain how the H-1B visa programme has benefited both countries, Livemint reported citing Indian IT industry trade body Nasscom, as saying. 
"We have shared our views and perspectives ahead of this high-level visit that both countries have enormously benefited from India's IT industry and it is important to keep the channels open for growth of this bilateral economic partnership so that the sector continues to contribute to its full potential," Nasscom president R Chandrashekhar told Livemint ahead of Modi's visit to the US .
"The IT industry contributes in the high single digits to the country's GDP and is a big employer with four million workers," Chandrashekhar further said. 
"The visa issue cannot be taken lightly, compromised, discarded or stymied by the not-so-well-thought-through measures," Chandrashekhar added. 
Nasscom also hopes that PM Modi would highlight the Indian IT services' companies' efforts to create local jobs, according to moneycontrol.com report.
"This is an ongoing process, and we will continue to do it, as long as we continue to find skilled people. We are now increasingly working with US States where our companies have presence, work with universities and community colleges to work on reskilling programmes to try and get the right skillset. We are doing it on an ongoing basis,"  Nasscom vice president and head of global trade development,  Shivendra Singh, toldmoneycontrol.com 
Echoing similar views, industry association Assocham has recently said that the prime minister should push India's case by highlighting that American corporations enjoy liberal market access in India while repatriating profits back home, The Times of India reported . 
"Yes, they (US firms) do create jobs for Indians, but also repatriate billions of dollars as profits and India is fine with it," cited the newspaper quoting Assocham, as saying.
"Thus, it is absolutely unfair to target Indian firms which are facing increasing pressure in the US through different non-trade measures like visa fee and other unrelated levies," Assocham further said.
The chamber asserted that the US corporates are immensely benefiting by doing business with India and Indian companies and that must be conveyed to the US administration.
"It is a matter of concern that in the name of America First, restrictions are sought to be slapped on Indian IT firms, which are creating jobs in the US as well," cited Assocham. 
Get Latest Business News, Stock Market Updates and Videos; Check your tax outgo through Income Tax Calculator and save money through our Personal Finance coverage. Check Business Breaking News Live on Zee Business Twitter and Facebook. Subscribe on YouTube.