Ample demand but women cabbies in India continue to remain on the fringes
Women cab drivers has been a popular suggestion even with the Ministry of Road and Transport and Highways in India however cab initiatives like For-She, Viira and Priyadarshini are struggling to cope with the rising competition.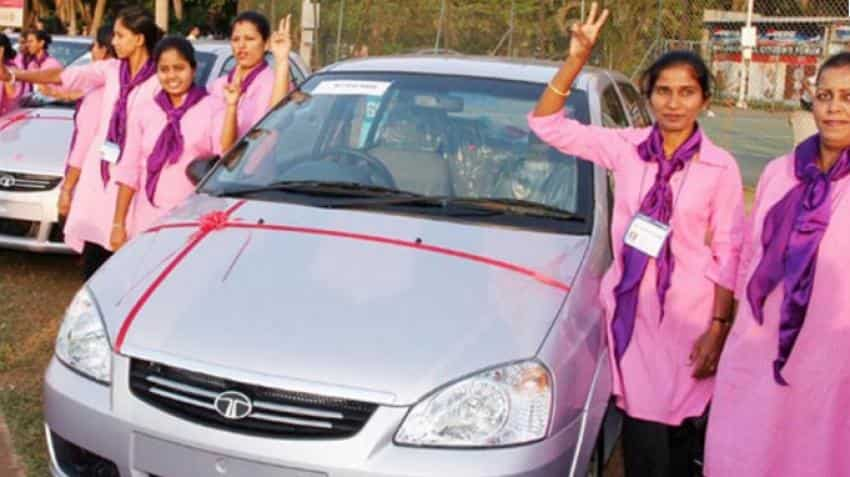 The initiatives, however, that began on account of rising crimes and violence against women have failed to cover much ground in India. Photo of Priyadarshini cab drivers. Image Source: Company website
Updated: Fri, Apr 21, 2017
10:18 am
Mumbai, ZeeBiz WebDesk
Ten years ago, when you hailed a cab you would have hardly expected to see a woman cabbie in the front seat asking you where to go next.
In 2007, social entrepreneur, Revathi Roy, started a one of a kind initiative, 'For-She.' It was a taxi service for women employing women drivers.
"There is a huge difference between the response today and ten years ago. Like today people ask specifically for a woman driver. Ten years ago, nobody even knew this existed," Roy who also founded Viira cabs in 2010, another taxi service for women, said.
Since then there have been many other initiatives including that by Meru cabs and others such as She Taxi in Kerala, Women Cabs in Bengaluru, She Cabs in Hyderabad and Priyadarshini cabs in Mumbai.
The initiatives, however, that began on account of rising crimes and violence against women have failed to cover much ground in India.
When asked Roy about the ratio of women drivers to demand and if there were enough she said, "Not at all. We are not even matching 0.0001% of the demand."
The outrage created over safety of women in app-based taxi hailing services in 2015 forced some of them to announce measure to enhance customer safety. Apart from rechecking driver details, cabs added an SOS button on their apps and promised to hire more women drivers.
Two years down the line, the targeted numbers of getting more women drivers on board by these companies seem to have come a cropper.
The rapidly evolving cab hailing app business could not be more unclear on its initiatives to garner more women drivers on its platforms.
"We have women driver-partners, both on cabs and auto-rickshaws, and others, as operators, who own a fleet of cars and employ both men and women to drive them," an Ola spokesperson told Zeebiz.
While Uber spokesperson said, "There are 200,000 active driver partners in India across 29 cities that we operate in. While we do not share the number of driver partner's basis gender, we have seen a significant uptick in the number of women drivers joining our platform."
On speaking to founder of Priyadarshini cabs' and social activist, Susieben Shah she explained how it has been a task for female cabbies and the companies employing them as well.
"The issue to see more women on the road is to ensure they have the wherewithal to buy a car and to pay for down payment that ranges from one lakh to a lakh and a half. Most of the women do not have access to these kinds of funds and their near and dear ones and friends do not want to give it to them. Yes, they may create these kinds of fund if a male wants it," Shah said.
Many women-friendly initiatives but no funds
Ola, who claimed to have 350,000 cabs in 2016, began the 'Pink Cabs' initiative in 2014 for Bengaluru women only.
The company declined to share the status report on the initiative.
After a rape incident of a 25-year-old woman by an Uber driver in Delhi, the company had enrolled 15 women free of cost to be trained with iCare Life.
Through this initiative the company said that it would create 'hundreds of jobs' for women.
"This goes a long way in motivating and empowering more women to receive training so they can embark on a rewarding career and become financially independent" said Revathi Roy who was a Senior Associate Vice President of iCare in 2015.
Uber also launched 'Real-Time ID Check' for its drivers on March 14 which prompted drivers to share a 'selfie' with the company before going online to help ensure the driver using the app matched the account with the company's file.
The company said that this feature will be made available in five cities in India, starting with New Delhi, Mumbai, Bangalore, Hyderabad and Kolkata and more cities will follow.
We are making efforts that are focused on helping hundreds of thousands of women across India take their first steps to entrepreneurship. "We see that number growing by over 40% quarter on quarter and that is very encouraging," Ola said.
But how much are these initiatives helping?
"They (Ola and Uber) can make it accountable. They can provide technology to make sure there is safety but beyond that what can a company do?" Roy said.
On asking Priyadarshini's Shah she said that though every organisation wants to make the ride hailing business safer but they lack the follow through with the initiative.
"In every city there is some organisation that are doing driver trainings but somehow without a focused approach they have not been able to get them into one umbrella. Funds is the main reason for this. It is a capital-intensive initiative. Ola and Uber despite being negative in their cash flow still continue to get funding but for women driver initiatives like ours which is the need of the hour there are not many investors are coming forward," Shah added.
Further, she said that the main problem in these initiatives not being focused was lack of funds.
High attrition rate
Priyadarshini cabs that operates solely in Mumbai began with only 25 taxis and will soon have 100 drivers on its platform.
"I will have 100 drivers by December and will be open to liaising with anyone. We are currently based in Mumbai and we hope to go to Pune and Calcutta soon," Shah added.
On an average women cab drivers work 10-12 hours or even more in Mumbai. This among many other things have been a reason for women to quit the cab driving industry in a short span.
"Fundamentally, because of the profession itself they are very enthusiastic but then they realise the work is hard. Being 10 hours on the road is not easy. The family then realises they are out of the house all the time," Roy who admitted to a high attrition rate said.
On the salary front, Roy said, "Most of my girls now work with Ola and Uber and they earn an average salary of Rs 30,000-40,000. Some girls have even got a salary over Rs 80,000 in some months."
"As soon as the girl becomes financially sustainable their marriageable value becomes good. So they automatically start getting offers and proposals. And that's when they get married or the family doesn't allow them to work anymore," Roy added.
"We have a problem of attrition, I would not say that it is the luxury of being a woman – getting married having children but we have continuous training," Shah said further adding, "We have about 167 drivers so far."
Shah also added that Priyadarshini faces an attrition rate of 15%.
Suggestions for moving toward a man and woman's world
"Training and employing women drivers should go hand in hand," Shah affirmed.
Roy who has also started Hey Deedee, an instant parcel delivery initiative by women in 2016 said, "We have to spend on mobilisation. We have to spend on marketing to get more women to join this profession. Then it is our responsibility to train them."
"By providing safe, secure, flexible and stress-free driving environment, we look forward to mobilizing and encouraging more women drivers to partner with Uber," Uber spokesperson said.
Ola said that they provide flexibility in timings to its drivers.
"The freedom and flexibility of working on a platform like Ola, attracts women and men, alike. They are not bound by time, they can choose their work timings, log-in, log-off in between the day and find the right balance for every individual," Ola spokesperson said.
In December last year, a committee set up by Ministry of Road Transport and Highways (MORTH) issued a draft policy on 'Taxi policy guidelines to promote urban mobility.'
"The State Government should take appropriate measures to promote skilling programs and facilitate removal of entry costs so as to encourage more women to join the mobility industry as commercial drivers," the committee said.
To this Shah said, "If you see the latent city taxi scheme despite my giving them a presentation as to why a certain amount of cars should be reserved for women taxis none of such reservations have been made. But we exist in spite and despite of them, don't we?"
Get Latest Business News, Stock Market Updates and Videos; Check your tax outgo through Income Tax Calculator and save money through our Personal Finance coverage. Check Business Breaking News Live on Zee Business Twitter and Facebook. Subscribe on YouTube.