Mahindra Holidays plans to develop resort in Jammu and Kashmir: Kavinder Singh, MD & CEO
The tourism industry has 10% contribution to the country's GDP and employs around 4-4.50 lakh people across India, says Kavinder Singh, MD & CEO, Mahindra Holidays and Resorts India Limited, during an interview with Zee Business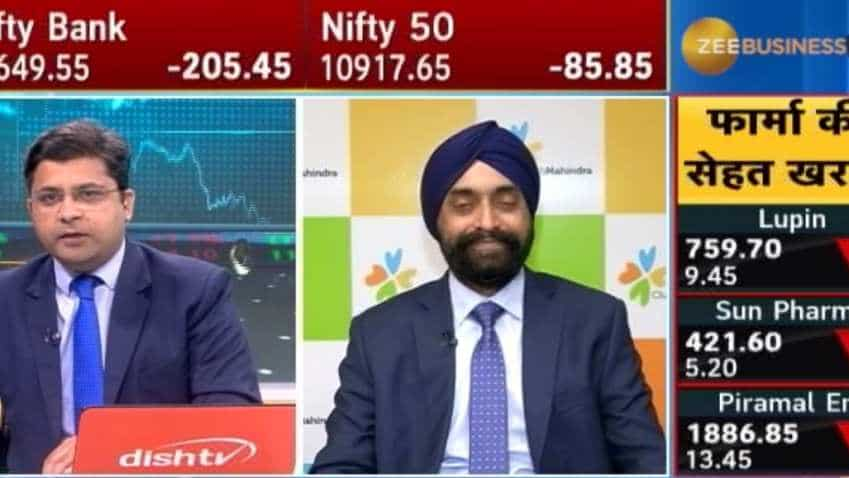 Kavinder Singh said, "Mahindra Holidays has announced a CapEx of Rs 1,000 crore and want to expand itself in the unexplored destination of India as well as the world". Image source: Zee Business
The tourism industry has 10% contribution to the country's GDP and employs around 4-4.50 lakh people across India, says Kavinder Singh, MD & CEO, Mahindra Holidays and Resorts India Limited. During an interview with Dimpy Kalra, Zee Business, Singh said, "Mahindra Holidays has announced a CapEx of Rs1,000 crore and want to expand itself in the unexplored destination of India as well as the world". Edited Excerpts:
Q: Prime Minister Narendra Modi in his Independence Day speech asked people to opt tourism as a part of their life. Did his appeal give any Goosebumps to you as you are into a holiday business?
A: It seemed as if a piece of music was playing in which Prime Minister Narendra Modi is asking people to plan for holidays. Domestic tourism has increased a lot in India and will grow at a faster pace in time to come. Currently, Indians are taking around 150-200 billion trips within India, this is resulting in a growth of 12-13% in travel and tourism. The tourism industry has a 10% contribution to the GDP of the country and has employed about 4-4.50 lakh crore people. When it comes to employment opportunities, then more/increased tourism will create more employment opportunities. Simultaneously, it will give a boost to hotels, infrastructure, site-seeing trips and consumption of food and beverages. If all these things are kept in mind, then sector can act as a good booster for the economy. I feel domestic tourism is a big thing for India at least when foreign/international trips are going to be expensive because Rupee value has reached the mark of 71.80 against a Dollar. Thus, promoting the domestic tourism is going to be a good thing for the country.
Q: The government has scrapped certain parts of Article 370 that gave a special status to Jammu and Kashmir (J&K). So, do you have any specific plan for the state?
A: We have already tied-up for a boat-house in Jammu and Kashmir. In fact, we have 2.47 lakh member families who can enjoy the boathouse facilities at the Dal Lake during their visit to the state. It has been our desire to invest in the state and develop a beautiful resort so that our members can enjoy their stay in Srinagar. So, we are having an eye on the ongoing situation and things that are happening there. We are interested in developing a resort in the J&K. For the purpose, we are interacting with the government with a hope that we can find a good location to develop a resort where people would like to come and enjoy there stay. Srinagar, Gulmarg and Pahalgam are famous places but there is a need for good infrastructure to stay and we can provide it. Interestingly, we have a ready customer base and that's why we would like to participate in the development of Jammu and Kashmir.
Q: Consumer demand is very low in India at present. So how are you managing with the ongoing situation?
A: The best part of our business is that you will not have to pay anything to book a room if you turn up to be a member of our club, as you have already prepaid for the facility. And, those who have prepaid are reaping the benefits because they just need to travel to the destination and invest just for food, where discounts are available because they are a member of the club. In fact, our product - at the time of uncertainties in the economy – is providing a certainty that you will not have to pay for your rooms for continuous 25 years if you become our member today. We just charge annual fees from every member as the maintenance cost and offer discounts on food and beverages. Several holiday activities happen at Club Mahindra. I think people interest should increase further towards our business and it is happening as this is the only product that is guaranteeing you that you will not have to spend on your holidays for next 25 years except on travelling charges and food that you have either in the resort or other places where you eat. It is a time, when people are careful but planning to travel. It is not an issue for us.  
Q: Do the ongoing problems at Cox & Kings and Thomas Cook had any impact on your business, if not, then do you look towards it as an opportunity?
A: We keep looking towards the opportunities but would not like to comment on whether it is an opportunity for us or not. But if you have a look at our business model then you will find that we have 61 resorts in our kitty, at present, in India. Besides, we have also acquired a company in Finland, 3-4 years back. It has 33 resorts of which 25 are present in Finland, 6 in Spain and 2 in Sweden. Thus, we have 94 resorts where our 2.47 lakh club members families can now enjoy holidaying. Interestingly, you can enjoy holidaying for 25 years after prepaying for your membership. Our business model has been created thoughtfully and we are a zero-debt company and our occupancy in the last quarter stood at 91%. We are focusing on the robustness and strengthening our business model to expand it with an aim to turn up to the world's number 1 vacation ownership company.
Secondly, we have solved the biggest problem of the hospitality industry in terms of debt and occupancy as we are a debt-free company and our occupancy always remains above 85%. However, we have keen eyes on opportunities and will continue with it in the space of travel but will continue to have a focus on customer satisfaction, good experience and turning our brand an aspirational one. Seeing the way in which domestic tourism is growing, I don't feel that we will face difficulties in taking our business ahead.
Q: Are you enjoying the same margin levels that you had a year ago or it changes situation to situation?
A: There is a seasonality in the business, and there are certain quarters when seasonality is clearly visible, in terms of occupancy which goes down. The problem even occurs in Finland and first and third quarter are considered as a soft quarter in the country while second-quarter remains soft in India. Equations of the two companies make things better. Off course, there is a seasonality in the tourism business, and we should remain prepared for it, for instance, there were floods in recent past in Kerala, Coorg and Himachal and there were unseasonal rains in Uttarakhand and Maharashtra. These occurrences put certain pressure, but I would like to say that our company has been posting a 16% margin on Profit Before Tax (PBT) for last 5years and it stood at 21% last year. Thus, we have increased our margin by 1-2% every year and in this process, you are supposed to control your cost, member satisfaction and maintain good relations with the customers. Most importantly, we must motivate our employees as well. Balancing all these things will help you to win over this cycle.
Q: Name the geography where your company has its focus at present?
A: We have announced a CapEx (capital expenditure) of Rs1,000 crore. In the process, we have added 54 more rooms in our resort at Ashtamudi, Kerala. We are developing a new resort of 150 rooms, which will be increased to 200 rooms in future, in Goa and have already invested around Rs150-175 crore on it. It will be in existence by the end of this year. Thus, we are expanding ourselves in Kerala and Goa, which are two famous tourist spots. Besides, we have plans to create a new resort on the Arabian sea coastline at Ganpatipule, Maharashtra, and are in possession of the land. We are also expanding our resort in Kandaghat, Shimla, at an investment of Rs150 crore. In fact, we have signed an Rs300 crore with the Himachal Pradesh government. Talks are also on in Uttarakhand. In addition, North East is an unexplored reason where we have a special interest. We are having an international interest because we have 33 resorts in Finland, which came to us through acquisition mode, and we also have 4-5 resort properties in Bangkok, Singapore, Kuala Lumpur and Dubai. We have signed deals even in Sri Lanka and have seen 2-3 locations in Thailand. Thus, we are going to be present in 40-50 different international locations and are existing in 60-65 locations in India, as well. 
Watch Zee Business Live TV
In short, we will reach the unexplored destinations where people haven't reached yet as we are working with a motto of creating new destinations, for instance, we have created Kumbhalgarh, Rajasthan; Munnar, Kerala; Coorg, Karnataka; and Binsar, Uttarakhand as a destination. Actually, we work with a purpose of creating new destinations and experiences in India as well as across the world to be the world's number one vacation ownership company, which can be met through creating new destinations and experiences.
Get Latest Business News, Stock Market Updates and Videos; Check your tax outgo through Income Tax Calculator and save money through our Personal Finance coverage. Check Business Breaking News Live on Zee Business Twitter and Facebook. Subscribe on YouTube.
Updated: Wed, Sep 18, 2019
01:50 pm
Mumbai, ZeeBiz WebDesk