Mahindra Holidays has a CapEx plan of Rs 1,200 crore: Kavinder Singh, MD & CEO
Kavinder Singh, MD & CEO, Mahindra Holidays & Resorts India Limited (MHRIL), talks about Q4FY21 results, the second wave of COVID-19 and its impact on the business, member addition, cash position, international and domestic business among others during a candid chat with Swati Khandelwal, Zee Business.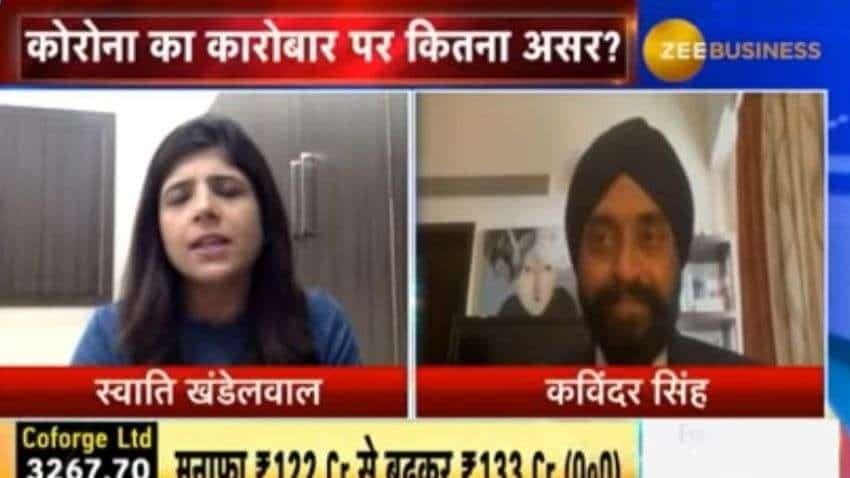 Mahindra Holidays has a CapEx plan of Rs 1,200 crore: Kavinder Singh, MD & CEO
Written By:
Jitesh Kumar Jha
Updated: Fri, May 07, 2021
08:16 pm
New Delhi, ZeeBiz WebDesk
Kavinder Singh, MD & CEO, Mahindra Holidays & Resorts India Limited (MHRIL), talks about Q4FY21 results, the second wave of COVID-19 and its impact on the business, member addition, cash position, international and domestic business among others during a candid chat with Swati Khandelwal, Zee Business. Edited Excerpts:
Q: Loss has declined but going forward what is your outlook? Also, how big a concern is the second wave for the company and how you will mitigate it?
A: As far as our quarter results are concerned, if you will have a look at them at the standalone level then they were great. We added around 4,800 members and if seen at a YoY basis then it increased by 32% and seen on a quarter-on-quarter basis, then it went up by around 48%. So, member additions have been good. The biggest thing is that our occupancies stood at 85% in the fourth quarter. It is an important thing in itself that we are not a traditional hospitality player and have a membership model. So, our members came, our occupancy level stood at 85% and at the same time, we also added new members around 4,800 members, which is a good number. If I will look towards the profit and if you will look at our profit margins on a standalone level stood at around 12% on quarter-on-quarter for a profit before tax and margin margins grew by 130 basis points (bps). If I will talk about the entire year, our EBITDA increased by around 19%, our profit before tax increased by 37 and our margins of profit before tax increased by around 600 bps. Overall, our margins have reached an 18% level. If I will look towards our cash position, our cash position at the start of the year stood around Rs 781 crore and at the end of the year, the cash position stood at around Rs 940 crore. There are two things that one should see in the hospitality business and they are the debt situation and occupancy level. Interestingly, we are a debt-free company and occupancy has reached 85% level. Our cash has increased to Rs 940 crore and there is an increase in our members as well as in occupancy. So, these were our standalone results. As far as our Finland business is concerned, due to which you talked about the consolidated numbers, then we faced some issues in the third and fourth quarters in Finland because the country was hit by the second and third wave, which led to heavy restrictions. Despite this, they did a lot of cost control due to which our losses were kept under control. So, if seen on the EBITDA level then it stood at around 8-9 million Euros. This is why, you are seeing these consolidated results but at the standalone level, we are healthy and profitable and in a growth model. 
See Zee Business Live TV Streaming Below:
Q: There is a second wave and there are talks related to the third wave. So, the uncertainty created by CORONA can add pressure because the future cannot be predicted a lot and amid the volatility how many members can be added and how many would like to move out. At the same time, there is news that the office of Club Mahindra in Gujarat has been sealed due to a violation of COVID protocols. Tell us the level to which you are a factor in these concerns in terms of the outlook?
A: If you will talk about this wave of the CORONA then I will say that the way it has hit has surprised everyone. If we have a look at two factors in this CORONA wave then we hope that the vaccination will increase gradually and last year when the vaccine was not available, then in the third quarter the occupancy stood at 75% and around 85% in the fourth quarter. So, if you will see that when there was no vaccine then we gave trust and confidence to our members that our resorts are safe and running a Safe Stay programme due to which all our resorts were certified by Bureau Veritas as COVID safe. We also brought an offering in form of travel with confidence in which several facilities were provided to the members and it included COVID testing, getting an e-pass or getting a sanitized car. Due to this, our occupancy increased a lot although the vaccine was not out till then. This time, we have the vaccine and as the vaccination programme will roll out our occupancy will reach back above 80% and I have a belief. Interestingly, we have also added resorts in the last quarter and across the year. Now, we have 79 resorts in India and abroad of which 9 resorts were added this year. With the addition of 465 rooms, our total inventory has gone up to 4,197 and our capital expenditure plan is intact and we will make a Rs 1,200 crore capital expenditure and increase our rooms by 5,500. If we look at these things carefully, then the second wave will decline at the same speed at which it has struck, as it has happened in the US. At the same time, the vaccination will be rolled out at a great speed this time in the next few days. So, if I consider these factors, our occupancy will return, member additions will grow and we will continue to add resorts as well. 
Q: The company has added 12,000 members in FY21, which is big, but you have said that overdue has increased from the members due to COVID. What is the number and by when it can be recovered? 
A: We have more than 2.50 lakh members and a few of our members' fall under the EMI plan. So, we have seen that due to the COVID, few of our members have not made their payments at the time and we have made suitable provisioning for the same. We decided to go for a one-time cancellation with which those who are overdue will be cancelled. This hasn't had any major impact on our numbers because provisions were made It is a matter of course that due to COVID there was a slight change in their intention to make payment and we continued to follow up with them for one-and-a-half years after that we took the decision. Going forward, as far as I can see, these waves will be small and vaccination will run at a great speed, so I am not worried about the overdue in the future. 
Q: You were talking about international business. So, let us know about the prospects that are visible there because a very uneven pattern of COVID is there across the world? Also, tell us about the inorganic growth opportunities that are available?
A: First, I will talk about the international business, there is good news from international that a fast-paced vaccination drive is going on in Finland and 30% of their population has been vaccinated. Their real season starts from June 20 and continues till August. Last year also, they went up to 91% occupancy and posted a positive EBITDA. We are expecting better results this time because as they will reach June 15, there most of the population would have been vaccinated and domestic travel will increase at a great speed and I know that occupancy will come and the business will add to our profits. So, this is the situation in Finland, where we have 25 resorts, we also have 2 resorts in Sweden and 6 resorts in Gran Canaria. So, overall the situation is positive there and their holiday season starts from June and till then vaccination would have been progressed well and domestic tourism will increase at a great speed. As far as Rs 940 crores that we have and are we looking forward towards inorganic growth opportunities, then one thing is very important in our business that we have to add our resorts as we add our members. So, we are not planning to buy a resort company but we have will focus on India and will like to buy good resorts if they are available at the right price because our member base is increasing. Similarly, we are also looking at the South East Asia destinations near India, which are short hold destinations, like Dubai or Phuket, and if we get any good resort we will buy them. At the same time, I would like to inform your viewers that leisure travel will boom as soon as CORONA comes to an end and we should be ready for it. In family vacations, it will be very good for us because people will like to travel and visit outdoors. People can enjoy the open and outdoor environment at our resorts and the rooms of the resorts are studio one-bedroom and two-bedroom apartments, which are big. 
Q: How will you utilize the available cash of Rs 940 crore?
A: Cash utilization is very simple in which as soon as we get some good resort in India or South East Asia's short hold destinations, we will buy them at the right price. This is the way how the cash will be utilized. It will help in increasing our membership addition, this is my belief. Therefore, our cash will be used in increasing our core business resorts.
Get Latest Business News, Stock Market Updates and Videos; Check your tax outgo through Income Tax Calculator and save money through our Personal Finance coverage. Check Business Breaking News Live on Zee Business Twitter and Facebook. Subscribe on YouTube.