How much money do people like Dinchak Pooja earn from online videos?
Dhinchak Pooja has become the talk of the social media town with her 'Selfie Maine Leli Aaj' on YouTube. She has not only got instant fame but may have made a buck in the bargain.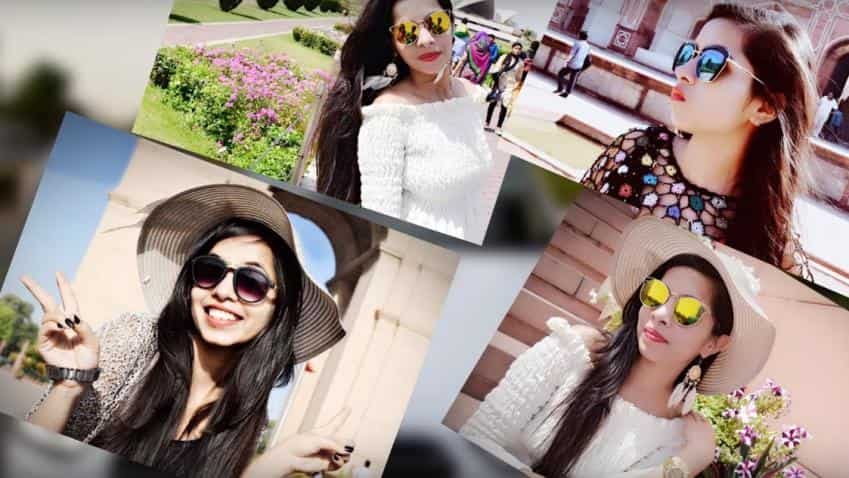 Dhinchak Pooja in her 'Selfie Maine Leli Aaj' song on YouTube. Photo: YouTube screengrab
Updated: Fri, May 26, 2017
04:58 pm
Mumbai, ZeeBiz WebDesk
Key Highlights:

The 'Selfie Maine Leli Aaj' video by Dhinchak Pooja has 7.1 million views on YouTube
DJ Piko-Taro video went viral on social media for his 'Pen Pineapple Apple Pen' song
Dhinchak Pooja for her Selfie song may have earned Rs 2.24 lakh to Rs 4.9 lakh
Dhinchak Pooja went viral a week ago for her song 'Selfie Maine Leli Aaj' on YouTube. Many of you may have even shared it, commented on it or even trolled it.
While you may laugh at the video, she is the one having the last laugh. The video currently has 7.1 million views on YouTube. She has 47,637 subscribers on her YouTube channel currently.
Dhinchak Pooja is not the only one, just a while before this emerged DJ Piko-Taro video went viral on social media for his 'Pen Pineapple Apple Pen' song. This song by DJ Piko-Taro garnered over 120 million views.
ALSO READ: YouTube set to lose edge as Netflix, Amazon woo 'viral' video makers
Then there is Tahir Shah, a Pakistani "musician" and businessman who was one first to rise to popularity online with his song "Eye to Eye" in 2013. It was one of the most viewed videos on YouTube today. This was followed by his song "Angel" in 2016 which also received 1.5 million views.
This has emerged into a completely new genre called 'Cringe Pop' which is described as being so bad that you cannot stop watching them.
While many of these content creators are made a laughing stock out of online, at the end of it they are making money.
It is not only them but many several gamers make money from their commentary and profanity on gaming videos. Not mention Twitter influencers such 'KRK' who are even paid to comment on movies and other topics in order to draw peoples attention.
So how much do these guys make?
Dhinchak Pooja for her Selfie song may have earned Rs 2.24 lakh to Rs 4.9 lakh as part of the revenue share from YouTube advertising. And this, experts says, is considering the revenue share by YouTube to content creators in India being very minimal in comparison to what is paid around the world.
This might not be much but it is what some people earn as their average annual salary.
Some of the digital agencies we spoke to say YouTube gives content creators in India around $0.50 to $1 CPM (per thousand ad views). In comparison, a YouTuber in the US earns around $4 CPM and even as high as $10 CPM for the most popular YouTube channels.
While YouTube gives a share of ad revenues to the content creators, Facebook is just introducing a similar kind of payment scheme to content creators. In fact the social media giant has recently released a beta version of the same, according to experts. While Facebook ad revenue sharing scheme is not known currently, it is expected to be at the similar rates or even higher to YouTube to attract content creators.
However, it is not that simple as many who indulge in cringe pop need to build a large following in order to for them to make substantial revenues.
"You only get to monetise your views on YouTube or other social media platforms until you have a huge fan following. Also you need at least around half a million to 1 million views to get advertising on your video. Besides this platforms such as YouTube have put a lot of checks and balances after the issue they had with advertisers boycotting the platform. So they would have to get some sort of approval from YouTube for advertising," says Lavin Punjabi, Co-founder and CEO of mCanvas.
Punjabi however adds the real chance of monetisation by these people is not only from online, but in fact offline through tie-ups with brands, events, etc. "A lot of the monetisation by these people are done offline. For instance, comedians may make a little money through their videos on YouTube due to their following, but a large part of the money they make comes through being paid to attend an event or comment, tweet on brand, movie, etc."
Suveer Bajaj, Founding Partner of FoxyMoron too says that there is not much monetisation potential from online platforms for content creators especially in India and that they can earn a lot more through brand tie-ups.
Besides this Bajaj says that very few brands will want to latch on to the people making such one off videos which become famous online. "If she (Dhinchak Pooja) get a second or third success only then brands will latch on."
When we pointed out to Tahir Shah's success (in terms of views) for his second song 'Angel', he said that he personally thinks brands would want to tie-up with him in some way or the other. "It will be a short burst for the brand but it will give them good mileage for the money they spend on him," he said.
Punjabi says that globally brands tie-ups with social media influencers are worth $1 billion. While native advertising is worth $8-10 billion globally.
Bajaj says people get a steady flow of income from online platforms only when they have a huge following and tie-up with brands. He gives the example of many bloggers who have become famous and have become a brand name themselves.
"It is becoming a regularised business where agencies or brands have to pay these influencers to write about them. When these people comment on something you can be sure that your brand will be heard. Some of them even charge separately for even coming to an event, apart from being paid for writing about your brand," Bajaj says.
Get Latest Business News, Stock Market Updates and Videos; Check your tax outgo through Income Tax Calculator and save money through our Personal Finance coverage. Check Business Breaking News Live on Zee Business Twitter and Facebook. Subscribe on YouTube.