XUV has many world class features which our competitors don't have: Vivek Nayer, Mahindra
Vivek Nayer speaks on their latest 'Live Young, Live Free' campaign, apart from ad spends, competition, marketing strategy and demonetisation.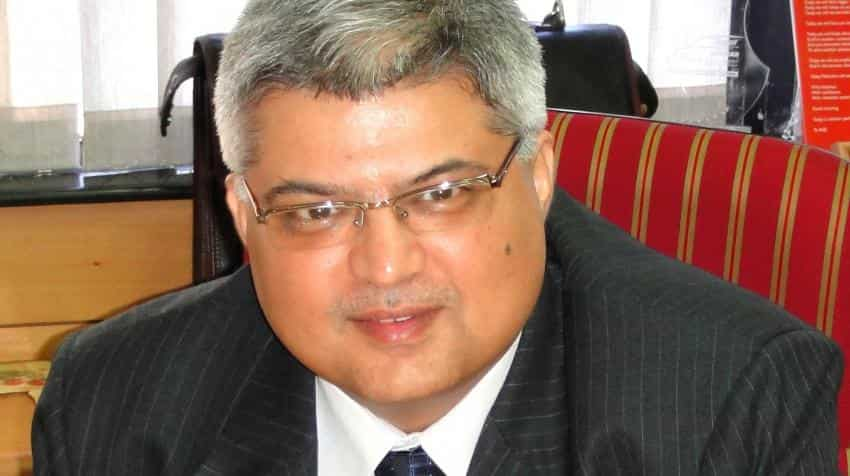 Vivek Nayer, chief marketing officer, automotive division, Mahindra & Mahindra. Photo: Mahindra & Mahindra
Three years after the launch of the 'Live Young, Live Free' ad campaign, Mahindra recently decided to launch a sequel to this campaign. The ad campaign which encompasses all the cars in its portfolio is once again back sporting the latest cars riding through new locations across India.
Speaking about the reason for doing a sequel for the ad campaign Vivek Nayer, chief marketing officer, automotive division, Mahindra & Mahindra said, "You see any great film in Bollywood it moves into a sequel and becomes a franchise. So if this film and campaign has done so well for us, can't we attempt to do a sequel?"
Nayer speaks to the Zeebiz team on the new ad campaign, ad spends, competition, marketing strategy and demonetisation. Here are the excerpts.
Why did Mahindra create a sequel to the 'Live Young. Live Free' campaign?
We first launched the 'Live Young, Life Free' campaign in January 2013 and the response to that campaign was tremendous. The reason it did very well was because it was based on consumer insights. Four years ago we picked up that people wanted to experience something different, beyond their going out for a meal, movie. They wanted to get out with their friends and family, go out for a picnic, long drive or outdoor. The whole outdoor movement had started around 4 years showing SUVs are tough and rugged and are used for these kinds of things. So, who else but us should be communicating this movement through 'Live young, Live free' and that is how we made the campaign. Because it was based on such powerful insights it worked so well.
Then because it was so successful, about 6-7 months ago we were discussing and saying what next and then the inspiration came from Bollywood and Hollywood sequels. But the challenge of doing a sequel is that you have to carry forward somethings and you have to also create something new otherwise people say it is the same thing so why should I watch it. You have to bring in some novelty and push the envelope in certain areas. This time also you have a product portfolio of Mahindra SUVs but now we got our new SUVs. So you will see products which were launched in the 4 years such as the KUV100, TUV300, the refreshes of Scorpio, XUV500 and Thar. This time the song has become an anthem which is running across the country and there are different groups of people who are singing the song in their own situation in their own way. This time we more aspirational locations.
We have launched it on social media because it is a long film, it is 2:30 min. Next obviously we will take it to TV, maybe in the second half of February. But right now the focus is on digital and social media only, because we get a lot of interactivity.
How long will this campaign be for?
 
TV maybe 2-3 weeks. Social media it will also be for 2-3 weeks. So totally the campaign will be running for 5-6 weeks.
 
What are the ad spends on this ad campaign?
We don't share our spends but for 3 weeks we will be on social media and for about 3 weeks on TV. Even last time we had this mix because for us, we have been one of the pioneers in using social media and digital media in the country. We started this game 7-8 years ago. Today we have 18 million fans across all our Facebook platforms, we have Anand Mahindra who has 4 million followers on Twitter.
 
What is the marketing strategy that you have planned for Mahindra this year?
This campaign is a key part of that strategy. Building the brand along these values is a key part. We are an auto company so products are at the core. We have launched a couple of new products in the year or so and hopefully in the future we will come with new offerings.
 
Mahindra's sales have taken a major beating due to demonetisation. How long do you estimate before sales return to normalcy?
There are two issues with demonetisation. This first issue is liquidity. Many people who buy a new car want to sell of their old car. So if 40-50% want to sell of their old car and that is not happening because of demonetisation crisis, so that cycle is sort of jammed. Now it is coming back gradually. But the second more important point is consumer sentiment. Because such a big change happened the sentiment was to postpone. Nobody wanted to make any big purchases because everyone was dealing with demonetisation issue and a lot of people were postponing it because they wanted to see what will be in there in the Budget. We don't know what next will come from the government. The sentiment has been subdued. I think over the next couple of months the sentiment should start improving.
 
How will Mahindra take on competition from Tata Motors which has entered the space with the launch of Hexa recently?
This is normal. New products will come and new brands will come, some succeed, some don't. Let the consumer decide what is a better offering. We think our XUV is a very strong offering and we have many world class features which our competitors don't have. XUV is a very successful product and I think in the premium car segment, it is like a gold standard today. New products will come, which is part of the game. We have a range of SUVs, while others have one or two SUVs in their portfolio.
 
How big a part of Mahindra's marketing spends goes towards experiential marketing?
Today, there has to be 360 degree marketing. You can no longer say I will do this or that. You have to do TV, print, digital, social media, experiential, CRM. It is a 360 degree marketing approach that we follow.
 
Why did Mahindra choose Manoj Bajpayee as the ambassador for its commercial vehicles segment recently?
The reason why we chose Manoj Bajpayee for the small commercial vehicles is because of the kind of movies they watch. Manoj Bajpayee is a big guy. The audience can relate to him as he is a very earthy guy. We checked out with the customers on our stands and he was one of them and they all related to well. Credibility comes from finding the right brand ambassador who can talk your message out. He came across with lot of credibility. He was a spokesperson for our brand and wasn't driving the brand.
 
Get Latest Business News, Stock Market Updates and Videos; Check your tax outgo through Income Tax Calculator and save money through our Personal Finance coverage. Check Business Breaking News Live on Zee Business Twitter and Facebook. Subscribe on YouTube.
Updated: Tue, Feb 07, 2017
05:24 pm
Mumbai, ZeeBiz WebDesk