GST revenue likely to surge in coming months: FM Jaitley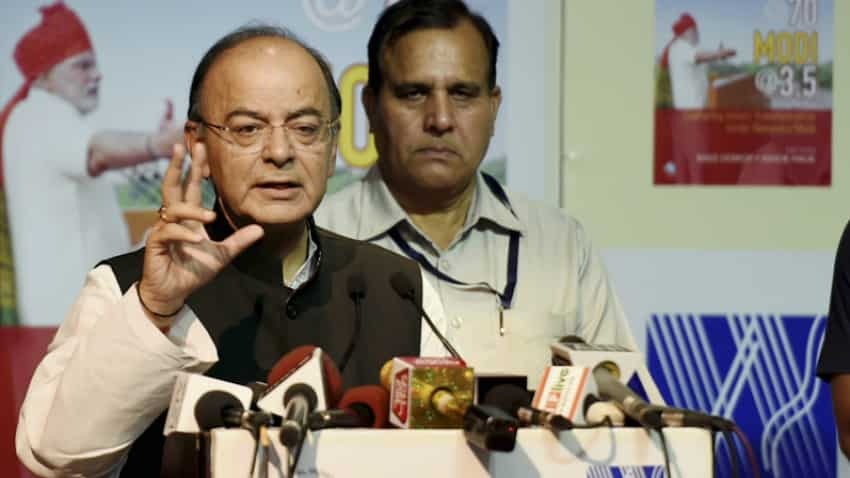 Finance Minister Arun Jaitley addresses at the release of the book "India @ 70 Modi @ 3.5" in New Delhi on Thursday. Photo: PTI
Finance Minister Arun Jaitley today said the Goods and Services Tax (GST) collections in the first two months have met the target and going forward the revenue will see further surge.
"We are now just finished second month. As a base year of 2015-16, we had to give two hikes of 14 per cent each to the states, and for both the months (July and August), with some part of the compensation cess, we are well within that figure," he said at the release of a book titled 'India@70 Modi@3.5'.
Total GST collection for August touched Rs 90,669 crore (up to September 25, 2017), against Rs 94,063 crore mopped up in the first month of the new indirect tax regime rollout.
Of this, as much as Rs 14,402 crore has come in from the Central GST (CGST), Rs 21,067 crore from State GST (SGST), Rs 47,377 crore from Integrated GST (IGST) and Rs 7,823 crore from compensation cess levied on demerit and luxury goods. Of Rs 7,823 crore, Rs 547 crore is compensation cess from imports in August.
As per the tax sharing formula, the Centre will compensate states for any revenue loss calculated on a base year of 2015-16 and assumed revenue growth of 14 per cent.
"I did not imagine that states will reach break even points within 2-3 months itself...As we walk down next couple of months we probably will move up," he said.
On the teething problems related to implementation of GST, he said, one of the issues is reducing the compliance burden for small, medium sectors.
"We are having continuous meetings on how to do it and probably we will do it. The whole process has been put into action," he said.
With regard to direct tax collections, the Finance Minister said, it has seen 15.7 per cent increase over and above last year.
"So called slowdown which some visualise has not impacted that," he said.
He said central public sector enterprises (CPSEs) has planned capex of Rs 3 lakh crore even when private sector investment remains a challenge.
(This article has not been edited by Zeebiz editorial team and is auto-generated from an agency feed.)
Updated: Fri, Sep 29, 2017
08:16 am
New Delhi, PTI