The new Bitcoin? Apple, Tesla, Facebook, Amazon, Netflix, Google in blockchain trade - Is this the next big thing in the crypto world?
An exchange named as DX.Exchange is offering digital stocks apart from major cryptocurrencies like Bitcoin, Ethereum, Litecoin, Bitcoin Cash and Ripple. 
DX.Exchange which is an Estonia-based crypto firm launched a trading platform for above mentioned digital stocks. Photo: Pixabay
Even if many are still confused and find it difficult to draw an accurate trajectory for cryptocurrency star Bitcoin due to its high volatility, yet the majority would agree that blockchain world is the next big thing in the history of markets. Sure, the attention towards the blockchain market was courtesy of Bitcoin's blockbuster performance, but there is a sudden change and its an experimental zone for traders. Who would have thought that from Bitcoin, there will be another platform as well and this would be more attractive. Yes, you have read it right, its a new reality! An exchange named as DX.Exchange is offering digital stocks apart from major cryptocurrencies like Bitcoin, Ethereum, Litecoin, Bitcoin Cash and Ripple. 
To your surprise, these digital stocks are none other than major FAANG stocks namely Apple, Facebook, Netflix, Amazon, Alphabet Inc, Intel, Microsoft, and Google. If this is not enough, then one can even trade in Elon Musk's Tesla, Baidu, and Nvidia.
DX.Exchange which is an Estonia-based crypto firm launched a trading platform for above mentioned digital stocks. In its notification, the exchange stated that users can trade digital stocks using tokens on the Ethereum blockchain platform through smart contracts.
Such is believed to bridge the gap between real world stocks using crypto and tokenized platform. 
Daniel Skowronski, DX Exchange CEO says, "By tokenizing stocks of some of the biggest publicly traded companies like Google, Amazon, Facebook and more, DX is opening an untapped market of millions of old and new traders around the globe cutting out the middleman." 
In Skowronski's view, "Tokenizing securities is the first true use case where crypto collides with the real world 24 hours a day, 7 days a week. With fractional ownership and no leverage like CFDs, these new digital stocks are a 'more sound' and safer investment that traders can take home in their wallet. This is the future of securities not just new issues but all the thousands of listed securities around the globe.''
If you look at DX.Exchange trading platform, the share price of Apple, Facebook, Netflix, Tesla, Nvidia, Baidu, Microsoft and Amazon are in positive note. Not only this, their market price is higher compared to valuation on Nasdaq. 
For instance, Tesla share price is at $359.06 on DX.Exchange, higher compared to $334.96 on NASDAQ on Monday. Similar is the case of other digital stocks.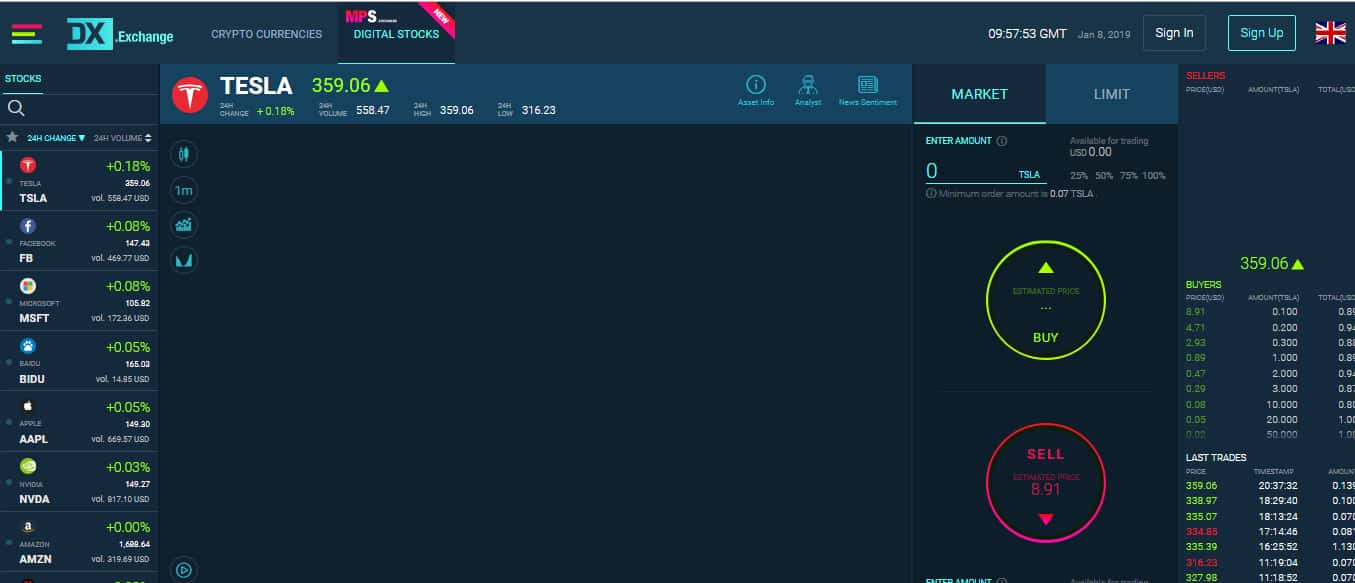 Additionally, the exchange also gives estimated buy and selling price for users to place their bet. 
It surely is a meet of titans on this exchange. What is the interesting situation is that digital stocks can become the next big thing in cryptocurrencies market. In fact, can even shift investors attention from Bitcoin. 
Why? It's all in the name! These digital stocks are brand in their own and have a trust due to their robust operations, reach and management. Whereas many are aware that Bitcoin is backed with unanimous investors and founder, not only this, the world is divided in two opinions for having an appetite for the digital currency. There is one section of experts including equity king Warren Buffett who sees Bitcoin and cryptocurrency as nothing but a bubble which will meet its fate. 
On the other hand, there is another section of experts who believe Bitcoin is changing the phase of cryptocurrencies in the world and may change even the global financial system. There is a new history witnessed in internet technology trading platform. Bitcoin has created a new change in internet trading which has given freedom to investors. 
Bitcoin became so popular that it spawned many other cryptocurrencies. In fact, it actually made a gateway for cryptocurrency markets because since its glorious days began in 2017, there are now some 2,068 cryptocurrencies present for trading with a market capitalisation of $114.11 billion.
This was not the case a year ago, as during that time Bitcoin alone had a market valuation of $326 billion. 
In fact, on December 11, 2017, Bitcoin has just earmarked a level of $19,357 which was breathtaking, has even crashed to $3,500-level last year. 
For instance four years ago on December 1, 2014, the price of Bitcoin stood at $957.82, if we consider this then Bitcoin gave nearly 1,921% return to its investors on December 11,2017. If we compare the performance of before 2014, then Bitcoin made many rich. It needs to be noted that, Bitcoin has also touched under $1 mark and even $10 mark between 2009 - 2013. In fact, Bitcoin has been a bubble that burst several times. 
But make no mistake there is no denying that, Bitcoin is the game changer of Blockchain world. 
Dr. Rajkumar S. Adukia, an author of 200 plus books and winner of National Book Honour award 2018, says, "The introduction of Crypto Currencies, specifically Bitcoin, has brought the concept of blockchain technology into the mainstream."
Adukia explains that a blockchain is a continuously growing distributed database that protects against tampering and revision of data. One of the best things about the blockchain is that, because it is a decentralized system that exists between all permitted parties, there's no need to pay intermediaries (Middlemen) and it saves you time and conflict.
He also accepts that Blockchains have their problems, but they are rated, undeniably, faster, cheaper, and more secure than traditional systems, which is why banks and governments are turning to them.
"Today, the acceptability of blockchain is likely to be more on the premise of open source collaboration attracting rigorous protocols and standardization. After the success of Bitcoin, all major banks and financial institutions are contemplating implementation of Blockchain by separating currency from the blockchain and using it for other inter-organisational cooperation. This can be called as second innovation in the Blockchain concept," said Adukia.
Simply put, it's no more about Bitcoin, it more like a Blockchain world! Now that major FAANG stocks including Tesla, Baidu are in blockchain trade available 24X7 for trading, it would be quite interesting to see if they also create a new history just like Bitcoin. Or cruelly, take control of blockchain world. 
Get Latest Business News, Stock Market Updates and Videos; Check your tax outgo through Income Tax Calculator and save money through our Personal Finance coverage. Check Business Breaking News Live on Zee Business Twitter and Facebook. Subscribe on YouTube.
Updated: Tue, Jan 08, 2019
06:03 pm
Mumbai, ZeeBiz WebDesk