Brexit: Tweets that make you crack up on UK's break-up with EU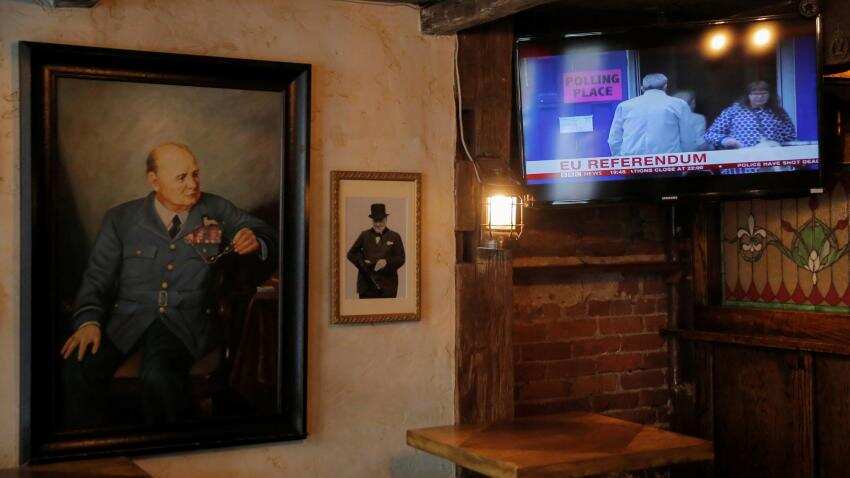 A painting of former British Prime Minister Winston Churchill, seen to contemplate Brexit. Image Source: Reuters
Updated: Fri, Jun 24, 2016
03:07 pm
Mumbai, ZeeBiz WebDesk
After the United Kingdoms chose to leave the European Union, the historic event has gotten wild reactions from markets becoming volatile to currencies depreciating and investors becoming cautious.
Twitteratis too came out with a whole hoast of hilarious reactions.
Never underestimate the world wide appeal of stupidity. #Brexit

— Nasry Malak (@NasryMalak) June 24, 2016
None so funny as capturing Game of Thrones characters to emphasize the gravity of the situation.
Waking up to find we have left the EU... #Brexit pic.twitter.com/KZeeFkPWEP

— Night's King (@WightsKing) June 24, 2016
Will 'Brexit' be followed by Grexit. Departugal. Italeave. Fruckoff. Czechout. Oustria. Finish. Slovakout. Latervia. Byegium?#Brexit

— Kartikey Bhargava (@kartikey1) June 24, 2016
What people really think of Britain after deciding to leave the EU.
Basically #Brexit pic.twitter.com/EXQ7YL3DkD

— Tess (@MATSUOSWALD) June 24, 2016
I say high, you say low
You say why and I say I don't know, oh no
You say goodbye...#TheBeatles #Brexit pic.twitter.com/e0seWkQbLs

— Pink Floyd - Steve™ (@steve_sps) June 24, 2016
Damn. No more words needed. #Brexit pic.twitter.com/aFnqcp5AzS

— Sakir Khader (@sakirkhader) June 24, 2016
Many believe that Brexit voters probably need a reality check.
What all the #Brexit voters are thinking now. pic.twitter.com/2WWTEXz853

— Jordan (@WithinHerSkin) June 24, 2016
It's everywhere#Brexit pic.twitter.com/lPfMJRdjHF

— Georgi Kantchev (@georgikantchev) June 24, 2016
Divided Kingdom... #Brexit pic.twitter.com/AnHMJfayox

— ZDF heute (@ZDFheute) June 24, 2016
Britain has left the European Union & here I am not even able to leave my family WhatsApp groups. #Brexit

— Divyanshu Chaturvedi (@vanilathunderr) June 24, 2016
Current mood:#brexit pic.twitter.com/ULIE8xmcfA

— Cande. (@CandeCrush) June 24, 2016