Brexit impact: India will be fine, says India Inc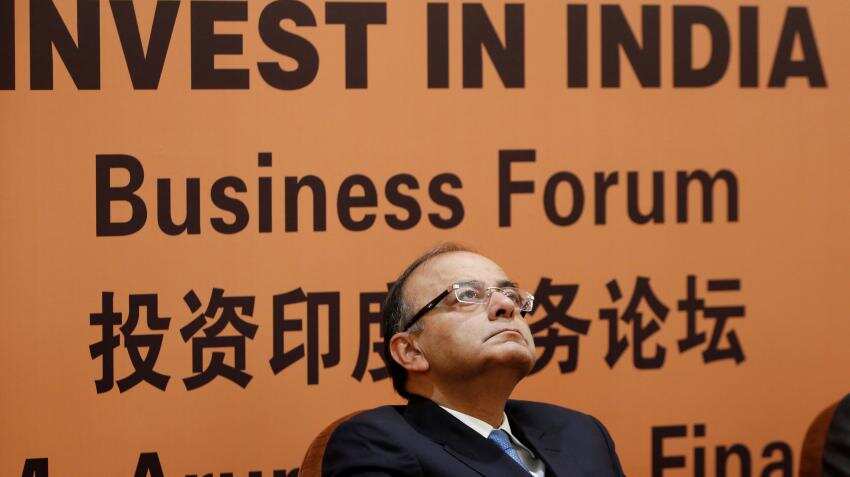 Finance Minister, Arun Jaitley speaks at an "Invest in India" forum in Beijing, China. Image Source: Reuters
Updated: Fri, Jun 24, 2016
02:35 pm
Mumbai, ZeeBiz WebDesk
BSE's Sensex and NSE's Nifty fell three percent in morning's trade on June 24 as reality of United Kingdom leaving European Union (EU) came true. Markets recovered some of the lost gains, still in deep negative territory, though.
Finance Minister Arun Jaitley and Reserve Bank of India Governor Raghuram Rajan tried to soothe nerves by their respective statements. Many including NASSCOM president and State Bank of India's chief executive termed 'Brexit' as a phase of uncertainty.
Finance Minister, Arun Jaitley on the UK referendum, said, "We are well prepared to deal with the short and medium term consequences of Brexit."
"Our macro-economic fundamentals are sound with a very comfortable external position, a rock-solid commitment to fiscal discipline, and declining inflation. Our immediate and medium-term firewalls are solid too in the form of a healthy reserve position. As investors look around the world for safe havens in these turbulent times, India stands out both in terms of stability and growth." he said.
Rajan said sharp corrections in financial markets around the world would continue.
He stated, "The Indian economy has good fundamentals, low short term external debt, and sizeable foreign reserves. These should stand the country in good stead in the days to come.
"Reserve Bank is continuously maintaining a close vigil on the market developments, both domestically and internationally, and will take all necessary steps, including liquidity support (both dollar and INR), to ensure orderly conditions in financial markets," he concluded.
Principal economists like Sunil Kumar Sinha, India Ratings & Research, commented on Britain's exit stating that its impact though global will have a positive and negative impact for India.
"As Brexit will vitiate the already uneven and fragile global recovery, it will exert downward pressure on global commodity prices and India will benefit being a net commodity importer," he said.
"However, with risk rising in the global financial market foreign capital will flow out putting pressure on rupee to depreciate and making Indian financial market volatile. A number of Indian corporates having exposure to Europe/UK either through trade or in case their production units are located there would be adversely impacted," he stated.
SBI chief, Arundhati Bhattacharya said, "As trade strategies are reworked there could be potential advantages in the form of better market access for India to EU & UK."
President of the NASSCOM Company, R Chandrashekhar, said "NASSCOM urges policy makers in Brussels and London to provide greater clarity and guidance on the next steps as soon as possible, so that our businesses have the certainty they need to continue to invest in UK and Europe."