Simpler documents, merger of rail and union budgets; what to expect in budget FY18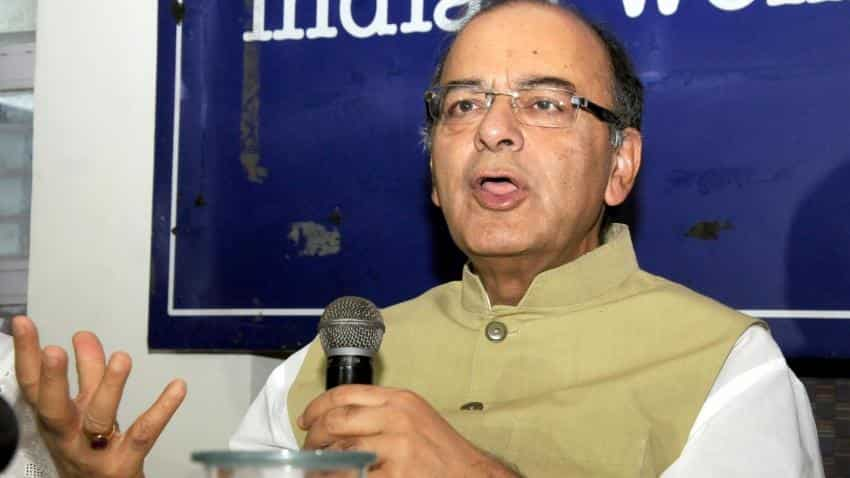 Photo of Finance Minister, Arun Jaitley. Image Source: IANS
Updated: Tue, Jan 10, 2017
06:09 pm
Mumbai, ZeeBiz WebDesk
Speculations over this year's budget being simpler in nature, among others, have come to light as analysts expect a 'rigorous approach' in the preparation of the same.
"We expect the FY18 budget formulation to adopt a more rigorous approach towards budget setting and implementation. The government intends to achieve this by increasing the efficiency of resource allocation and simplifying the budget content," Anubhuti Sahay, Saurav Anand, Kanika Pasricha and Nagaraj Kulkarni, analysts from Standard Chartered said in a report dated January 9.
The report said that simplifying of budget documents would be done via three initiatives.
"The government intends to achieve this by (1) simplifying the budget content by doing away with both the distinction between plan/non-plan expenditure and a separate Railways budget; (2) increasing the efficiency of resource allocation by tying it to medium-term outcomes instead of inputbased budgeting; and (3) advancing the budget presentation date by one month to allow for better distribution of expenditure during the year," the report said.
Currently the government classifies expenditure as plan and non-plan expenditure.
Plan expenditure refers to all expenditure on schemes or projects identified by the erstwhile Planning Commission for the five-year plan (FYP). The rest, which is primarily repeated, is considered non-plan expenditure. This primarily includes salaries and interest payments, the report added.
Analysts cited the dissolving of the Planning Commission back in 2014, which was replaced by National Institute for Transforming India (NITI) Aayog.
"Therefore the plan/non-plan distinction becomes irrelevant from FY18 and allocations will be made by the Ministry of Finance under the broad vision document provided by the NITI Aayog," the analysts said.
Earlier, due to lack of distinction between the two types of expenses, the report cited that over the past several years 70% of all 'planned expenditure consisted of revenue expenditure.'
"It will now become easier to read the budget documents, as central government expenditure will be clearly categorised under the broad headings of (1) direct central government expenditure for establishment costs, central sector schemes, etc.; and (2) indirect central government expenditure, say via transfers to states," the report said.
Analysts are also predicting that the government will break away from the tradition of presenting a separate railway budget two days ahead of the Union budget.
"This separation was justified a few decades ago as railways then accounted for a major proportion of expenditure. The merger of Railway and the Union budgets will reduce the administrative burden. The move should be fiscally neutral as the Union budget includes all railway receipts and expenditure," the report added.
Commenting on the process of budget allocation the report said that each ministry will now be required to specify expected outcomes for each of its schemes based on which resources will be allocated accordingly.
"The government now plans to have an outcome-based budget allocation, with the focus shifting from a one-year to a multi-year horizon," the report added.