Modi says 'development' top agenda for Budget, bats for simultaneous polls
PM Narendra Modi, in an exclusive interview with Zee News editor Sudhir Chaudhary yesterday, said that his government's only agenda for the Budget is development.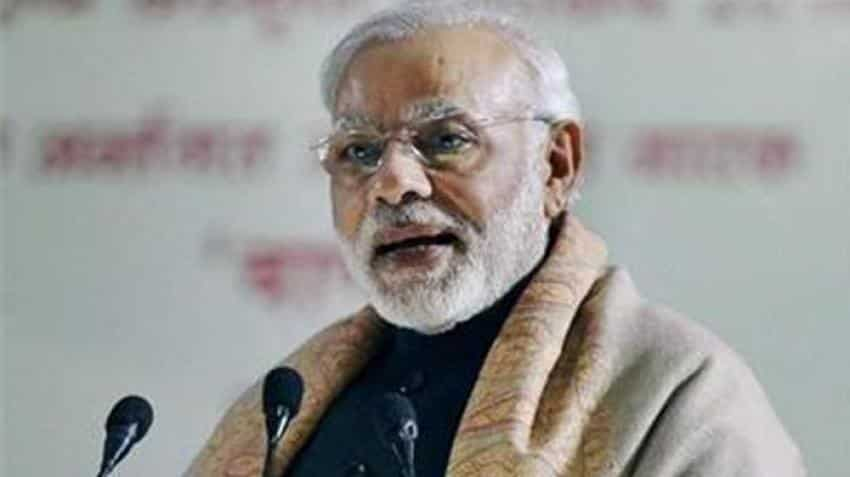 Modi said having simultaneous parliament, assembly, civic and panchayat polls will save money, resources and manpower. Image source: zeenews.com
Prime Minister Narendra Modi, while reiterating that his government's only agenda for the Budget is development, made a strong pitch for holding simultaneous Parliament and assembly elections as he slammed caste politics and called for constructive criticism of his economic policies.
"My government has only one agenda for Budget - and that is development. And that's what you will see," PM Modi said in an exclusive interview to Zee News on Friday.
Modi government is going to present its last full Budget ahead of the General Elections 2019.  This Budget has to ward off the criticisms against the tough decisions taken by the government such as the launch of the Goods and Services Tax (GST) and demonetisation,  as the financial statement for the year ahead is being keenly watched by critics.
During the interview, which will be telecast at Saturday 8 pm on Zee News, PM Modi talked about a wide range of issue including country's economy, demonetisation, Goods and Services Tax, foreign policy and India's growing influence in the world.
Here are the highlights of PM Narendra Modi's exclusive, exhaustive and explosive interview to Zee News.
PM Modi praised his government's work, saying GST and demonetisation are not its only achievements. There are many others like financial inclusion, toilet construction and electrification that can be talked about for days together. 
When asked about the bold financial decisions taken by his government, PM Modi said, "If you measure the work done by our government in these four years by only these two parameters, it's unfair. After nationalisation of banks, about 30-40 percent of the population was out of banking system. We brought them into the system. Isn't that an achievement? Thousands of girls skipped schools because there were no toilets. We built those toilets for them. Isn't that an achievement?" PM Modi said.
He also said that his government's achievements can't be measured on just two decisions - the Goods and Services Tax (GST) and demonetisation.
PM Modi further said that every atom of his body is indebted to the country and he wants to keep serving the people of the country. "When I see satisfaction in the eyes of a common man, it gives me power," PM Modi said.
On holding simultaneous elections
During the interview, PM Modi said that he is in favour of holding General Elections and state polls together. "Logically speaking, holding different elections in different dates creates the burden on the exchequer. Politicians are always under stress. So I think both Vidhan Sabha and Lok Sabha elections should be organised simultaneously. It will save money and manpower," the PM said.
Having simultaneous parliament, assembly, civic and panchayat polls, once every five years and completed within a month or so, will save money, resources and manpower, given that a large section of security forces, bureaucracy and the political machinery seems to be devoted for 100, 150 to 200 days every year on electioneering, he said.
"If the elections are held together the country will be free from such a big burden," he said, adding "Otherwise, we are spending so much resources, money."
On allegations against his govt
PM Narendra Modi decried the abundance of allegations in place of constructive criticism of his government's achievements and economic policy. 
He replied that "one should never feel bad about criticism. That's the strength of democracy. Everything should be analysed. The good work should be praised and shortcomings should be criticised." "But sometimes criticism is almost non-existent and allegations are more. Still, it is good that the nation is discussing GDP, agricultural growth, industrial growth and (stock) market," he said.
On dangers of caste politics 
PM Modi also spoke about the dangers of caste politics, saying it has been India's misfortune to be afflicted with this phenomenon. PM Modi was also asked about the criticism he faced when GDP growth came down.
On expectations of a populist Budget
On expectations of a populist budget on February 1, PM Modi said, "Whether there is budget or not, election or not, first budget or last budget, Modi has one mantra, BJP has one mantra 'vikas, vikas, vikas: sabka saath sabka vikas.'"
"Whatever is needed for that we have been doing and we will continue to do it," he said.
He listed bringing unbanked people into the banking network, construction of toilets in over four lakh schools, cooking gas connections to three crore families, electrification of left-out villages, ramping up of urea supply, low-cost insurance for poor, LED bulbs to save power bills and environment as the other areas his government has focused on.
On job creation
To a question on job creation, he said just in the formal economy, 70 lakh people have enrolled in the provident fund scheme and 10 crore people have taken loans under the collateral-free Mudra Yojana, while a large number of jobs are also being created elsewhere.
On 2019 Lok Sabha polls
Asked if he will be able to achieve his goal of simultaneous elections, PM Modi said, "It is not one party's, one person's agenda; for the country's benefit, everyone should work together. Let there be a debate on it."
Asked about whether he is confident of winning the 2019 elections, he said "I don't waste time thinking about elections. I have to worry about 125 crore people."
The article was originally published in zeenews.com
Get Latest Business News, Stock Market Updates and Videos; Check your tax outgo through Income Tax Calculator and save money through our Personal Finance coverage. Check Business Breaking News Live on Zee Business Twitter and Facebook. Subscribe on YouTube.
Updated: Sat, Jan 20, 2018
09:49 am
ZeeBiz WebDesk