Pro-poor and for common man: Finance Minister explains Budget 2023 focusses on job creation, small business and gives income tax relief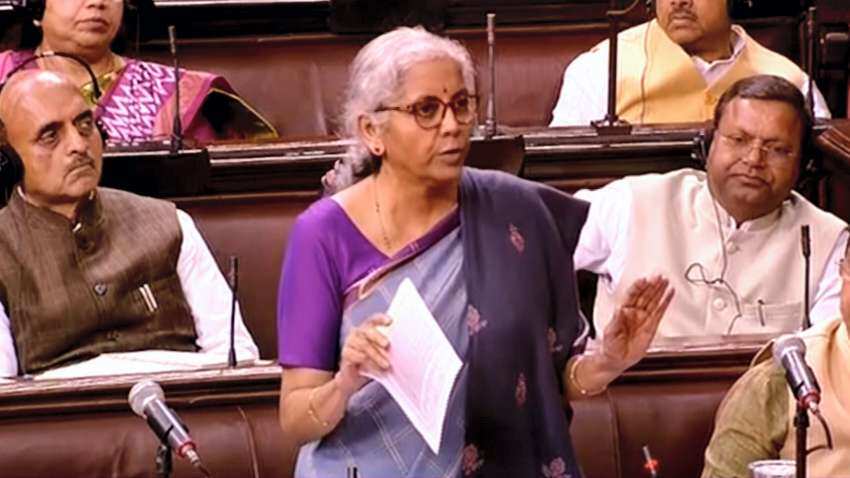 Finance Minister Nirmala Sitharaman speaks in the Rajya Sabha during Budget Session of Parliament (PTI Photo)
Budget 2023: Finance Minister Nirmala Sitharaman defended this year's Union Budget presented by her on February 1 as being pro-poor and for the common man. She cited higher food and fertilizer subsidies and income tax relief to drive home her point, and said the Budget focussed on job creation, small business and the farm sector.
She said that the Budget for the fiscal year starting April (2023-24) also provides impetus to green growth, healthcare and keeping the economic engine running with record capital spending.
The revamped new tax regime, which offers a rebate on annual income of up to Rs 7 lakh, will leave higher disposable income in the hands of people, she added.
Replying to the discussion on Union Budget for 2023-24 in the Lok Sabha, Sitharaman said the Budget balances the requirement of development imperatives within the limits of fiscal prudence.
On relief under the new tax regime announced in the Budget, she said it is "very attractive" as the tax exemption limit has been hiked to Rs 3 lakh from Rs 2.5 lakh earlier. Besides, a standard deduction of Rs 50,000 has been allowed under the scheme.
This new tax regime will benefit the majority of middle-class taxpayers, she said, adding that the rebate has been provided on an income of up to Rs 7 lakh.
"Since the enhanced rebate limit is unconditional, it leaves higher disposable income in the hands of people," Sitharaman said.
Under the revamped concessional tax regime, which will be effective from the next fiscal, no tax would be levied for income up to Rs 3 lakh. Income between Rs 3-6 lakh would be taxed at 5 per cent; Rs 6-9 lakh at 10 per cent, Rs 9-12 lakh at 15 per cent, Rs 12-15 lakh at 20 per cent and income of Rs 15 lakh and above will be taxed at 30 per cent.
However, no tax would be levied on annual income of up to Rs 7 lakh.
Responding to RSP member NK Premachandran's remark that the new tax regime will not be beneficial for a person earning Rs 9 lakh annually and having an investment of Rs 4.5 lakh in tax savings instruments, Sitharaman said for that person, saving Rs 4.5 lakh will be an "effort-ridden exercise".
"For a person earning Rs 9 lakh, it's not always possible to have Rs 4.5 lakh as saving and then also have enough money to spend on your family," Sitharaman said.
The finance minister also said the Budget has maintained fiscal prudence as announced in the fiscal glide path earlier.
"Budget 2023-24 astutely balances the requirement for India's development imperatives within the limits of fiscal prudence. That is a very difficult balance, it is a very delicately balanced act. But that's what has been achieved in this budget," Sitharaman said, adding the government chose the capital expenditure route to revive the economy as it has a greater multiplier effect.
Speaking about price rise, the finance minister said retail inflation has come down below the upper tolerance band of the Reserve Bank due to various measures taken by the government.
Consumer price index (CPI) based inflation has come down from a high of 7.8 per cent in April 2022 to now under the upper tolerance band of RBI, she pointed out.
The December print of retail inflation eased to 5.72 per cent as compared to 5.88 per cent in November, an 11-month low.
The inflation numbers have now stayed within the Reserve Bank of India's (RBI) tolerance band of 2-6 per cent for the second straight month.
India's inflation is now lower than that of the UK and Germany at 9.2 per cent and 8.5 per cent, respectively, she said.
Reeling out various steps taken by the government to cool down prices, Sitharaman said the Centre reduced excise duty on diesel and petrol, put prohibition on export of wheat, put stock limit on edible oils and also imposed export duty on rice.
Besides, she said, the government decided to provide free ration to over 80 crore poor till December 2023.
She also said agriculture income is rising in certain segments of the farming sector.
Agricultural credit target has been increased to Rs 20 lakh crore, she said, adding India will be developed as a global hub for Shree Anna (millets).
Countering Opposition allegations that food and fertilizer subsidies have been cut, she said food subsidy has almost doubled to Rs 1.97 lakh crore, while that for fertilizer has been raised to Rs 2.25 lakh crore for the current fiscal, from the Budget Estimate of Rs 1.05 lakh crore for the current financial year ending in March 2023.
Increasing the fertilizer subsidy, the government has safeguarded the farmers from rising prices globally.
Clearing the air on cess, she said the government has given more to states on education and health than it has collected from cess under these heads.
Total amount of cess collected in last three years was Rs 1,51,053 crore but actual spending stood at Rs 2,37,116 crore, she added.
With regards to tax devolution to states, she said the finance ministry will be releasing two months' amount in one go on February 10 itself.
As far as unemployment is concerned, she said, it has come down in the urban centres from 9.7 per cent to 7.2 per cent in July-September 2022.
On fiscal consolidation, she said fiscal prudence is being maintained as announced in the fiscal glide path of bringing down fiscal deficit to 4.5 per cent in the next two years.
In her Budget speech, she had said the government plans to continue on the path of fiscal consolidation, reaching a fiscal deficit below 4.5 per cent by 2025-26 with a fairly steady decline over the period.
With regard to capex, she said the Budget hiked it by 33 per cent to Rs 10 lakh crore for infrastructure development for 2023-24, which will be at 3.3 per cent of the GDP.
Despite global challenges, India is still the fastest growing major economy, she said.
Taking a dig at the faux pas made by Rajasthan Chief Minister Ashok Gehlot, who read excerpts of the previous budget instead of Budget 2023-24 in the state assembly, she said, "I am ready to concede that anyone can make a mistake. However, I pray to God that such a thing never happens to anyone that they are reading last year's Budget. But today it happened in Rajasthan."
(With PTI Inputs)
Get Latest Business News, Stock Market Updates and Videos; Check your tax outgo through Income Tax Calculator and save money through our Personal Finance coverage. Check Business Breaking News Live on Zee Business Twitter and Facebook. Subscribe on YouTube.