Budget philosophy in overall national interest: Jaitley
"To have a stressed agriculture sector and ramshackle infrastructure does not serve the country`s interests," Jaitley said, adding that the farm sector had been under "a lot of stress for the last seven to eight years."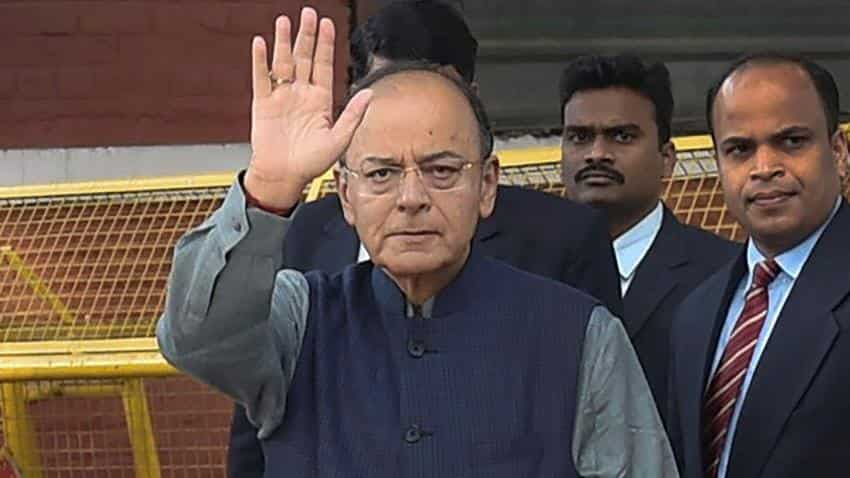 Finance Minister Arun Jaitley waves to residents of Delhi villages as he receives felicitations for Kisan Budget in New Delhi on Friday. Image source: PTI
Updated: Fri, Feb 02, 2018
01:19 pm
IANS
In a rebuttal of the criticism of Budget 2018-19 pandering to the farm sector in a pre-election year at the expense of the middle class and the corporate sector, Finance Minister Arun Jaitley on Friday showed how his latest budget exercise is actually designed to boost overall economic growth with the help of all segments.
Interacting here with corporate leaders following his Thursday presentation in Parliament of his last full budget before the general elections due in early 2019, Jaitley said that a stressed agriculture sector was not in India`s interest, indicating thereby that boosting rural demand is a key in helping Indian industry currently burdened with massive leverage, while banks struggle with their accumulated bad loans.
"To have a stressed agriculture sector and ramshackle infrastructure does not serve the country`s interests," Jaitley said, adding that the farm sector had been under "a lot of stress for the last seven to eight years."
Noting that the stress in the agriculture sector "is real", he said the philosophy behind Budget 2018-19 is that there remained "segments of the economy that need large amounts of government support" although services are doing well and manufacturing had picked up in the last two quarters.
For the Kharif agricultural output, the budget has increased the minimum support price to one-and-a-half times the production cost, raising institutional farm credit to Rs 11 lakh crore in 2018-19 from Rs 8.5 lakh crore.
Fifteen per cent higher subsidies at Rs 2.64 lakh crore are proposed on food, fertilisers and petroleum products.
The budget highlight was the Ayushman Bharat National Health Protection Scheme that aims to cover 50 crore poor people, with the scheme`s contours being worked out.
Under Ayushman, Rs five lakh cover will be provided annually to 10 crore poor and vulnerable families in the country, while the budget provides Rs 2,000 crore for the scheme as initial outlay.
"On social welfare we started in a somewhat disconnected way, but now some kind of social security net is beginning to take shape in which the poor beneficiaries are also sharing some of the cost," the Finance Minister told the industry leaders.
Asked about the small outlay on the health scheme, he said more funds would be made available going ahead.
At the post-Budget briefing on Thursday, he had said that as the country progressed economically, setting up a social security net had become essential.
On corporate tax, Jaitley pointed to the proposed reduction to 25 per cent from the coming fiscal for companies which had a turnover up to Rs 250 crore during 2016-17.
Declaring that the ceiling had been raised to go with the new definition of SMEs, he said it would benefit the entire class of micro, small and medium enterprises which accounts for almost 99 per cent of the companies filing their tax returns.
The revenue the exchequer will forgo during the coming financial year on account of this relaxation has been estimated at Rs 7,000 crore.
On the other hand, to mobilise resources required for schemes, the long term capital gains tax has been reintroduced.
Budget 2018-19 on Thursday proposed to tax long-term capital gains on equities exceeding Rs 1 lakh at 10 per cent, which is expected to bring in a revenue of Rs 20,000 crore.
However, capital gains made on shares until January 31, will be "grandfathered", Jaitley said, adding "we have protected all investments coming in before February 1".
Regarding the customs duty imposed, he said that it had been restricted to a few sectors to block cheap imports from destroying domestic industry.
The budget hiked customs duty on mobile phones to 20 per cent from 15 per cent -- a move that will force foreign players to pass on the burden to consumers.
Presenting the budget on Thursday, Jaitley also made a significant announcement of fiscal slippage with implications for pushing inflation, revising upwards the government`s fiscal deficit target for 2017-18 to 3.5 per cent of the GDP, or the equivalent of Rs 5.95 lakh crore.
The higher target came in place of the 3.2 per cent - or Rs 5.46 lakh crore - for the current fiscal announced earlier.
Get Latest Business News, Stock Market Updates and Videos; Check your tax outgo through Income Tax Calculator and save money through our Personal Finance coverage. Check Business Breaking News Live on Zee Business Twitter and Facebook. Subscribe on YouTube.