33,000% surge in 10 years and still counting! This stock deserves attention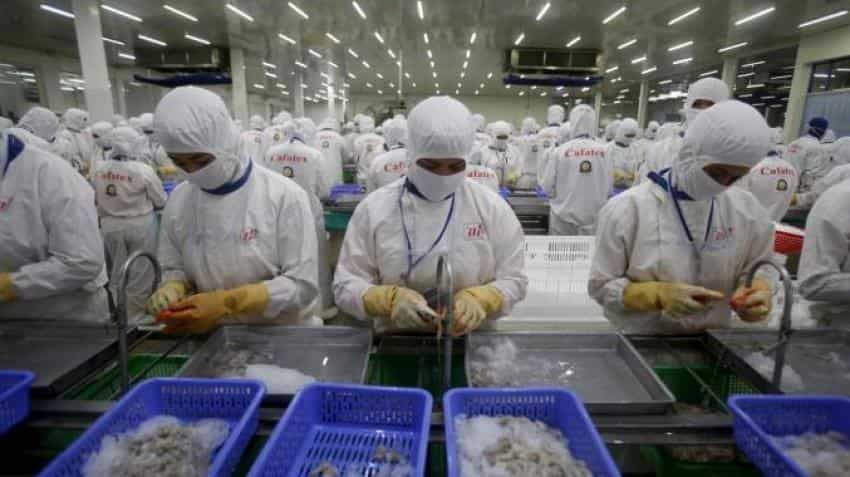 The stock has rallied as much as 33592.20 per cent in the last ten years from Rs 7 in 2008 to Rs 2400 now. Image source: Reuters
This Hyderabad-based company has surged a whopping 33,000 per cent in the last ten years and still holds medium to long-term potential.
Alluri Indra Kumar-owned Avanti Feeds, a manufacturer and seller of prawns and fish feeds, is indeed a multibagger. The stock has rallied as much as 33592.20 per cent in the last ten years from Rs 7 in 2008 to Rs 2400 now. By comparison, the benchmark Sensex has risen nearly 100 per cent. 
The cash-rich company is also a consistent dividend player. For the year ending March 2017, Avanti Feeds has declared an equity dividend of 450 per cent amounting to Rs 9 per share. At the current share price of about Rs 2400 this results into a dividend yield of 0.38 per cent.
Is more steam left?
Brokerage Equirus Securities has an 'add' rating on the stock, and expects it to rise as much as Rs 2,950 by 31 March 2019, an upside of about 22 per cent.
Firstcall Research is also overweight on the stock for the medium to long-term.
However, the valuations are no longer cheap. Equirus Securities has in fact revised down the rating on the stock from 'long' to 'add'.
"We raise our FY18/FY19 EPS estimates by 10-14 per cent but revise down our rating on the stock to ADD (from LONG) due to rich valuations. Our Mar'19 target price of Rs 2,950 is based on 28x TTM EPS of Rs 105," said the brokerage in a report released in November 2017. 
At the current stock price of about Rs 2400, the company's trailing 12-month price-to-earnings (PE) ratio stood at 25.09. The 12-month forward PE comes in at 23.85, according to Bloomberg consensus estimate. The PE ratio was ruling around just 15.63 mark at the end of March 2017.
Financials
On absolute basis, the company's net profit surged over 200 per cent between 2014 and 2017 to Rs 2143.9 crore. This translates into compound annual growth rate (CAGR) of 45 per cent during the same period.
Just last week, the company reported its December quarter numbers. The consolidated net profit of the company jumped 128.31 per cent to Rs 105.07 crore after the company's total income grew 33.82 per cent to Rs 722.61 crore in Q3.
According to Bloomberg consensus estimate, the company is expected to report Rs 3,824.5 crore net profit in FY18 and Rs 4,272 crore in FY19.
"FY18 has proven to be a great year for Avanti Feeds so far, both in terms of sales and profitability, which in turn has strengthened its balance sheet further. The company has net cash of Rs 650 crore (1HFY18) and is currently looking at various options to deploy the same," said Equirus Securities in its November report. 
Meanwhile, Firstcall Research expects the net sales and PAT to grow at a CAGR of 26 per cent and 34 per cent over 2016 to 2019E, respectively.
What led to the rally
Avanti Feeds is involved in the field of aqua culture industry. It manufactures high quality feed for shrimps, operates Vannamei hatchery and processes and exports shrimps. A strong pick-up in shrimp demand globally and catching up with the capacity addition to meet that demand led to a robust growth the company witnessed so far. Avanti has been in the business since 1993 and had then a market share of mere 7 per cent. Market share has grown to over 50 per cent now.
"India is well-positioned to take advantage of increase in global sea food consumption because of our long coast line, availability of raw materials and idle land available for taking up aqua culture in large scale," said Avanti Feeds during its management discussion post Q2 earnings.
However, a sharp increase in RM prices or a drop in shrimp demand and cyclones or any disease outbreaks may work negatively for the company.
Meanwhile, finance minister Arun Jaitley has allocated Rs 10,000 crore in Budget 2018 towards fisheries, aquaculture, and animal husbandry funds.
Updated: Thu, Feb 15, 2018
11:54 am
ZeeBiz WebDesk