End of a chip boom? Memory chip price drop spooks investors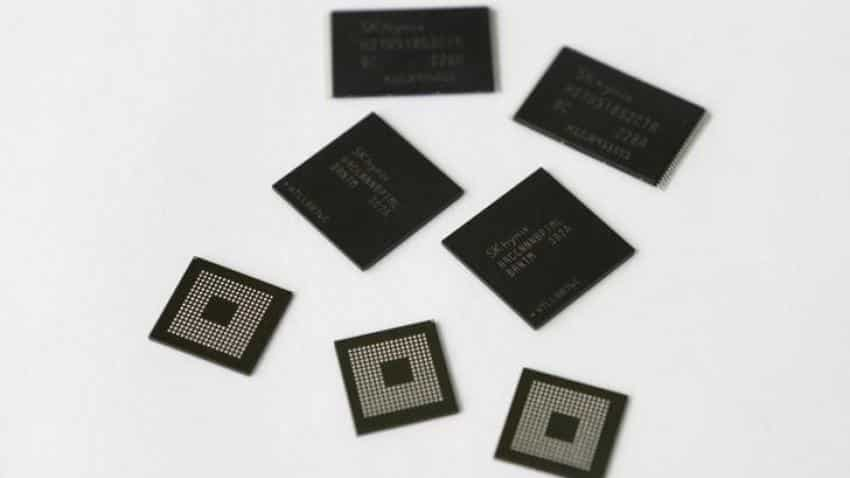 Picture illustration of mobile memory chips made by chipmaker SK Hynix taken in Seoul. Image Source: Reuters
After a blistering year-and-a-half long surge, a sudden drop in some memory prices, followed by Samsung Electronics Co`s disappointing profit estimate, is causing jitters among investors who had bet the chip boom would last at least another year.
Amid news that the market has started losing some steam - prices of high-end flash memory chips, which are widely used in smartphones, dropped nearly 5 percent in the fourth quarter - some analysts now expect the industry`s growth rate will fall by more than half this year to 30 percent.
That led shares in Samsung to dip 7.5 percent last week, while its home rival SK Hynix fell 6.2 percent. But analysts say that there is unlikely to be a sudden crash, and that 2018 should be a relatively stable year for chipmakers.
The $122 billion memory chip industry has enjoyed an unprecedented boom since mid-2016, expanding nearly 70 percent in 2017 alone thanks to robust growth of smartphones and cloud services that require more powerful chips that can store more data.
Supply also has become more disciplined following years of consolidation that reduced the number of manufacturers to a handful from around 20 in mid-1990s.
"Memory chips will likely see a gradual price decline in 2018 if demand remains strong and appetite from servers holds," said Lee Jae-yun, analyst at Yuanta Securities Korea.
But growth of 30 percent is a strong gain in an industry known for volatility, and the market is still on course for its longest ever boom after shrinking 6 percent in 2016.
Last year`s explosive growth gave chipmakers cash to reinvest and boost output, analysts said. The supply of NAND flash memory chips, in particular, will grow 43 percent this year, up from last year`s 34 percent, causing prices to drop by about 10 percent, brokerage Nomura estimates.
Nomura expects growth in output will be largely led by the likes of Western Digital, Toshiba Corp and Micron Technology Inc as they seek to catch up with top-ranked Samsung, which controls about 40 percent of the flash memory chip market.
NO DOOM SEEN
Smartphone vendors have been including more memory in their phones and charging more for them, allowing them to weather last year`s price surge, analysts say.
Average DRAM memory of new models launched last quarter increased by 38 percent from the second quarter of 2016, while NAND content measured by gigabyte jumped 84 percent, according to an analysis by BNP Paribas.
Such solid demand will keep the industry`s margin healthy this year, and chipmakers` investment in more advanced technology will help them cut production costs and stay profitable even as prices ease, analysts say.
Macquarie estimates Samsung`s chip division`s operating profit margin jumped to 47 percent last year from 26.5 percent in 2016, and will rise further to 55.5 percent this year.
While the NAND flash market may soften somewhat, the DRAM memory chip market, which is about $20 billion bigger than the NAND industry, is seen as much tighter. Prices are expected to gain nearly 9 percent because of a severe supply shortage.
With DRAM manufacturers` rushing to ramp up production - they are likely to nearly quadruple capital spending for 2017 and 2018 combined to $38 billion from 2016`s $10 billion - prices may decline as much as 18 percent next year, according to Nomura.
That gives some investors confidence in the industry`s long-term future.
"Besides some minute adjustment, I am currently holding Samsung shares almost without change," said Kim Hyun-su, fund manager at IBK Asset Management. "I don`t think the share price is expensive as they have recently been increasing dividends a lot - and as of now, the expected profit levels are very high."
PRESSURE FROM CLIENTS
Smartphone makers account for about one-third of global memory chip demand, and many have been pressing suppliers to lower prices.
In late December, state-run China Daily reported China`s National Development and Reform Commission (NDRC) was paying close attention to a surge in the price of mobile phone storage chips and could look into possible price fixing by Samsung and others that make them.
More than 50 percent of Samsung`s 2017 memory business revenue came from China, according to chip price tracker DRAMeXchange.
"Although supply-demand dynamics are still solid, clients` pressure to lower prices make it hard to predict" what will happen, said MS Hwang, an analyst at Samsung Securities, which is an affiliate of Samsung Electronics.
Updated: Mon, Jan 15, 2018
08:45 am
Reuters