Interview: Velemenni founder Deepak Solanki aims to bring LiFi to every user's smartphone
Velmenni founder and CEO  Deepak Solanki shares with Zee Business Online the story of his company, which has become a successful start-up after joining the e-Residency programme of Estonia.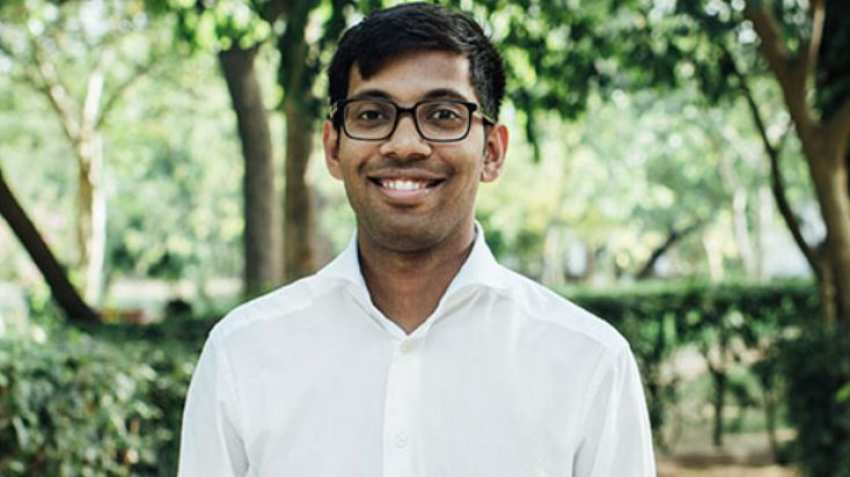 Velmenni Founder and CEO Deepak Solanki
Forget WiFi, gear up for LiFi! Velmenni founder and CEO  Deepak Solanki shares with Zee Business Online the story of his company, which has become a successful start-up after joining the e-Residency programme of Estonia. The company provides Li-Fi technology which is said to be 10X faster than WiFi and facilitates high-speed connectivity. In an e-mail interview, Solanki shares how his journey started and where he sees the LiFi technology in India in the next few years and more. 
Tell us something about the journey of your company. How it all started?
I started Velmenni back in 2012. The idea was to work on upcoming technology. I came across light communication and started doing research in this field. The research outcomes were positive which got us excited. In the first 2 years of inception, we started doing project consulting work to sustain ourselves simultaneously was working on Li-Fi. After that, we started raising funds in early 2014 but the response from investor community wasn't positive. None of them has understood what we were doing. So I started looking outside India. We started applying to accelerators and the first response we got from Buildit Accelerator, Estonia. The Buildit offered us seed investment and invited us to Estonia, we moved there. It was the turning point in our journey. After the accelerator program, we got our first POC and also were able to raise round of investment. The same year, Estonian Government started e-residency program. I applied for it and came to India and set up a subsidiary of Estonian Company in New Delhi.  Because of the e-residency, I am running my Estonian Company while being in India. It is helping us in doing bank transactions and signing of contracts digitally using e-residency card. 
What is the scale of your business currently? Where do you see it in the next three years?
The business is in growth stage now. We got clients across EU, US and India. Currently, we are pursuing POC with our partners within Aviation & Networking industry. We are still having our Estonian company which is the parent entity and running the business remotely from India. The major reason to have the Estonian company is to cater to our international clients. The next three years we see ourselves growing globally and selling the end product.      
READ | Why e-Residency is getting global attention, even from big names like Mukesh Ambani, Bill Gates
What has been your experience in Europe?
We got a positive response in EU and found early adopters of our technology. We have done our first real-time POC in Tallinn, Estonia. It helped us get further traction in the EU. After this POC, we got in the eyes of bigger companies like Airbus and also got shortlisted for their accelerator program. At Airbus accelerator, we had an amazing experience and learning. Being an Estonian (EU based) company, it was easier for us to negotiate contracts with clients as laws across the EU is quite similar.
What are the applications of LiFi? Where can it be used? Who can benefit?
The major applications of LiFi are in the areas where current RF-based wireless infrastructure doesn't work e.g. in crowded areas such as conference, stadium, airports, hospitals, industrial setups. The other applications are in Defense Sector where higher secured communication is required. In the long run, we can see Li-Fi use cases in enterprise connectivity, homes, Industry 4.0. 
Where do you see the future of LiFi?
Eventually, the target is to bring LiFi to every user's smartphone. That would be the scale of the technology where we will using LiFi along with 5G and Wi-Fi.  
How could LiFi change the Internet connectivity scenario?
LiFi brings up several advantages as compared to current wireless infrastructure. The major benefits include, higher security and better bandwidth/speed. Now, LEDs have reached to masses and the same infrastructure can be utilized to create connected spaces. So it is easy to bring connectivity to rural areas and also LiFi would help in building better 4G/5G infrastructure.    
Will the use of LiFi require a different set of devices?
At this moment, yes. We need additional devices to enable LiFi. The major component of a LiFi system is LiFi AP, LED Light Source and LiFi Dongles. In the longer run, we would have LiFi enabled LED light source as well as smart devices.  
How do you see the growth of high-speed internet connectivity in India?
In India, we are still away from a good 4G infrastructure. Due to the exponential growth of smartphone users, the demand for high-speed connectivity is also increasing.
For a telecom operator, setting up high-speed internet infra is expensive and time-consuming. So in my perspective, we are still a couple of years away having a high-speed infrastructure to consumers.  
How is LiFi different from Wi-Fi?
Li-Fi uses the light spectrum (Thz frequencies) to spend information and on the other side, Wi-Fi uses traditional Radio Spectrum (Ghz frequencies) to send information. 
How LiFi works?
There are 2 major components in a LiFi system: 
i) LiFi Access Point 
ii) LiFi Dongle 
In simple terms, LiFi Access Point (AP) is quite similar to a WiFi Access Point or Router. We need to connect LiFi AP to the light source and it converts LED Light into a data transmission system. The LiFi Dongle gets connected to laptop and communicates with LiFi AP. Please see the attached illustration. 
When people in India can expect to use LiFi?
We are already running some trials in India. We see another 2-3 years to bring LiFi to the consumer level.  
Get Latest Business News, Stock Market Updates and Videos; Check your tax outgo through Income Tax Calculator and save money through our Personal Finance coverage. Check Business Breaking News Live on Zee Business Twitter and Facebook. Subscribe on YouTube.
Updated: Sun, May 26, 2019
06:25 pm
New Delhi, ZeeBiz WebDesk