A housing finance stock may be preparing to extend a rally that began in late March
LIC Housing Finance shares have rebounded about 46 per cent from a 52-week low hit in late March, and counting. Most analysts have positive views on the housing finance stock. Here's why.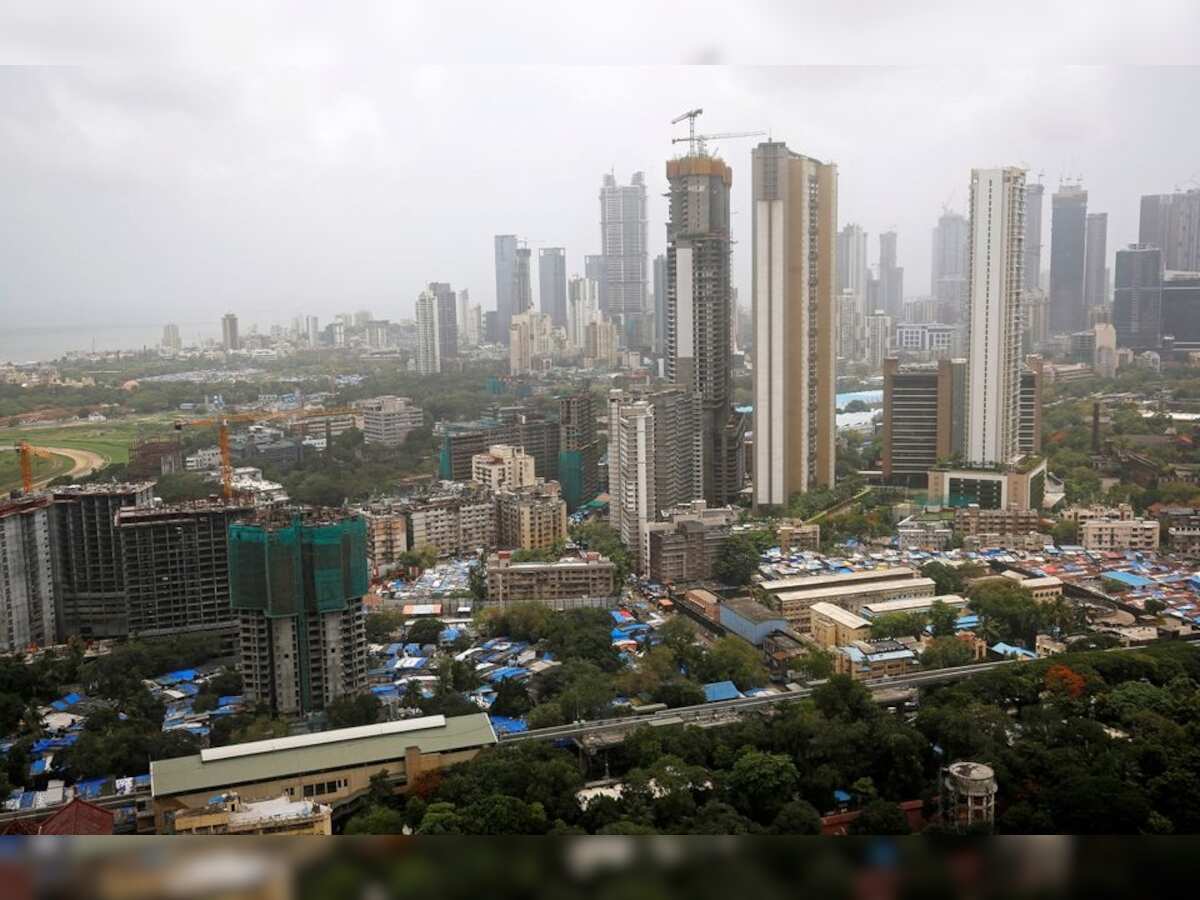 LIC Housing Finance shares have grown 42 per cent in six months. | Image: Reuters
A housing finance stock has rewarded investors with some of the best returns in the segment, and many analysts are bullish on the stock from a long-term perspective. LIC Housing Finance shares have rallied almost 46 per cent in a major turnaround from a 52-week low hit on March 28.  
Though several analysts are positive about the company's long-term growth prospects and stock momentum over the past few weeks, can the rally sustain?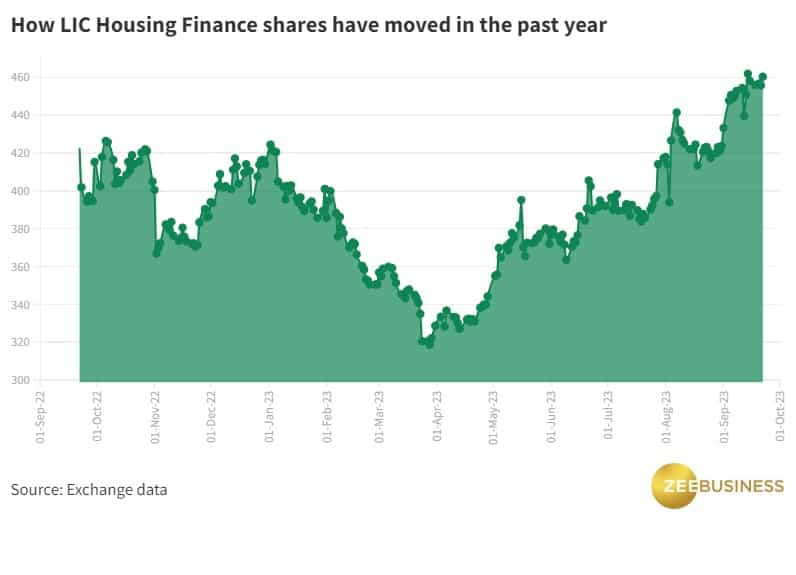 As of September 22, LIC Housing Finance shares have outperformed the the headline Nifty index in the past one year with a return of 15.5 per cent. 
Here's how the stock has fared among some of its peers: 
Stock/index
Return (%)
1M
YTD
1Y
Nifty50
2.1
8.1
15.6
Nifty Financial Services
0.9
3.9
12.9
LIC Housing Finance
9.2
7.4
15.5
IDFC
4.9
50.3
102
PNB Housing Finance
4.5
40.8
112
HUDCO
14.8
53.3
135.2
Aptus Value
3.7
-7.9
-8.5
Aavas Financier
5
-7.6
-23.7
Can Fin Homes
3.3
39.7
59.7
Indiabulls Hsg
7.9
20.6
57.7
Home First
-1.6
11.3
-1.3
Repco Home
-1.8
62.3
63.1
GIC Housing Fin
0.6
-11.6
68.5
So what's driving optimism about the stock?
LIC Housing Finance reported a mixed set of results for the quarter ended June 2023, with a significant rise in its net interest margin—a key measure of profitability for lenders—on the back of steady loan growth though some analysts flagged its sub-par growth in assets under management (AUM). 
Is it a good time to add the LIC Housing Finance stock to your portfolio? 
A host of analysts have positive views about LIC Housing Finance, from technical as well as fundamental perspectives. 
LIC Housing Finance is a "very good investment bet" from a long-term perspective, AK Prabhakar, Head of Research at IDBI Capital Markets, told Zeebiz.com. 
Zee Business analyst Ashish Chaturvedi also has a long-term 'buy' on LIC Housing Finance.
He is of the view that the stock is ready for a big upmove from a technical perspective, for targets to the tune of Rs 550—suggesting an upside of 19.5 per cent from Friday's closing price.  
Can you participate in the rally now?
"It is in a short-, medium- and long-term uptrend...  One can participate and buy but since it is almost at its resistance level of Rs 465-470, and wait just a little bit when it will make sense to buy it on declines," Hemen Kapadia, Senior VP-Institutional Equity at KR Choksey Stocks & Securities, told Zeebiz.com. 
"LIC Housing Finance hasn't convincingly closed above the 465-470 level since July 2019," said Kapadia, who suggests adopting a 'buy on declines' strategy on the stock.
He also suggests adding more for targets of Rs 520 and Rs 580 with a perspective of 8-10 months once the stock takes out the July 2019 levels on a closing basis.
LIC Housing Finance Q1 results
The housing financier kicked off the financial year 2023-24 on a strong note, by reporting a 43 per cent year-on-year jump in standalone net profit to Rs 1,323.7 crore over 38.7 per cent growth in net interest income (NII) to Rs 2,209.4 crore for the April-June period, both beating Street estimates, according to a regulatory filing. 
The company's net interest margin (NIM) improved by 28 basis points to 3.21 per cent compared with the year-ago period.
According to Zee Business research, LIC Housing Finance's quarterly net profit was estimated at Rs 1,100 crore and NII at Rs 1,930 crore, and NIM expected to contract by 20-30 basis points compared with the year-ago period. 
The company's loan assets under management registered growth of 8.1 per cent to Rs 2,76,440 crore. Read more on LIC Housing Finance Q1 results
Although analysts at HDFC Securities acknowledged the company's better-than-expected results owing to a second straight quarter of strong growth in its NIM owing to asset repricing and liquidity management, they highlighted tepid loan growth on the back of a sharp fall in disbursals. 
The housing finance company took a hit of 28.6 per cent in loan disbursements to Rs 10,856 crore in the June quarter.  
Meanwhile, its gross non-performing assets as a percentage of total loans came in at 4.98 per cent and net non-performing assets at 2.99 per cent. Zee Business analysts had pegged the numbers at 4.4 per cent and 2.4 per cent, respectively. 
"LICHF is likely to continue facing a trade-off between growth and margins in an elevated competitive intensity environment, while the margin gains are likely to reverse themselves through the rest of FY24," analysts at HDFC Securities wrote, as the brokerage raised its estimates for the company's earnings in the financial years ending March 2024 and March 2025 and maintained its 'reduce' rating for the stock with a target of Rs 395. 
After a record 2023-23, how the management views the road ahead 
The company's management is optimistic about stable growth in a positive economic environment in the financial year 2023-24 despite recent hikes in benchmark interest rates amid worsening inflation. 
In its annual report for the year ended March 2023, the company said it remains "well-engrained in the middle-income end-user segment which is positioned to benefit from the changing demographic dividend due to the increasing consumption and purchasing power of the customer in India".
It also exuded confidence about registering growth in disbursements and improving its net interest margin, with a special emphasis on affordable housing. 
LIC Housing Finance sees its loan book expanding by 10-12 per cent over the levels achieved in the financial year 2022-23.
Catch latest stock market updates here. For all other news related to business, politics, tech, sports and auto, visit Zeebiz.com.
Updated: Mon, Sep 25, 2023
11:21 pm
New Delhi, ZeeBiz WebDesk