Stock market outlook on 13 October: From Infosys result to FII data to bulk deals, key triggers that will likely impact movement
Bulk Deals: At least 21 deals witnessed bulk deal action on Wednesday on the NSE and one could see stock specific action in these stocks. ICICI Prudential Life Insurance Company sold 1,83,000 shares in Amber Enterprises (I) Ltd at Rs 2284.54 per share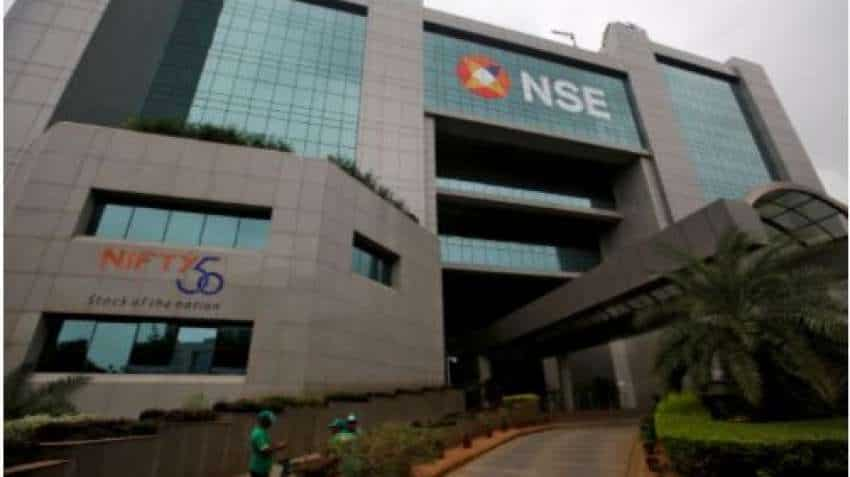 Securities in Ban For Trade on 13 October 2022: Delta Corp and Indiabulls Housing Finance. Source: Reuters
Domestic equity markets ended in the green on Wednesday, breaking a two-day losing streak. The BSE Sensex closed at 57,625.91, up by 478.59 points or 0.84 per cent while the Nifty50 settled at 17123.60, gaining almost 140 points or 0.82 per cent from the Tuesday closing price. In the 30-share Sensex, 25 stocks were trading in the green at the closing time while 5 were in the red. As for the 50-stock Nifty50 index, 42 stocks advanced, 7 declined while 1 remained unchanged.
On BSE, out of the 3,571 stocks that traded, 1602 advanced while 1,840 declined while 129 remain unchanged. No of stocks at 52-week high were 114 while 58 stocks hit 52-week lows.
Out of the 15 sectoral indices, 14 closed positively while Nifty Media being the lone loser, closing marginally lower. Banking and financial services stocks were among the top gainers today.
Nifty Bank ended at 39,118.55, up by 1.05 per cent. Nifty Realty (1.62 per cent) and Nifty PSU Bank (1.51 per cent) were among the best performing indices. Nifty Midcap 100 closed at 30,756.55, up by 0.62 per cent while Nifty Smallcap 100 settled at 9,553.80, higher by 0.80 per cent.
Key triggers to watch out for when markets reopen on Thursday:
1 ) Economy / September CPI Inflation: Retail inflation rose to 7.41 per cent in September from 7 per cent in August, mainly due to higher food inflation which went up sharply to 8.6 per cent from 7.6 per cent in August. September`s retail inflation of 7.41 per cent was much higher than last September's level of 4.35 per cent. This is the ninth straight month when retail inflation has remained above the the RBI`s tolerance limit of 2 to 6 per cent. High prices of cereals, meat, fish and eggs along with those of fruits and vegetables led to the spike in retail inflation.
Suman Chowdhury, Chief Analytical Officer, Acuite Ratings & Research said: "While the market was expecting the headline CPI inflation print to remain over 7.0 per cent in Sep-22, the actual figure has come higher at 7.4 per cent vs 7.0 per cent in Aug-22. As expected, the key factor has been food inflation which has increased sequentially by 0.9 per cent, leading to the overall inflation to go up by 0.6 per cent over the index in the previous month." 
On the other hand, the Index of Industrial Production (IIP) declined 0.8 per cent YoY in Aug'22 as against the market consensus/expectation of 1.7 per cent. This was the first contraction in 18 months, Gupta said.
2) Vivek Rathi, Director-Research, Knight Frank India said the future trajectory of inflation is on the upside, pressurised by import inflation arising from sharp rupee depreciation. With the inflation level consistently remaining ahead of the four per cent CPI target level of the RBI, an out of turn monetary policy rate action remains a possibility, Rathi said.
3) Rupee Vs Dollar: The rupee fell by 12 paise to close at 82.33 against the US dollar on Wednesday due to sustained foreign fund outflows and a stronger dollar in the overseas markets. Besides, risk aversion sentiment among investors ahead of the release of US Fed minutes and inflation data weighed on the local unit. At the interbank foreign exchange market, the local currency opened lower at 82.32 and later fell further to 82.3750 against the American currency. It recovered some ground to close at 82.33, registering a decline of 12 paise over its previous close.
"In line with the dollar index, the rupee marked another steady day. So far this week, the rupee has been trading in a narrow range and closing near 82.32," said Dilip Parmar, Research Analyst, HDFC Securities. Parmar said a rebound in the domestic equities and the central bank's intervention ahead of the crucial retail inflation release supported the rupee on Wednesday.
In the near-term, spot USD/INR is expected to trade in the range of 82.10 to 82.80, Parmar noted. PTI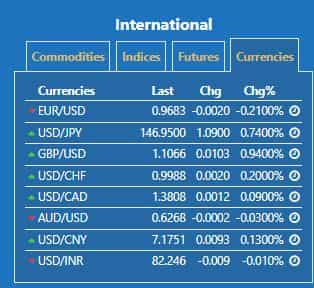 Source: Comex
4) US Markets: US markets were trading with positivity on Wednesday. Dow 30 was trading at 29,337.80, up by 98.57 points or 0.34 per cent while S&P 500 was trading at 3,594.33, up by 5.49 or 0.15 per cent. Nasdaq Composite was trading at 10,437.10, up by 10.94 or 0.10 per cent at the time of filing of the story.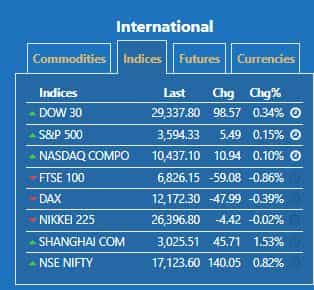 Source: Comex
5) Commodities:  MCX December Gold features were trading at Rs 50880 per gram, down by Rs 216 or 0.42 per cent while the December Silver futures were trading at Rs 57289, down by Rs 1246 or 2.13 per cent from the Tuesday closing price. 
Deveya Gaglani, Research Analyst, Axis Securities:
"Comex spot Gold is back below the USD 1680 level, as the dollar regained its safe haven appeal before Fed minutes, which is due later in the day. It is expected that Fed's stance will remain hawkish in upcoming policy meet. They will continue to raise the interest rates by 75 basis points to check the high inflation. US inflation data, which will be released this week, may define the Gold trend for the month of October.".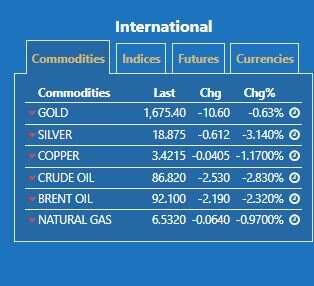 Source: Comex 
6) Securities in Ban For Trade on 13 October 2022: Delta Corp and Indiabulls Housing Finance.
7) Bulk Deals: At least 21 deals witnessed bulk deal action on Wednesday on the NSE and one could see stock specific action in these stocks. ICICI Prudential Life Insurance Company sold 1,83,000 shares in Amber Enterprises (I) Ltd at Rs 2284.54 per share. Graviton Research Capital LLP bought 1,35,534 shares in Apollo Micro Systems Ltd at Rs 196.81. Graviton sold 1,35,534 shares at Rs 196.54 per share.  XTX Markets LLP bought 1,04,785 shares at Rs 195.73 per share while it sold 1,10,871 shares in Apollo Micro Systems at Rs 196.25. Among other stocks that witnessed bulk deal action included Cyber Media Res & Ser Ltd and Kshitij Polyline Limited.
8) FII / DII: Foreign Institutional Investors (FIIs) sold Indian equities worth Rs 542.36 cr while Domestic Institutional Investors bought shares worth Rs 85 cr. 
9) Nifty / Bank Nifty Open Interest
10) Q2FY23 Results: HCL Technologies and Wipro announced their June-September quarter results. Ananad Rathi Wealth, Angel One, Cyient, Infosys and MindTree will be announcing their quarterly earnings on Thursday. Expect stock specific action in these two large cap stocks.
Also Read: LIVE: Infosys Quarterly Results - Q2FY23 Earnings Announcement - Date, Time, Share Buyback Decision - Latest News, Updates
11) Tomorrow is a day of weekly expiry. 
12) Nifty, Nifty Bank Strategy: Managing Editor Anil Singhvi said that Nifty50 has support at 16950-17025 while resistance is seen at 17200-17275. Bank Nifty has support at 38700-38800 while resistance at 39275-39400. 
13) Nifty50, Sensex top gainers and losers: Axis Bank hits target, analyst suggest HOLD; buy Bharti Airtel, Coal India for short term gains
(Disclaimer: The views/suggestions/advises expressed here in this article is solely by investment experts. Zee Business suggests its readers to consult with their investment advisers before making any financial decision.)
Updated: Wed, Oct 12, 2022
11:51 pm
New Delhi, ZeeBiz WebDesk