PMGSY-III is our Priority; Agri-start-ups will be encouraged: Narendra Singh Tomar, Union Minister
Union Minister of Agriculture & Farmers Welfare Narendra Singh Tomar has confirmed that Pradhan Mantri Gram Sadak Yojana-III (PMGSY-III) is prime priority of Modi 2.0 Government.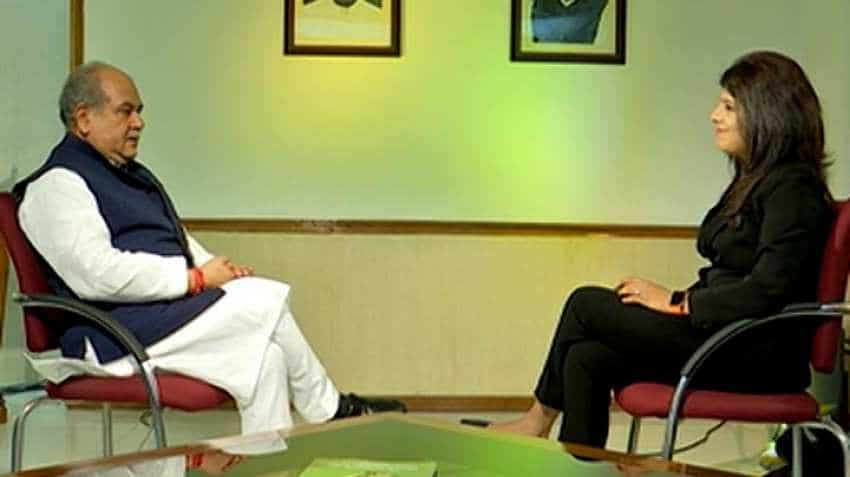 BJP is a firm believer of the fact that rural areas should be developed to take the country ahead and it can be attained by providing basic facilities in the area, says Narendra Singh Tomar.
Updated: Thu, Jul 25, 2019
07:02 pm
New Delhi, ZeeBiz WebDesk
Pradhan Mantri Gram Sadak Yojana-III (PMGSY-III) is our primary priority in the rural development section, says Narendra Singh Tomar, Minister of Agriculture & Farmers Welfare and Minister of Rural Development. In an exclusive interview with Swati Khandelwal, Zee Business, Mr Tomar said, "my party is a firm believer of the fact that rural areas should be developed to take the country ahead and it can be attained by providing basic facilities in the area". Edited Excerpts: 
Rural development is a big challenge for your ministry, and several schemes have been launched for the purpose. What is your outlook on those schemes and let us know about government plans that will be launched in future?
India is a village-centric nation and a huge population resides in a rural area and that's why the governments should have a special focus on rural areas of the country. My party is a firm believer of the fact that rural areas should be developed to take the country ahead and it can be attained by providing basic facilities in the area. Therefore, the previous NDA-government led by Atal Bihari Vajpayee introduced Pradhan Mantri Gram Sadak Yojana to connect every village with road and the project would have completed by 2008 if the late Prime Minister would have been chosen in the power once again. However, the project was postponed regularly due to a change in the government. I am happy to see that the incumbent Prime Minister Narendra Modi has decided to complete the work initiated by the former Prime Minister Lt. Vajpayee by 2019. The core network created during Vajpayee's tenure had 1.78 lakh habitations/settlements of which it was practically possible to add 1.71 lakh habitations. Of this 1.71 lakh habitations 1.66 lakh habitations were connected, i.e. 97% of our work has been completed. Besides, we were supposed to develop 50,000-km roads under the second phase of Pradhan Mantri Gram Sadak Yojana and construction for 41,000-km roads has been approved by us of which around 29,000-km roads have been developed and the villages are almost connected. Now, under the able leadership of Prime Minister Narendra Modi, we will try to connect tehsil office, hospital, high & middle school and universities to these villages so that a person/student can use the roadways to reach school or college, tehsil office and hospital among others. This is why the third phase of the Pradhan Mantri Gram Sadak Yojana was announced in this year's budget, under which we will be developing around 1.25 lakh kilometre roads till 2024-24 at an investment of around Rs80,000 crore. The government is prepared for this and the work will be done. 
See Zee Business Live TV streaming below:
Apart from this, there is a great need of employment in the rural areas and we are working a lot on employment and skill development and for the purpose, we have launched Deen Dayal Upadhyaya Grameen Kaushalya Yojana (DDU-GKY) under the National Rural Livelihood (आजीविका मिशन) Mission. Interestingly, around 8 lakh rural students have been trained under DDU-GKY in last five years of which 5 lakhs have been employed, till date. There are around 54 lakh Aajeevika groups are functional in India and about 5 crores 96 lakh women are associated with these groups and they are provided with Parakrami Nidhi (पराक्रमी निधि) from the government and they are also linked with the banks. As far as remember, the banks have sanctioned around Rs2 lakh 25,000 crore loans to Self Help Groups (SHGs) in past few years and women are working well and earning their livelihood as well as are also repaying the loans. There NPA stands around 2.18. So, they are working in almost every sector. When it comes to MGNREGA, then I am happy to inform you that 268-employment days has been notified this year which is maximum human days in the history of MGNREGA. Interestingly, the payment of almost 99% labours working under the scheme is credited directly to their bank accounts and this has helped us in keeping away the middle-men from it. We have also decided to create structures that can be used by the people through MGNREGA and these structures will be geo-tagged. I am happy to inform that we want to geo-tag more than 3 crore structures that have been developed under MGNREGA.  
The ongoing slowdown in the economy and stress in demand and consumption has created pressure on the rural market. How you are seeing it?
See, our economy is majorly village and agriculture centric and that is why the government should always try to increase the purchasing power parity of the rural population, as an increase in their purchasing power will give a boost to the market. But, at times it turns up to be a long-term vision and I am happy to inform that the Prime Minister Narendra Modi has always focused on rural and agricultural areas of the country. This is why, crores are being invested in rural areas under Pradhan Mantri Gram Sadak Yojana, which will benefit the villagers by providing an opportunity to work. Now, I would like to talk about Pradhan Mantri Awas Yojana under which 1 crore 53 lakh houses have been developed and each house – whose development need bricks, rods, labours, gates and windows as well as toilet and Gas - have been developed at a minimum investment of Rs1.50 lakh. Under this scheme, our government in its last tenure invested around Rs81,000 crore in rural India, which in return have benefitted the villagers as well as the market. 
The government has set a target of doubling the farmers' income by 2022. Do you think that you will be able to meet the target within the deadline?
Maximum of our population is engaged in the agricultural sector and there are two kinds of people who are involved in the farm sector and they are (i) those, who have their farmlands and (ii) the one who works on the farmlands as labour. Interestingly, both of them are residing in rural areas and their conditions should be improved. The government is focused on the aspect and that is why the Prime Minister has announced the plan of doubling farmers income. Thus, through this scheme, the Prime Minister has provided a target to everyone like the farmers, the governments and budgets as well as everything that relates to farming. So, everyone, the central government, state government and the farmers, are involved in it and doing their best to achieve the target. Besides, the union government has constituted a committee to look into the matter and the committee has submitted its report along with recommendations to the government and we are working on the recommendations through our schemes. If you have a look at it then you will find that the Prime Minister has taken important and big steps in this direction. There is a tradition of announcing support prices. Prof. M.S. Swaminathan was appointed as a chairman of the committee that has submitted its report that advocates that at least 50% more support price of cost of production should be provided to a farmer, i.e. if the cost of production is Rs100 then he should be provided Rs150 in exchange of the produce. However, implementation of the recommendations was delayed during the tenure of the UPA government but when Prime Minister Modi, who announced his plans to double farmers income, has implemented the recommendations of Swaminathan Report and 50% more support price is being provided in the country for past two years. And, when the farmer is at a loss then the government's money should reach to the farmer through one of the other schemes and that too 100% amount should reach to the right beneficiary. This is also an important achievement of Modi government and if you remember that Former Prime Minister Rajiv Gandhi during his tenure said that only Rs15 of every Rs100 that is sent to the village reaches to the village, but things have changed under Modi government, as the amount is directly being credited to the account of the person. Our government has also launched Pradhan Mantri Kisan Samman Nidhi intending to increase the earnings of a farmer. The scheme will cost around Rs87,000 crore annually and its arrangements have been made in the budget and its implementation will directly benefit 14.50 crore farmers of the country. I think, post-independence Rs86,000-87,000 crore has been farming budget till date, but a single jump has taken away Rs87,000 crore from union government's budget, which will be credited in the accounts of every farmer of the country. Thus, this amount will increase his earnings by 15-20%.  Apart from this, social security and respect should be provided to the farmer because when a farmer who works on his land turns 60 is not able to work in the way he used to work earlier. To ensure that the farmer leads a respectful life after he turns 60, the government led by PM Modi has introduced Pradhan Mantri Kisan Pension Yojana and its provisions have been made under this year's budget. Interestingly, the farmers, who join the scheme will be provided with a pension of Rs3000/month. This is an achievement in the case of farmers. 
Apart from this, there was a time, unavailability of food items was an issue in the country but today, we are self-dependent in that department and this is a result of the endeavours and hard work of our farmers, research of scientists and firm determination of Prime Minister Narendra Modi. However, it is a time when we should introduce income-oriented schemes for the farming sector instead of production-oriented policies and that's why there should be diversification of crops is necessary. Farming is not just one thing that is required to double the farmers' income, but it can be achieved by connecting them with different things. There is also a need to increase through animals, fisheries, horticulture and bee farming among others. Besides, technology should be introduced in farming and this technical support should be provided by the centre and the state government and they are ably trained for their usage. Better seeds should be provided to them. In the case of fertilizers, Prime Minister Modi has done a lot in the segment by introducing neem-coated urea. Along with it, we should also try 
When it comes to rainfed agricultural areas, then we should try to find out the lands that are not used for farming purposes and support them. For the purpose, our Agri-scientists have conducted researches and developed such seeds which are produced there. And at the same time, we have marked such areas and are trying to increase the income of farmers in those areas. 
The government has established a new ministry to tackle the issue of the water crisis, but water crisis is a problem for farmers, and they are dependent on monsoon and this leads to farmers' suicide and there are many regions in Maharashtra and Karnataka affected by this. You have said that you are trying to find what can be done with such lands, but have you received any input in that regard and have any firm decisions has been taken in this regard? 
We all know that life is not possible without water and it is the responsibility of every citizen has a responsibility to take the country out from this water crisis. The Prime Minister has focused on this problem and the programs for the conservation of water are run through the medium of the government as well as societies. The MNREGA scheme of the Ministry of Rural Development has made a chief contribution to it but in the perspective of water conservation, we need to work having a 360-degree approach. The Prime Minister has established he 'Jal Shakti Ministry' and it is responsible for the work assigned right from irrigation to other massive projects including lift irrigation. It has also taken responsibility of providing drinking water 'Har Ghar Jal' (Water for Every House) and we are working on a big plan under the guidance of Prime Minister. Under the leadership of the Prime Minister, the programs aim at providing clean water to crores of Indian households. We all know that Mr Modi completes every task that he undertakes. While we aim at conserving water, we will also have to focus on the agricultural sector and the Prime Minister has also urged to 'reap maximum yields from every water drop' (Prati Bundh Adhik Fasal). As a result, we will have to focus on drip irrigation and sprinkler agriculture as it requires less amount of water for fields. It requires around 3000 litres of water to produce one kilogram of grains. We will need to implement other facilities and techniques where the water consumption would reduce, and we need to focus on crops that require less water as agriculture and maximizing the farmers' income is important. We will be able to save water when we shift from free-flowing water to drip irrigation. Farmer's think that using a large amount of water, fertilizers and insecticides produces a better yield of crops then I would like to make it clear that this not true. If we provide available water, specific fertilizers and pesticides according to the crop's demand, then the production can increase, and crop damage can reduce. Farmers need to think in this direction as their contribution would help the country from being out from water-crisis problem and also increase their income. 
Technology can help us manufacture a better product with the usage of less amount of raw materials. As you mentioned the aspect of technology, how will you encourage and incentivize Agri-start-ups as there were talks of around 70 deals worth $130 million for it?
It is necessary for the government to add value to products and it is essential. If we look forward than we have natural resources in every segment and if we can add value to it then it will help the country, the GDP and generate employment opportunities. So, value addition to Agri-based products is important to make agriculture profitable. This will also oppose the current unemployment in the rural regions. Our Food Processing Industry is working on this and they are working well in the (food) processing sector. We are trying to assist and encourage the Agri-start-ups and I believe that the entire country connects when PM Modi undertakes any mission. When he spoke about Swatch Bharat Mission, the entire country was with him, a new spirit was born when he spoke about the 'Make in India' program and transparency. When, now, he has talked about doubling the farmers' income and is focusing on it then this agri-start-ups is an important step in this direction. The government is working to facilitate the new people entering the industry.
The contribution of agriculture to the GDP was 2.9% from 2014 to 2019 contrary to 2.5% of 2005-2014. Do you think this contribution will increase? If yes, what target do you hope to achieve?
I think the contribution of agriculture to the GDP is very important and the numbers vary sometimes. We have observed this and analysed it. When we see forward to things that are contributing to our GDP then we find that fisheries and animal husbandry has a big contribution to it. This is why I have talked that there is a need to encourage animal husbandry, fisheries and crops. So, we are making efforts to increase their contribution to the GDP and the ongoing schemes and programs concerned to it will have its impact in future. 
As you are connected with 3 major portfolios, where do you spend most of your time as there is a lot of work to be done in every direction? How do you manage your time?
As rural development and agriculture are large portfolios, I focus on the work that is in progress and the work that remains. I work with both simultaneously.
What are the top 3 priorities and your targets that you feel are needed to be achieved as soon as possible?  
Our primary focus in case of the rural development segment is to start work on the third phase of the Pradhan Mantri Sadak Yojana (PMGSY-III) and provide high-quality roads to people. The doubling of the farmers' income is our priority in the agricultural section and for the purpose, a full-fledged work will be started on the government's roadmap after the Lok Sabha season comes to an end. In the process, we will have talks with the state governments in full force. We will also initiate awareness programs. The PM Kissan Samman Nidhi aims to reach around 10 crore people and the PM Kissan Pension aims to join 5 crore people. We are working in the direction.
Get Latest Business News, Stock Market Updates and Videos; Check your tax outgo through Income Tax Calculator and save money through our Personal Finance coverage. Check Business Breaking News Live on Zee Business Twitter and Facebook. Subscribe on YouTube.