PM Narendra Modi rolls out healthcare and wellness scheme Ayushman Bharat Yojna
 PM Narendra Modi said the Ayushman Bharat scheme is not limited to providing a health  service,  but also invites inputs from society too. "Public participation will create a healthy, capable and content 'New India'",  prime  minister said.  "In  Chhattisgarh  we have witnessed revolutionary changes in health services. Earlier, there were only 2 medical colleges but now there are 10 medical colleges," PM Modi said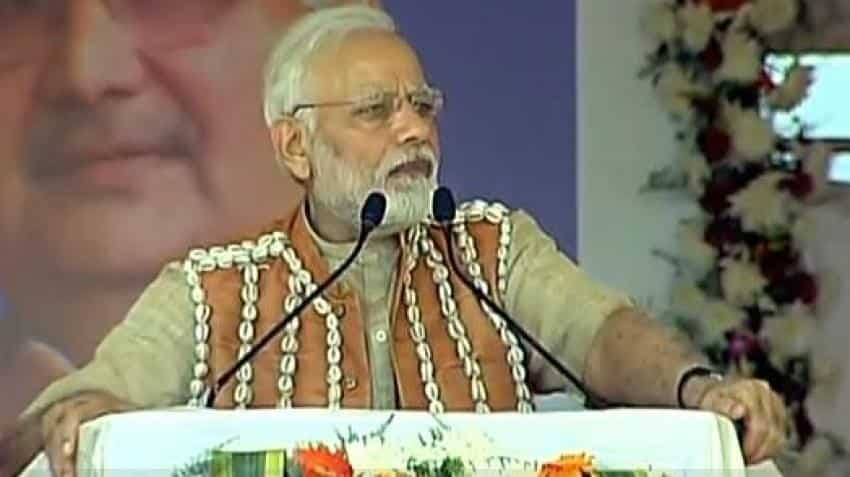 Ayushman Bharat Yojna aims to cover 10 crore poor families and provide a cover of Rs 5 lakh per family a year for secondary and tertiary care hospitalisation. Image source: Twitter
Updated: Sat, Apr 14, 2018
06:38 pm
ZeeBiz WebDesk
Prime Minister Narendra Modi today inaugurated the first healthcare and wellness centre under Ayushman Bharat Yojna at Bijapur in Chhattisgarh. PM Modi said the Ayushman Bharat scheme is not limited to providing a health service, but also invites inputs from society too. "Public participation will create a healthy, capable and content 'New India'", prime minister said.  "In Chhattisgarh we have witnessed revolutionary changes in health services. Earlier, there were only 2 medical colleges but now there are 10 medical colleges," PM Modi said.  While launching the scheme he said, "In around 1.5 lakh villages, sub centres and primary health centres will be developed as Health and Wellness centres." 
Ayushman Bharat Yojna aims to cover 10 crore poor families and provide a cover of Rs 5 lakh per family a year for secondary and tertiary care hospitalisation. PM Modi said the objective of these centres is not only to treat patients, but they will help prevent spreading illness. Now, the poor will be able to check common diseases such as diabetes on a regular basis. He said there will be free dialysis facility for the poor of the state and doctors will be available 24 hours. He added that there will be electricity connection in every household in the district. 
Adding to what PM Modi said, BJP's Twitter post said, "Under PM Dialysis Yojna, free dialysis facility is being provided in more than 500 hospitals. Around 2.5 lakh patients have benefited through it".   PM Modi inaugurated a new rail line and a passenger train. His visit to Chhattisgarh coincides with the birth anniversary of Dalit icon Dr B R Ambedkar. The prime minister also highlighted the  contribution of Ambedkar during his speech. 
Prime Minister Modi also laid foundation stones for roads worth Rs 1700 crore. Another BJP Twitter explained that under PMGSY, more than 2700 KM roads will be built.