Assembly election results 2019 LIVE: BJD, YSRCP win Odisha, Andhra Pradesh; Modi congratulates Naveen Patnaik
Odisha, Andhra Pradesh, Arunachal, Sikkim Assembly election results counting LIVE updates: The counting for Assembly elections in Odisha, Andhra Pradesh, Arunachal, Sikkim has started.
Odisha, Andhra Pradesh, Arunachal, Sikkim Assembly election results counting LIVE updates; A member of Central Industrial Security Force keeps guard inside a vote counting centre in Ahmedabad. Image: Reuters
LIVE Odisha, Andhra Pradesh, Arunachal, Sikkim Assembly election results counting Updates: The counting for assembly elections in Odisha, Andhra Pradesh, Arunachal, Sikkim and bypolls in Tamil Nadu is on  Polling for these state assemblies were held simultaneously with the Lok Sabha elections. Even a day before the counting to begin, Congress in Odisha conceded defeat Wednesday. The Congress had in 2014 bagged only 16 out of the total 147 seats in Odisha Assembly and had failed to open its account in the Lok Sabha polls. Different exit polls this time predicted one Lok Sabha seat and 15 assembly seats for the party. Majority of the exit polls forecast an impressive performance by the BJP in Odisha this time. Many of them even suggested that the saffron party bagging more seats out of a total of 21 Lok Sabha constituencies in Odisha than the BJD. In the state assembly election also, the polls indicated the BJP emerging as the main challenger to the Naveen Patnaik's party.
Check Lok Sabha election results 2019 LIVE Updates
Check Odisha, Andhra Pradesh, Arunachal, Sikkim Assembly election results LIVE updates
17.50: Modi congratulates Naveen Patnaik for retaining Odisha: Congratulated Odisha Chief Minister Naveen Patnaik for his Biju Janata Dal's performance in the state Assembly elections, Prime Minister Narendra Modi tweeted, "Congratulations to Naveen Babu for yet another victory in Odisha. Wishing him the very best for the next term." The BJD is set to form its government for a fifth straight term negating a Modi wave that is sweeping the country, with its candidates leading in 112 of the state's 146 seats. Patnaik, who is contesting the Assembly polls from Bijepur and his home turf Hinjili, is leading on both the seats.
16.35pm; Latest numbers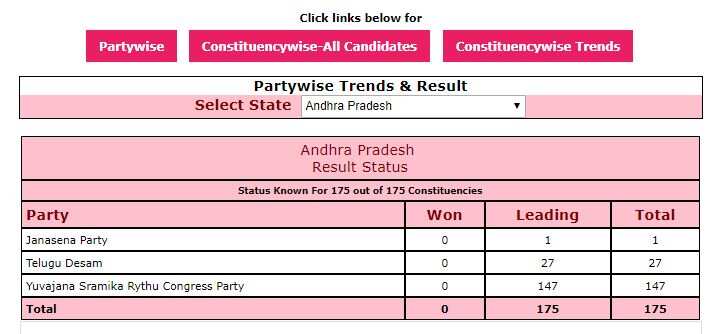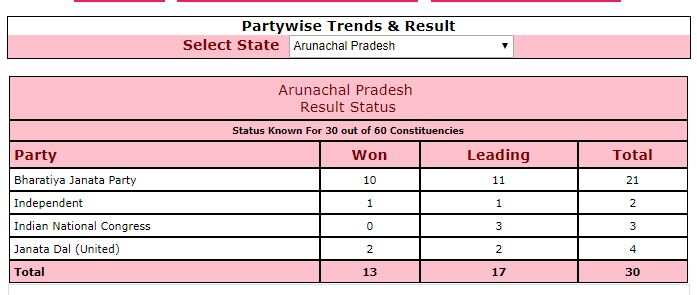 16.00: BJD and YSRCP have won Odisha and Andhra Assembly elections respectively.  BJP looks on course to victory in Arunachal Pradesh.  
1.56: Ummareddy Venkateswarlu of YSRCP, Andhra Pradesh, says: "Out of 175 assembly seats, YSRCP is leading on 150 seats. People have confidence on Jaganmohan Reddy to lead the state. Looking at the loot by N Chandrababu Naidu, the public doesn't want him to rule the state."
12.37: Odisha assembly election trends: BJD leading on 94 seats, BJP on 28 seats, Congress on 12 seats, CPI-M on 1 seat, JMM on 1 seat and Independent on 1 seat
12.16: Andhra Pradesh assembly election trends: YSRCP leading on 149 seats, TDP leading on 25 seats and Janasena Party leading on 1 seat
12.04; Latest numbers - Odisha: BJD -88 or 146; BJP 27; Congress 13.
Andhra - YSRCP - 148; TDP - 25
Arunachal = BJP: 12; JDU -1
Sikkim - SDF - 2; SKM - 7 
11.38 am: Odisha - BJD leads on 78 seats; BJP on 26
#ResultsOnZEE | पीएम #NarendraModi की शानदार जीत पर उनकी मां हीराबेन मोदी ने बांटी मिठाई।

#NoteSabha #AbkiBaarKiskiSarkar @AnilSinghviZEE pic.twitter.com/YXGAeWrHDe

— Zee Business (@ZeeBusiness) May 23, 2019
11.32 am: YSRCP leads in 142 of 173 seats in Andhra Pradesh; TDP on 29, Janasena Party on 2
10.57 am: In Odisha, CM Naveen Patnaik's BJP leding on 61; BJP on 16; Congress on 6. There are total 146 seats. 
10.56 am:  In Andhra Pradesh, YSRCP is leading on 131 of 157 seats; TDP on 25 seats; Janasena on 1. 
10.26 am: In Aurnachal Pradesh, BJP leads on nine seats; JD(U) on 1 ad NPP on 1
10.13 am: Victory certain for YSRCP in Andhra! Check latest official numbers: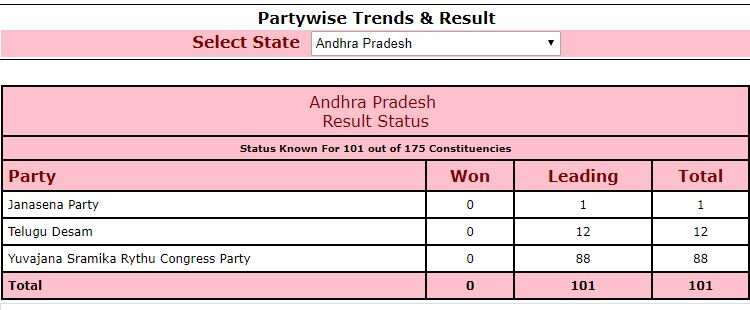 10.03 am: Arunachal Pradesh assembly elections: Bharatiya Janata Party leading on 7 seats, according to EC official trends
10.00 am: Latest leads in Andhra Pradesh Janasena party - 1; TDP- 11; YSRCP - 88
09.56 am: Latest leads in Odisha BJP - 5 BJD - 16 09.46 am: In Arunachal Pradesh, BJP is leading on six out of 60 Assembly seats. 
09.43 am: In Andhra, YSRCP leads in 102 seats. Ruling TDP leads in just 20 seats. 
9.42 am: In Odisha, BJD leads in 31 seats; BJP in 8
09.25 am; In Andhra pradesh, YSRC leading on 25 of 175 seats, TDP on 5. 
08.54 am: The counting of ballots for 21 Lok Sabha seats and 146 Assembly segments in Odisha began amid tight security on Thursday.  The counting is being held in 63 centres across the state. The Election Commission has received around 1 lakh postal ballots.
08.00 am: Counting has started for assembly elections in Odisha, Andhra Pradesh, Arunachal, Sikkim.
06.56 am: In Andhra Pradesh, elections to 175-member state Assembly and 25 Lok Sabha seats were held in a single phase on April 11.About 80 percent of 3.93 crore voters had cast their votes, deciding the fortunes of 319 candidates for Lok Sabha seats and 2,118 candidates for Assembly seats.
06.46 am: Congress concedes defeat in Odisha. A day before the counting of votes take place, Odisha Congress president Niranjan Patnaik Wednesday conceded that the party will not be able to form a government on its own in the state, and may even lose the opposition status. Patnaik's statement indicated that its straight fight between the BJD and the BJP in Odisha, a state where Congress had its government for several times in the past and where it is principal opposition to the Naveen Patnaik headed party for previous 19 years.
06.41 am: The stage is set for counting of votes in Andhra Pradesh Assembly and Lok Sabha elections on Thursday amid tight security arrangements. With both Telugu Desam Party (TDP) and YSR Congress Party expressing apprehension that other might resort to violence, elaborate security arrangements were made at the counting centres across the state. Election Commission of India observer (law and order) K. K. Sharma along with Chief Electoral Officer (CEO) Gopala Krishna Dwivedi reviewed the security arrangements on Wednesday
6.28 am: Counting to begin soon in all states where assembly elections took place. Early trends can be expected in a few hours from now. 
Get Latest Business News, Stock Market Updates and Videos; Check your tax outgo through Income Tax Calculator and save money through our Personal Finance coverage. Check Business Breaking News Live on Zee Business Twitter and Facebook. Subscribe on YouTube.
Updated: Thu, May 23, 2019
05:57 pm
ZeeBiz WebDesk