Lok Sabha election results 2019: Modi magic sweeps India! Trump predicts "Great things are in store for US-India partnership"
Lok Sabha Elections Result 2019; India General Election Results, Counting update: NDA has taken big lead in early hours of counting.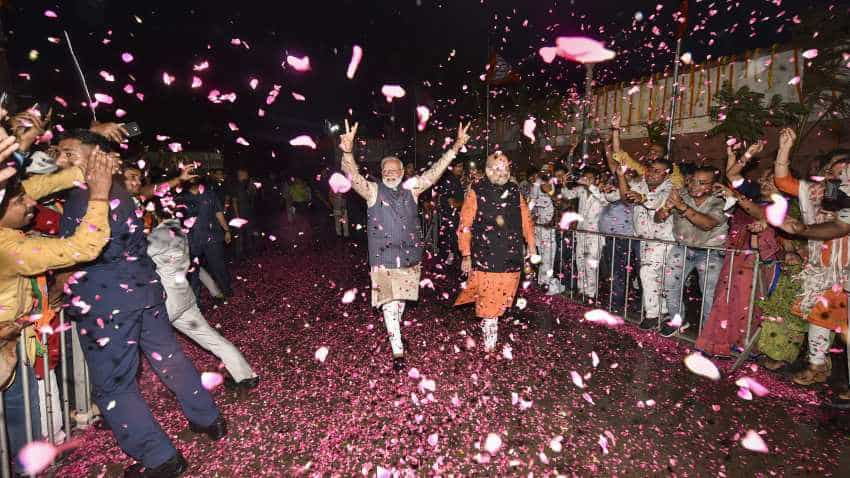 LIVE Lok Sabha Elections Result 2019: BJP supporters welcome Prime Minister Narendra Modi as he, along with BJP President Amit Shah, arrives at the party headquarters in New Delhi. Image: PTI
LIVE Lok Sabha Elections Result 2019: Prime Minister Narendra Modi is set to become the premier once again with a massive victory against the opposition. Over 8,000 candidates were in the fray for 542 seats. As many as 67.11 per cent of the 90.99 crore electors had cast their vote in the seven-phase elections. This was the highest ever voter turnout in Indian parliamentarian elections. For the first time in a Lok Sabha election, results of voting machines will be matched with slips generated by paper trail machines. The exercise will take place in five polling stations per assembly segment which effectively means that out of nearly 10.3 lakh polling stations, the EVM-VVPAT matching will take place in 20,600 such stations. Out of 18 lakh registered voters, as many as 16.49 lakh had sent their postal ballots to their respective returning officers as on May 17. The exercise of counting postal ballots manually will take a couple of hours at least. 
Check Odisha, Andhra Pradesh, Arunachal, Sikkim Assembly election results counting LIVE updates
Lok  Sabha Elections Result 2019 LIVE updates
23.55: PM thanks world leaders: Prime Minister Narendra Modi thanked world leaders and personalities for their congratulatory messages after the BJP-led NDA is set to return to power for the second time, saying his government will work with utmost diligence for a better India. In a series of tweets, Modi thanked world leaders such as Afghanistan president Ashraf Ghani, Israel Prime Minister Benjamin Netanyahu and Sri Lankan PM Ranil Wickremesinghe.
23.31: Sadhvi Pragya humbles Digvijay in Bhopal: BJP candidate Sadhvi Pragya Singh Thakur defeated Congress stalwart Digvijay Singh by a huge margin of 3,64,822 votes in the Bhopal Lok Sabha seat. Thakur, 49, bagged 8,66,482 votes, while Singh received 5,01,660, while a total of 14,07,954 votes were polled. NOTA bagged 5,430 votes. 
23.18: Trump hails Modi for poll victory: US President Donald Trump congratulated Indian Prime Minister Narendra Modi for a big election victory through his twitter handle saying, "Congratulations to Prime Minister @narendramodi and his BJP party on their BIG election victory," Trump further added, "Great things are in store for the US-India partnership with the return of PM Modi at the helm. I look forward to continuing our important work together!"
23.00: Tharoor wins from Thiruvananthapuram: Former Union minister and congress party leader Shashi Tharoor wins from the Thiruvananthapuram Lok Sabha constituency in Kerala, defeating Kummanam Rajashekharan of the BJP by a margin of nearly one lakh votes, according to EC website.
22.45: Infographics for Lok Sabaha Election Results 2019 - 10 PM.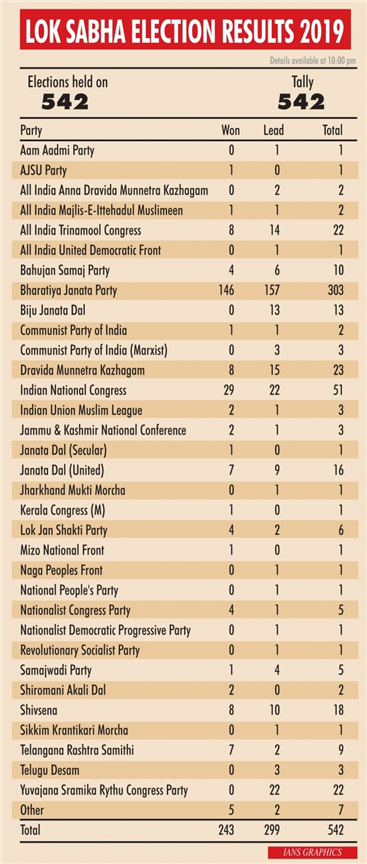 21:45: Indian Inc hails PM Modi: On the BJP-led NDA's stupendous performance in Lok Sabha polls, India Inc said this is an endorsement of Prime Minister Narendra Modi's decisive leadership, asserting that NDA 2.0 must unleash bold initiatives to transform the economy. Several corporate honchos, including Gautam Adani, Anand Mahindra, Adi Godrej, Anil Agarwal, Sunil Bharti Mittal and Sajjan Jindal cheered as results and trends pointed towards the BJP and allies returning to power with a thumping majority, saying it was the time for deep reforms entwined with India's ambition to emerge as a global superpower, according to PTI.
21.25: Responding to Prime Minister Narendra Modi's message over his victory in assembly polls, Odisha CM and BJD chief Naveen Patnaik said, "I congratulate them (BJP). I rang up the Prime Minister in the morning and congratulated him...We'll have a constructive relationship with the central govt for the development and welfare of Odisha."
20.45: On Housing market, Sanjay Chaturvedi, CEO, Shubham Housing Finance, said "Markets have already reacted positively in anticipation of the current government continuing with its strong policies to promote growth. We believe that this is immensely positive for the housing finance and housing market. As the current government has shown its commitment in Housing for all and we expect it to only continue and accelerate in the next 5 years. This sector will enjoy good tailwinds." On Election result, he added, "The market has greeted the anticipated results with a thumbs up and while there might be a little correction after the initial euphoria but overall we expect it to be positive. We expect growth to accelerate."
20.00: Prime Minister Narendra Modi addressing party workers at the BJP Headquarters said "Aaj svayam Meghraja bhi is vijay utsav mein shareek hone ke liye hamare beech hain (today raingod himself has come between us to mark our victory). He added, "Since the country got independence, so many elections took place, but the maximum voting took place in this election, and that too in 40-42 degree temperature." Expressing gratitude to 130 crore people of the country, he said that they have once again fulfilled the desire of this hermit (himself) ..Aaj desh ke koti-koti nagrikon ne iss fakir ki jholi ko bhar diya hai. Main Bharat ke 130 crore nagrikon ka sar jhuka kar ke naman karta hoon".  Modi said, "If someone has won, it's Hindustan that has won, it's democracy that has won, it's public that has won, and therefore, I dedicate this to public, all BJP and NDA people with humility." "I congratulate all the winners, no matter from which party or which region they contested," he added.
According to him, "Since I was busy today, I couldn't pay attention to results. I don't have much information about it, but I was briefed by party president," adding "But from what he told me that indicates that political pundits will have to change their 20th century thinking." The Prime Minister also took potshots at his opponents saying that so called secular looby has stopped their canard campaign from from 2014 to 2019, and in this election no party could deceive people in the garb of secularism, (2014 se 2019 aate aate secularim ki jamaat ne bolna bandh kar diya. Is chunaav mein ek bhi rajnetik dal secularism ka naqab pehen kar janta ko gumrah nahi kar paya). PM Modi reiterated that "Today there are only two castes in India- the poor and the other belongs to those who want to help the poor come out of poverty."
19.40: Amit Shah welcomes PM Modi: Welcoming Prime Minister Narendra Modi, BJP president Amit Shah addressed party workers saying "This is a victory for the BJP's government which worked on 'sabka saath sabka vikas' from 2014-2019." Shah thanked the party workers for their support, saying it was reflection of their hard work and dedication. He said, "this is a historic victory. After 50 years someone has won an absolute majority for the second time in a row." On West Nengal, he said, "Even after so much violence and rigging, BJP won 18 seats in West Bengal. It tells that in coming days, BJP will establish its might in West Bengal." Shah further added, "...I would like to tell Chandrababu Naidu ji, had he worked so hard to get votes then TDP's account would have opened." 
The Prime Minister was accorded a grand welcome at the BJP headquarters as he led the party to a stupendous victory in the Lok Sabha polls. BJP chief Amit Shah greeted Modi on his arrival at the party office following which hundreds of BJP workers showered rose petals on the two leaders. PM Modi acknowleded the warm welcome accorded to him, flashing victory sign that evoked huge cheers from the crowd. Notably, members of BJP Parliamentary Board including a number of union ministers were present on the occasion. 
18.40: Prime Minister Narendra Modi removed the 'chowkidar' prefix from his Twitter handle, tweeting, "Now, the time has come to take the Chowkidar Spirit to the next level. Keep this spirit alive at every moment and continue working for India's progress." He, however, said the word 'Chowkidar' goes from his Twitter name, "but it remains an integral part of me. Urging you all to do the same too!" Thereafter, several other party leaders including Amit Shah, Rajnath Singh and Arun Jaitley also followed suit and dropped the prefix from their profiles. On March 17, Modi had added chowkidar in his Twitter handle, a day after launching the "Main Bhi Chowkidar (I am a watchman too)" campaign on social media. The campaign was launched to counter Congress chief Rahul Gandhi's repeated "chowkidar chor hai" jibes on Modi over alleged irregularities in the Rafale jet deal.
18.30: Moody's on policies of new govt: Moody's Investors Service VP Sovereign Risk Group William Foster said, "Any credit implications of the outcome of India's general election will be determined by the policies adopted by the government in the next few years. These policies are yet to be formulated." Moody's expects the broad push towards fiscal consolidation to remain, although with greater policy emphasis on supporting low incomes, Foster added.
In 2017, the US-based rating agency upped India's rating to 'Baa2' from 'Baa3', changing outlook to 'stable' from 'positive', and had stated that reforms would help stabilise rising levels of debt.
18.20: Union minister Nitin Gadkari, the BJP candidate from Nagpur, said the development works carried out by Prime Minister Narendra Modi were unparalleled in the last 50 years. Talking to reporters at his residence in Nagpur, he said, "India is set to become a great economic power. Programmes will be undertaken for the progress of laborers, farmers and youth," adding "In democracy, one party gets the opportunity to rule and other parties have to sit in opposition." 
18.00: Modi congratulates Naveen Patnaik for retaining Odisha: Congratulated Odisha Chief Minister Naveen Patnaik for his Biju Janata Dal's performance in the state Assembly elections, Prime Minister Narendra Modi tweeted, "Congratulations to Naveen Babu for yet another victory in Odisha. Wishing him the very best for the next term." The BJD is set to form its government for a fifth straight term negating a Modi wave that is sweeping the country, with its candidates leading in 112 of the state's 146 seats. Patnaik, who is contesting the Assembly polls from Bijepur and his home turf Hinjili, is leading on both the seats.
17.45: Congress president Rahul Gandhi congratulated Prime Minister Narendra Modi for BJP's victory in the Lok Sabha elections. "I had said that during the campaign 'janta maalik hai' and today people have clearly given their decision. I congratulate the PM and BJP," he said, "Frankly, today is the not the day to discuss what I think went wrong because people of India have clearly decided that Narendra Modi is going to be their Prime Minister and as an Indian I respect that." On Smriti Irani's victory in Amethi, which he had won in the last two Lok Sabha elections, Congress President Rahul Gandhi said, "I respect the decision and congratulate Smriti Irani ji." 
17.40: Morgan Stanley sets Sensex target at 45,000 by June'20: A Morgan Stanley report said "The election result trends are implying continuity in administration. Assuming re-election of the majority government turns out to be the eventual result, it means the equity markets can predict policy," while setting BSE Sensex target at 45,000 for June - 2020. It further added, "The new administration may bring some changes such as increasing cash transfers to poor people, more emphasis on portfolio flows, focus on the country's external trade and social/constitutional reforms (like Article 370)." 
17.25: BJP wins Daman and Diu LS seat: BJP's candidate from the Union Territory, Lalubhai Patel, won the seat by defeating his nearest Congress rival Ketan Patel by a margin of 9,942 votes. Lalubhai Patel polled 37,586 votes while the Congress candidate got 27,643 votes, a pool official told PTI. 
17.20: Shiv Sena praises Prime Minister Narendra Modi: Sena MP Sanjay Raut said, "The entire country is `Modi-may' (in thrall of Modi)," adding "The truth has to be accepted that no one could counter Modi. Today's mandate is such that no one can counter (Modi) for the next 25 years." Adressing mediapersons in Mumbai today, Raut, who edits the Sena mouthpiece `Saamana', said "The country has reposed faith in Narendra Modi's leadership for the next five years. He will take the country even further in five years."
17.10: Giving Prime Minister Narendra Modi and BJP president Amit Shah full credit for the party's "historic victory", Uttar Pradesh Chief Minister Yogi Adityanath Thursday said, "It is high time for the opposition to introspect and shun politics of negativity," adding "alert voters have rejected opportunistic and casteist politics of the mahagathbandhan".
17.00: Ramesh Nair, CEO and Country Head, JLL India, said "People of the world's largest democracy have given their mandate to the government for another term. After half a decade, we now have a glimpse of a 'New India' that the government envisioned for us when it came to power in 2014. While we witnessed the implementation of key reforms during the first NDA regime, strengthening of the overall economy is what is expected with the continuance of those reforms. Looking back, we realize that the two words that perhaps rightly sum up the contribution of the government are continuity and stability."
16.45: Expectations from new government: Sudeep Gupta, Founding Partner Impactify, India's smartest marketplace, says "CSR funds for social impact startups -  Startups working in the social impact space should be eligible for CSR funds. Process and compliance to invest CSR money in technology incubators/ social impact organizations should be simplified and streamlined".
16.12: Expectations from new government:  Gaurav Gupta, Co-founder and COO of Navia Life Care, says, "According to some researchers, Artificial Intelligence has the potential to double the size of our economy by 2025. The government has shown the willingness to promote this sector in the last budget. We expect a strategic plan to promote AI in various sectors, this would need close coordination of different ministries with Information Technology ministry and technology startups. Entrepreneurship has a potential to create millions jobs in the country, we hope this government will create policies where a conducive environment is created for innovation. True innovation needs capital, stakeholders' willingness to try new products and strict policy implementation. Entrepreneurs expect more opportunities for raising high risk capital, there is a requirement that government PSU's and its departments be willingness to use innovative products, lastly we need policies to be implemented for higher use of technology to make systems efficient and transparent, this will have a trickle down effect in adoption of technology and transformation of systems.
15.56: LK Advani on BJP victory: "Heartiest congratulations to Narendrabhai Modi for steering BJP towards this unprecedented victory in elections. Amitbhai Shah as BJP President & all dedicated workers of the party have put in enormous effort in making sure that BJP's message reaches every voter. It's such a wonderful feeling that in a country as large & diverse as India, the electoral process has been so successfully completed & for that, my compliments to the electorate & all the agencies involved. May our great nation be blessed with a bright future ahead." 
15.37: Nepalese Prime Minister K P Sharma Oli congratulates PM Narendra Modi for a "landslide victory" in the general elections and hoped to work closely with him in future. "I extend warmest congratulations to Prime Minister @narendramodi ji for landslide election victory in the Lok Sabha Elections 2019. I wish all success ahead. I look forward to working closely with you," he tweeted.
15.22: Current numbers of BJP, Congress, other parties (Source: ECI)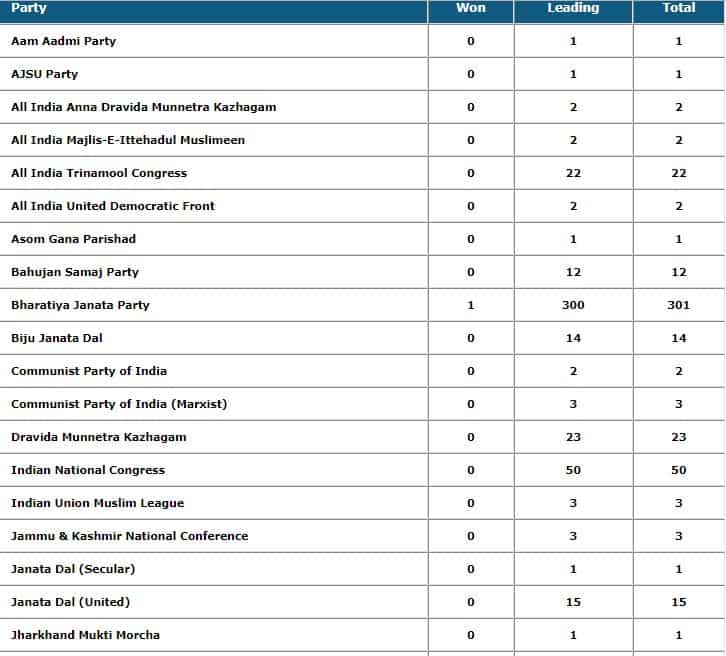 15.16: Supriya Sule-Pawar of Nationalist Congress Party has been declared elected from Baramati Lok Sabha in Maharashtra. This is her third consecutive victory. Sule secured over 650,000 votes, while her Bharatiya Janata Party rival, Kanchan R. Kool, who scored over 493,000 votes.
15.03: Congratulations pour in for PM Modi. 
Afghanistan President Ashraf Ghani tweets, "Congratulations to Prime Minister Narendra Modi on a strong mandate from the people of India. The government & the people of Afghanistan look forward to expanding cooperation between our two democracies"
Sharad Pawar, NCP: I accept people's decision but this is also a fact that people had their doubts about EVMs. Congress had performed really well in Rajiv Gandhi's time, but nobody doubted elections then, same when Atal Bihari Vajpayee won.
Russia's President Vladimir Putin sends congratulatory telegram to PM Narendra Modi in connection "with the convincing victory of the BJP at the general parliamentary elections."
Congratulations to PM @narendramodi on a strong mandate from the people of India. The government and the people of Afghanistan look forward to expanding cooperation between our two democracies in pursuit of regional cooperation, peace and prosperity for all of South Asia.

— Ashraf Ghani (@ashrafghani) May 23, 2019
Japanese PM Shinzō Abe congratulates PM Narendra Modi in a telephonic conversation
China's Xi Jinping congratulates Prime Minister Narendra Modi. 
14.56: Garima Kapoor, Economist, Elara Capital,  speaks on Lok Sabha election results: "Reeling under consumption slowdown amid liquidity crisis in NBFC sector and lower terms of trade in the agriculture sector, optimism around India's economic growth has come to a grinding halt. With limited fiscal space amid compelling priorities and electoral promises, the Modi government's second term in office is likely to be more challenging than the first.
"Unlike the first five years, the solution to the problems is complex and requires a radical shift in the economic policy. If the first five years of the government were dominated by housing, roads and toilets, the next five would have to be dominated by investment, jobs and nursing of the dislocated financial sector. Among immediate priorities we expect the Modi led government to take measures to revive consumption, address financial sector dislocation by recapitalizing PSU banks, boost manufacturing sector to ensure job creation and solve the conundrum of skill shortage in the country to ensure employability.
"Likewise on the rural front, having created a good platform for rural schemes in last five years, during his second term Modi led NDA is expected to focus on reviving terms of trade in agriculture. We expect the government under Modi to strengthen e-NAM, enhance micro-irrigation facilities, increase credit to agriculture and boost farm prices through effective implementation of schemes such as PM-AASHA.
"Likewise, by 2022 NDA is expected to gain majority in Rajya Sabha. This will enable them to pursue difficult legislations like Triple Talaq and electoral reforms which have been a part of its social agenda.
"With the ruling NDA dispensation set for another five year term, the political risk has reduced and the market expectation for policy continuity has been addressed. We believe, the election related exuberance could propel the markets in the near term and pose an upside risk to our CY'19 Nifty target of 12,000. However, the current level of corporate fundamentals, trade wars and the progress of monsoon will weigh on the markets.  
"From a portfolio positioning perspective, we recommend investment over consumption. In terms of asset class, we expect mid and small to outperform large cap."
14.53; PM Narendra Modi reacts as NDA takes massive lead. "India wins yet again!," he tweets
सबका साथ + सबका विकास + सबका विश्वास = विजयी भारत

Together we grow.

Together we prosper.

Together we will build a strong and inclusive India.

India wins yet again! #VijayiBharat

— Chowkidar Narendra Modi (@narendramodi) May 23, 2019
14.10: Omar Abdullah tweets, "So the exit polls were correct. All that's left is to congratulate the BJP & NDA for a stellar performance. Credit where credit is due PM Modi Sahib & Mr Amit Shah put together a winning alliance & a very professional campaign. Bring on the next five years."
14.07: Trinamool Congress supremo and West Bengal Chief Minister Mamata Banerjee has congratulated winning candidates of the Lok Sabha polls but stressed on the need of a complete review of it. She said that VVPATs would be matched after the counting process was over. "Congratulations to the winners. But all losers are not losers," she tweeted. "We have to do a complete review and then we will share our views with you all. Let the counting process be completed fully and the VVPATs matched," she added. Till 2 pm out of the 42 Lok Sabha constituencies in West Bengal, TMC was leading in 22, the BJP in 19 and the Congress in one seat. Left candidates are yet to make any mark.
Congratulations to the winners. But all losers are not losers. We have to do a complete review and then we will share our views with you all. Let the counting process be completed fully and the VVPATs matched

— Mamata Banerjee (@MamataOfficial) May 23, 2019
14.01: PM Modi leads in Varanasi at 3,60,340 votes.
13.50: Prime Minister of Israel, Benjamin Netanyahu congratulates Prime Minister Narendra Modi, says, "Will continue to strengthen our friendship between India and Israel".
13.03 Paswan reacts on poll results: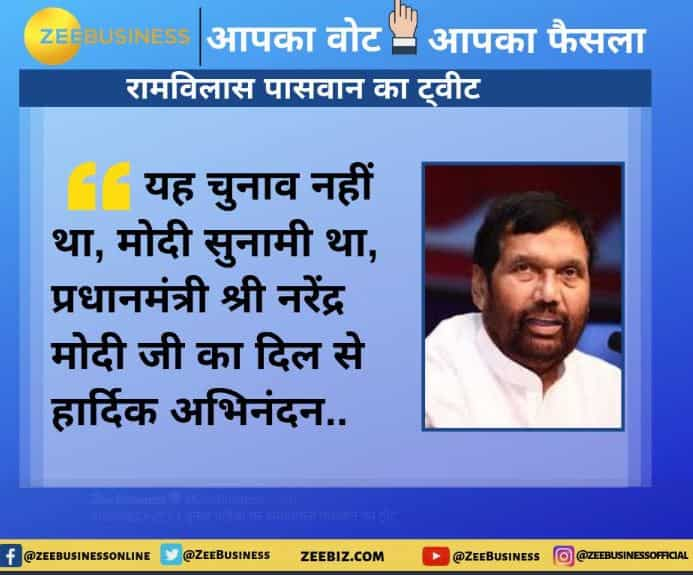 12.59: Himanta Biswa Sarma of BJP says, "People of India have once again given Modi ji a chance to lead the country, they love him. I would like to thank the people of India, especially people of North-East for supporting Modi ji. I want to assure people that Modi ji will take us forward."
12.56: Latest numbers from Uttar Pradesh (Source: ECI)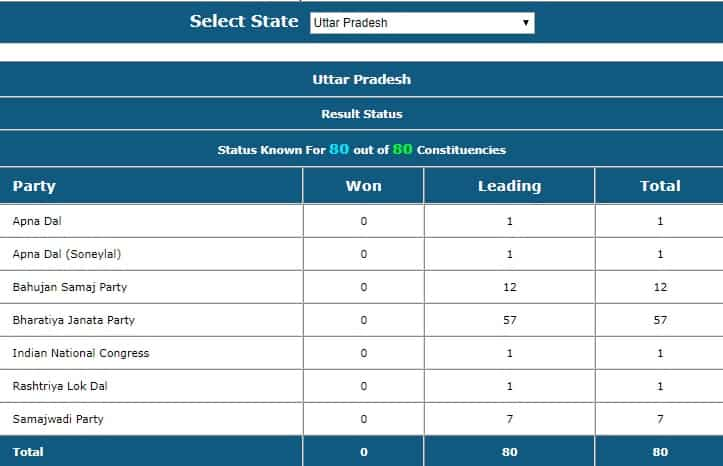 12.47: Prime Minister of Sri Lanka Ranil Wickremesinghe congratulates PM Modi. "Congratulations to #NarendraModi on a magnificent victory! We look forward to working closely with you," he tweets. 
12.46: Union Minister and BJP leader Babul Supriyo leading from Asansol, BJP's Arjun Singh leading from Barrackpore and TMC's Mimi Chakraborty leading from Jadavpur
12.33: Latest numbers from West Bengal (Source: ECI)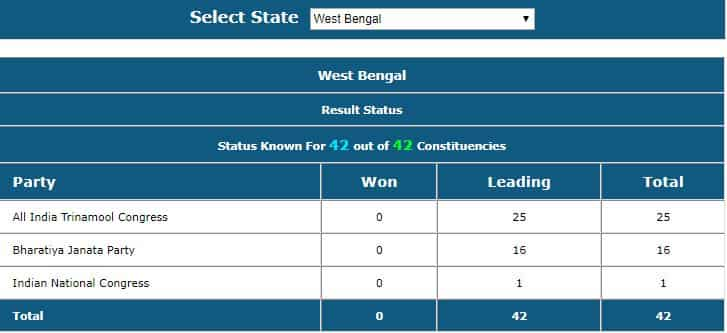 12.32:  Modi magic sweeps India! Numbers prove pollsters right; BJP takes massive lead.
12.10: All India Majlis-E-Ittehadul Muslimeen leader Asaduddin Owaisi leading with over 85,000 votes from Hyderabad Lok Sabha constituency
12.01: Alert: BJP Parliamentary board meeting to be held later today. PM Narendra Modi to meet BJP workers at party office at 5.30 pm today
11.54 am: Sudhanshu Trivedi of BJP tells ANI: "This is the first election for a generation that opened its eyes in the 21st century, the millennium generation has voted & given a millennium mandate. I think we should wait for final results, the indications are now gradually settling down to same thing."
11.51 am: Currently BJP is leading on 292 seats. Congress on 51 seats.
11.23 am: Current trends  in Amethi
11.21 am: As per EC website, Congress's Manish Tewari leading from Anandpur Sahib, SAD's Harsimrat Kaur Badal leading from Bhatinda and Aam Aadmi Party's Bhagwant Mann leading from Sangrur
11.09 am: In West Bengal, TMC leading on 24 seats, BJP leading on 17 seats and Congress on 1 seat of total seats 42. 11.01 am: BJP leading on 295 seats, Congress leading on 51 seats; BJP's Smriti Irani leading with over 4300 votes from Amethi
10.50 am: In Chhattisgarh BJP leading on 9 seats, Congress leading on 2 seats of total 11; BJP President Amit Shah leading by over 125000 votes from Gujarat's Gandhinagar; J&K: National Conference leading from Anantnag, Mehbooba Mufti at third place currently
10.37 am: Official EC data: BJP leads on 91 seats, Congress on 50.
10.30 am: BJP-Shiv Sena leading on all six seats of Mumbai; Independent candidate Sumanlatha Ambareesh leading by over 1200 votes from Mandya over Karnataka CM & JD(S) leader HD Kumaraswamy's son Nikhil Kumaraswamy; Congress leader Manvendra Singh trailing from Barmer, Union Minister Rajvardhan Rathore leading from Jaipur Rural
10.28 am: Check latest ECI data
10.16 am: BJP leading on 279 seats, Congress leading on 51 seats; In Punjab, Congress leading on 8 seats, BJP & SAD leading on 2 seats each and Aam Aadmi Party leading on 1 seat 
10.11 am: Latest numbers from Delhi - BJP leading on all seven seats. 
10.02 am: PM Narendra Modi may roar back to power! BJP+ lead on 314 seats
09.55 am: PM Narendra Modi leading by over 20,000 votes from UP's Varanasi, BJP President Amit Shah leading by over 50,000 votes from Gujarat's Gandhinagar
09.50 am: BJP-ledNDA takes big lead in early hours of counting. 
09.48 am: EC official data - BJP leads on 256; Congress - 52; CPM - 2; TMC - 14; AAP - 1; AIMIM - 2; AIDUF - 1; AGP - 2; JDU - 14
09.44 am: BJP on its own leads in 272 seats; NDA on 311; Congress+ lead in 111 seats
09.43 am: In Andhra assembly election result counting, YSRCP leads in 102 seats. Ruling TDP leads in just 20 seats. 
09.33 am: Jaya Prada leading in Rampur. Congress leading from Puducherry. DMK leading from Dindigul and Cuddalore in Tamil Nadu.
09.30 am: PM Modi leading in Varanasi. In Delhi, BJP is leading on 6 of 7 seats.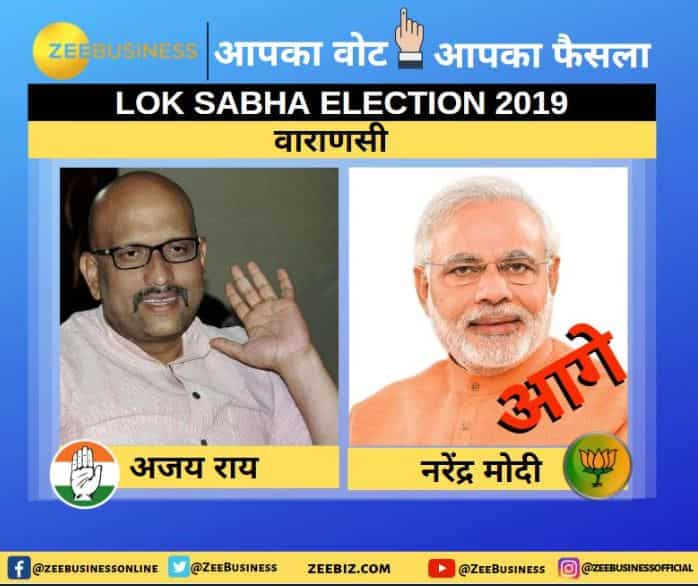 09.28 am: BJP's Tejasvi Surya leading from Bengaluru South and Congress leader Mallikarjun Khadge trailing from Gulbarga.
09.26 am: Early lead trends -  BJP+ hits 290! Congress+ trail at 102
09.22 am: Both BJP and BJD are leading on three seats each in Odisha. In Puri, BJP is trailing but leading in Bhubaneswar, Dhenkanal. 
09.21 am: Benchmark BSE Sensex up by more than 600 points as early trends show a return to power of NDA Government. Read more, LIVE market updates
09.18 am: BJP leader Giriraj Singh leading from Bihar's Begusarai over CPI's Kanhaiya Kumar
09.15 am: Early trends; BJP+ hits 272 mark! 
09.12 am: Nifty opens at record 11,897. Check market live updates here
09.10 am: Check how top candidates are performing
09.10am: BJP's Sunny Deol leading from Gurdaspur, Congress's Manish Tewari leading from Anandpur Sahib and Gurjeet Singh Aujla leading from Amritsar, SAD's Harsimrat Kaur Badal leading from Bhatinda,
09.07 am: BJP's Ramesh Bidhuri leading from South Delhi and BJP's Parvesh Verma leading from West Delhi; Sonia Gandhi leading from Uttar Pradesh's Raebareli and Rahul Gandhi leading from Kerala's Wayanad.
09.03 am: Official EC numbers: Currently leading in 
BJP - 101 seats
Congress - 40 seats
TMC - 2
AAP - 1
DMK - 4
09.01 am: In Madhya Pradesh, senior Congress leaders Digvijaya Singh from Bhopal, Jyotiraditya Scindia from Guna and Vivek Tankha from Jabalpur are trailing.
9.00 am: Early lead trends: BJP+ crosses 200-mark; Congress+ trail at 69
08.55am: BJP's Pragya Singh Thakur leading from Bhopal, BJP candidate Anurag Thakur leading from Hamirpur(HP)
08.50: Here ae official trends in the first hour of counting (Source: ECI)
08.46 am: Early lead trends: Kanhaiya Kumar trails in Begusarai. 
BJP+ 160
Congress+ 58
Others - 240
8.36 am: Rahul Gandhi trailing in Amethi to Smriti Irani of BJP. Gandhi is, however, leading in Wayanad. 
08.34 am: Early lead trends: 
BJP+ -86
Congress+ -33
Others - 21
08.33 am: Counting of votes has been currently suspended in Amethi. 
08.30 am: PM Modi leads in Varanasi; Rahul Gandhi in Wayanad. In Uttar Pradesh, BJP currently leads in 15 seats. These are very early trends. 
08.27 am: Early lead trends: 
BJP+ -64
Congress+ -26
Others - 9
08.24 am: Early lead trends: 
BJP+ - 56
Congress+ - 34
Others - 9
08.00 am: Counting has started for Lok Sabha elections 2019. 
07.54 am: As counting of votes to start soon, watch market trends with Zee Business. 
#EditorsTake | #LokSabhaElections2019 चुनाव नतीजों से पहले जानिए बाजार पर अनिल सिंघवी की राय।@AnilSinghviZEE #Elections2019 pic.twitter.com/nvuYkCVoVw

— Zee Business (@ZeeBusiness) May 23, 2019
07.51 am: The counting for Lok Sabha polls to begin soon. The National Democratic Alliance (NDA), led by Bharatiya Janata Party (BJP), is expected to surpass the 272 seats needed to command a majority in the lower house of parliament. As many as six of seven exit polls showed on Sunday. 
07.26 am: Security arrangement: There is three-tier security in place with the outer cordon beginning 100 metres from the counting centre.
07.19 am: Karnataka govt to fall after election results, predicts BJP. Umesh Jadhav, BJP candidate from Kalaburagi,Karnataka, who is contesting against Congress' Mallikarjun Kharge, said Narendra Modi will become the PM. "I'm hopeful of winning the seat. After this, within a day or two this coalition govt is going to fall on its own &BJP govt will be formed."
07.12 am: VVPAT counting: Counting personnel will randomly select five EVMs from each Assembly segments for matching with VVPAT slips as directed by the Supreme Court.
07.02 am: Key candidates? Prime Minister Narendra Modi is contesting from Varanasi while Congress President Rahul is contesting from Amethi in Uttar Pradesh and Wayanad in Kerala. Counting of Electronically Transmitted Postal Ballot System (ETPBS) and Postal Ballots will be taken up first. 
06.54 am: When to expect the final picture? By evening a clear picture is likely to emerge on who would be the major player(s) in the 17th Lok Sabha and who all will be winners among 8049 candidates in the fray. 
Stock Markets LIVE: Lok Sabha Election Results impact on Share Bazaar with Anil Singhvi's NOTE SABHA
06.42 am: When to expect early trends? The counting of votes for Lok Sabha polls will begin soon along with state assemblies of Odisha, Andhra Pradesh, Arunachal Pradesh and Sikkim. The Election Commission of India has made elaborate arrangements for smooth and hassle-free counting as well as for providing authentic and latest updates. The counting will begin at 8 a.m. and trends are likely to start coming in by afternoon, while results are expected by the evening, an official said.
Check Where to invest on Lok Sabha election result day? You can bet on these stocks today
06.27 am: US reacts on elections in India.  The United States on Wednesday said that it was confident in the fairness and integrity of the Indian elections and would work with whoever is the victor.  "I would say from the US perspective, we are very confident in the fairness and the integrity of the Indian elections, and we will obviously work with whoever is the victor and whatever the outcome is there," State Department spokesperson Morgan Ortagus told reporters during an off-camera gaggle, reports PTI.
Updated: Fri, May 24, 2019
07:40 am
New Delhi, ZeeBiz WebDesk