Navi Mumbai airport: D-day 2019, will first flight make it on time? Fact check here
Twenty-one years after the Navi Mumbai International Airport (NMIA) was conceived, the civil aviation ministry said earlier this month that meeting the December 2019 deadline for making NMIA operational would be tough. But the City and Industrial Development Corporation (CIDCO), which is executing the project, say they would be able to meet the deadline for the metropolitan's second airport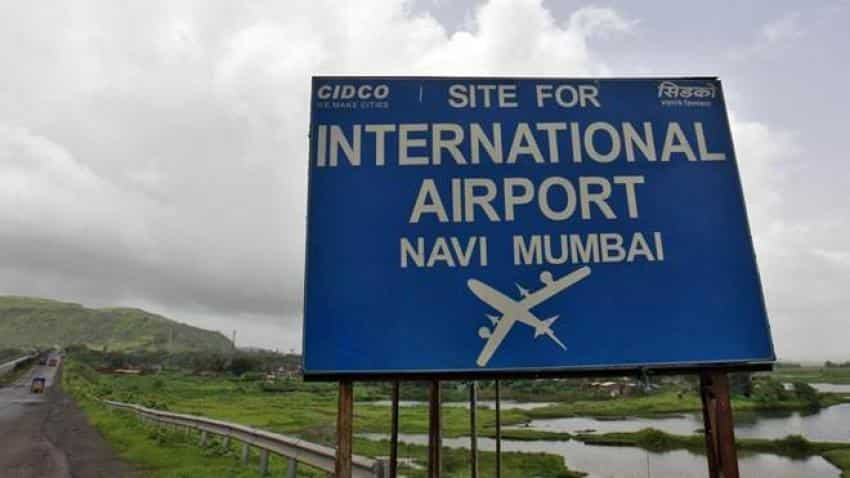 Navi Mumbai International Airport: The pre-construction activity for the airport started last year but has seen several ups and downs owing to protests by local villagers over rehabilitation.Image source: Reuters
Updated: Sat, May 26, 2018
11:17 am
ZeeBiz WebDesk
Twenty-one years after the Navi Mumbai International Airport (NMIA) was conceived, the civil aviation ministry said earlier this month that meeting the December 2019 deadline for making NMIA operational would be tough. But the City and Industrial Development Corporation (CIDCO), which is executing the project, say they would be able to meet the deadline for the metropolitan's second airport. The CIDCO officials said they are working day and night towards the end. They are carrying blasting activities daily for two hours to level Ulwe hill.
A visit to the construction site of the airport bears this out. One can see hundreds of workers pegging away at pre-development activities. Villagers residing near the airport site claim the busy Uran-Panvel road, known for handling cargo traffic heading towards Jawaharlal Nehru Port Trust (JNPT), is now seen lined with more than 100 dumpers and trailers moving up and down Ulwe hill, carrying construction debris and material from one place to another.
The pre-construction activity for the airport started last year but has seen several ups and downs owing to protests by local villagers over rehabilitation. Furthermore, monsoon-related works have slowed down the pace of construction work. Lokesh Chandra, vice-chairman and managing director, CIDCO, said, "We are very well on track to meet the December 2019 deadline. We are working very hard day and night. Blasting is being carried out for two hours daily. In the afternoon, blasting is done between 1 pm and 2 pm, then between 5 pm and 6 pm  for levelling Ulwe hill for the runways."
During these time windows, the least number of people are found near the site: labourers are on a break either for lunch or rest.
 Navi Mumbai International Airport project details:

"Parallelly, river diversion work is also being executed," Chandra said. CIDCO had roped in Indian Institute of Technology (IIT-B) as a consultant, along with the Central Institute of Mining and Fuel Research (CIMFR), which is assisting with the explosives work. Chandra added, "We have completed around 54 per cent of pre-development activity and as per our plan, we are very well on track. Though the monsoon will slow things down, we are sure of starting the first phase of the airport by December 2019." CIDCO claims NMIA's first phase will cater to around 1 crore passengers annually. The new airport is urgent considering that Sahar airport, the second busiest in the country, has maxed out. It is carrying more passengers than its capacity allows. Over last 11 years, airport traffic has increased by more than 100 per cent.
Locals seek recompense
But the 1,200 local villagers, who reside close to the project site, have a different sense of urgency. They want to be compensated first, for the land taken from them, and then watch the airport come up.  Also, some of them want to be compensated better.  "Aadhi Punarvasan Nantar Prakalp (Rehabilitation first, project later)," is the chorus from many residents of the 10 villages that will have to yield to the airport. These are Ovle, Varcha Ovle, Chichpada, Kolhi, Kopar, Pargaon-Dungi, Ulwe, Targhar, Kombadbhuje and Waghivli Vada.   
The hectic construction work, with daily blasting, has polluted their air and disturbed their peace, so it is only fair that they be rehabilitated first, they said. "Tell us, who would want to live in such an atmosphere? The authorities should carry out blasting later, and meet our demands of higher compensation," said Kailash Gharat, a lawyer in Panvel court who resides in Varcha Ovle, a village half a kilometre from where the blasting is under way at the time.
"We support the airport development, but considering that it is making our life miserable, shouldn't the government resolve our issues first?" Gharat said. "We are in constant danger of blasted rocks flying into our homes and causing damage and injuries."
His fellow villagers say their houses vibrate due to the blasting. Cracks have begun to run through some walls. "Last week, around 1.30 pm we some rocks flew into our home. There's a big hole in the wall and roof. We expect the blasting to halt till we are rehabilitated," said Suhas Gharat, also from Varcha Ovle. CIDCO said last week's incident is under investigation and that it takes all safety measures.
Since the project will require 3,000 households to be razed, CIDCO has promised them land nearby to construct new houses and Rs 1,000 per sq foot in the way of construction cost. The affected villagers are asking that the money be doubled. Sameer Gharat, another resident of Varcha Ovle, said, "What CIDCO is offering is not enough. What we are demanding is Rs 2,000 per sq ft."
The villagers are also asking for more schools, healthcare centres and temples than what CIDCO is offering. Rahul Mokal, resident of Pargaon village, said, "Every village had its own school, temple and other facilities like hospitals. But CIDCO has bunched everything up. It is offering one big school for two to three villages, and this is not acceptable to us."
Another demand is that the sites of their new homes be equipped with basic facilities like drainage outlets, water connection and electricity supply.
Mokal added, "The pre-development work for Navi Mumbai airport, like initiating dialogue with villagers, conducting tendering for the airport and so on, started in 2015. But the CIDCO has done nothing on ground. They had around three years and they should have made all the homes ready for the villagers to win our trust. There is a serious trust deficit between the villagers and CIDCO and the state government departments."  
(By Mehul R Thakkar, DNA)
Get Latest Business News, Stock Market Updates and Videos; Check your tax outgo through Income Tax Calculator and save money through our Personal Finance coverage. Check Business Breaking News Live on Zee Business Twitter and Facebook. Subscribe on YouTube.