Monsoon Session begins today; 9 bills lined up for clearance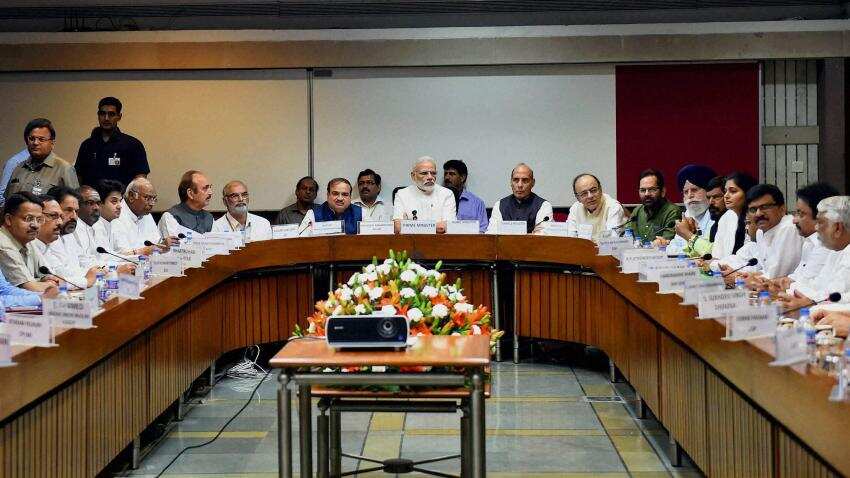 All-party meeting ahead of the monsoon session, at Parliament House in New Delhi. Photo: PTI
Updated: Mon, Jul 18, 2016
09:37 am
Mumbai, ZeeBiz WebDesk
The Monsoon Session of the Parliament begins on July 18 and is expected to be a stormy affair.
The Government, over the weekend, called an all-party meeting to discuss the passage of important bills like the Goods and Services Tax (GST) Bill. However, no consensus has emerged from the meeting.
The agenda proposed by the government for the Monsoon session in the parliament which will commence today includes bills for introduction, passing and consideration along with financial business discussion on grants.
Two bills are pending passage in the Lok Sabha, while seven bills are pending in the Rajya Sabha, including the GST Bill.
The bills pending in the Lok Sabha include:
(i) The Indian Trust (Amendment) Bill, 205 (agreeing to amendments made by the Rajya Sabha)
(ii) The Enforcement of Security Interest and Recovery of Debts Laws and Miscellaneous Provisions (Amendment) Bill, 2016 ( after report is presented by the joint committee)
The bills pending in the Rajya Sabha include:
1. The Whistle Blowers Protection (Amendment) Bill, 2015
2. The Compensatory Afforestation Fund Bill, 2016
3. The Regional Centre for Biotechnology Bill, 2016
4. The Constitution (One Hundred and Twenty second Amendment) Bill, 2014
5. The Enemy Property (Amendment & Validation) Bill, 2016 (all the above Bills already passed by Lok Sabha)
6. The Child labour (Prohibition and Regulation) Amendment Bill, 2012
7. The Homeopathy Central Council (Amendment) Bill, 2015
Bills for Introduction include:
a) The High Courts (Alteration of Names) Bill, 2016
b) The Institute of Technology (Amendment) Bill, 2016
c) The National Institutes of Technology, Science Education and Research (Amendment) Bill, 2016;
d) The Use and regulation of DNA based technology in Civil and Criminal Proceedings, Identification of Missing Persons and Human Remains Bill, 2016
Financial Business on the agenda include:
--Discussion and Voting on Supplementary Demands for Grants (General) for 2015-16
Prime Minister Narendra Modi stated in a meeting with leaders of various parties ahead of the Monsoon session, "We represent both the people and parties and there is a need to keep national interests above anything else."