Lenin, Periyar, Mukherjee statues vandalised: PM Narendra Modi warns of crackdown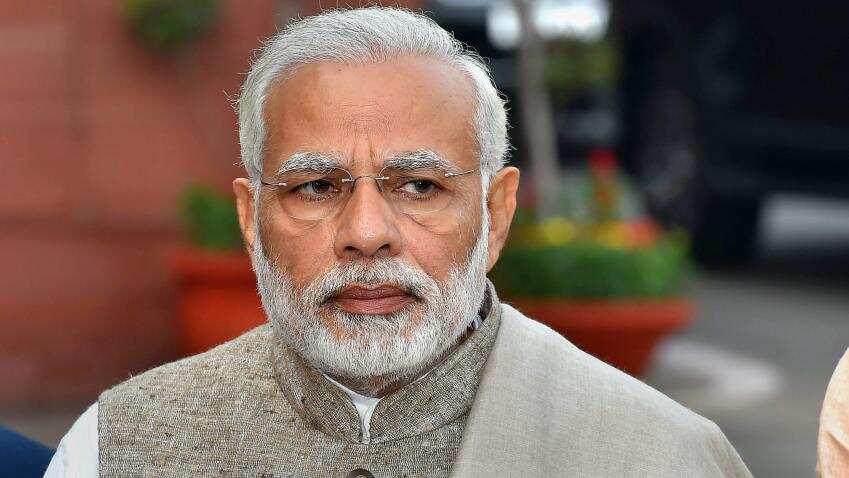 Vandalism of statues: Prime Minister Narendra Modi today strongly condemned incidents of vandalism of statues in certain parts of the country and warned of stern action against those found guilty. Image source: PTI
Vandalism of statues: Prime Minister Narendra Modi today strongly condemned incidents of vandalism of statues in certain parts of the country and warned of stern action against those found guilty. He also spoke to Home Minister Rajnath Singh on the matter and expressed his strong disapproval of such incidents, according to an official statement. The Ministry of Home Affairs has reportedly said it has taken serious note of such incidents and directed state governments to take strong action. The ministry said that persons indulging in such acts must be sternly dealt with and booked under relevant provisions of law.
In an advisory to all states and union territories, the Home Ministry said incidents of toppling of statues have been reported from certain parts of the country, adding "The MHA has asked the states that they must take all necessary measures to prevent such incidents." The advisory said, "Honorable Prime Minister has also spoken to the Home Minister in this regard." 
The advisory did not specificaly mention Tripura but sporadic violence and clashes have been reported between rival political groups in the state after election results were declared on Saturday.
A statue of Lenin was brought down at Belonia town in South Tripura on Monday with the help of a bulldozer after the BJP's victory in the Assembly elections in Tripura where a 25-year-long communist government was ousted.
A statue of social reformer and founder of Dravidian movement E V Ramasamy 'Periyar' was also allegedly vandalised in Tamil Nadu's Vellore district last night.
Yesterday, Home Minister Rajnath Singh called up Tripura Governor Tathagata Roy and DGP A K Shukla and asked them to ensure peace and check violence till a new government is installed in the state.
Union Home Secretary Rajiv Gauba had also spoken to the DGP and asked them to take all possible steps to maintain law and order, check violence and restore peace and public order.
Extremely unfortunate: Amit Shah 
BJP chief Amit Shah also termed the desecration of communist icon Lenin's statues in Tripura and Periyar's statue in Tamil Nadu "extremely unfortunate". He asserted that any party member found involved in destroying a statue will face severe action.
In a series of tweets, Shah said, "The recent issue on destroying of statues is extremely unfortunate. We as a party do not support the bringing down of anybody's statue. I have spoken to the party units in both Tamil Nadu and Tripura. Any person associated with the BJP found to be involved with destroying any statue will face severe action from the party." 
Shah's warning to party workers came shortly after Prime Minister Narendra Modi expressed his strong disapproval over the vandalism.
Shah said the BJP will always remain committed to ideals of openness and constructive politics, through which it can positively impact people's lives as well as build a 'New India'.
"As a party, we in the BJP believe that a wide range of ideas and ideologies can coexist in India. This is exactly how the makers of our Constitution envisioned our great nation to be. India's diversity and the vibrant spirit of debate and discussion is what strengthens us," he said.
Shyama Prasad Mukherjee's statue vandalised in Kolkata
Members of a left wing student organisation allegedly vandalised a bust of Bharatiya Jana Sangh founder Syama Prasad Mukherjee in Kolkata today and blackened its face, the West Bengal BJP said.
Six members of the group have been detained by the police in the incident, that happened at the Keoratola crematorium.
Condemning the incident, the state BJP leadership demanded strong action against the offenders and claimed that Mukherjee`s contribution to Bengal politics cannot be erased thus.
It may be noted that a row erupted after two statutes of Lenin were brought down in Tripura following the BJP's emphatic win in the state over the Left, which was in power for more than 25 years.
The Left blamed the BJP for the incidents and some BJP leaders shared the post with comments that appeared to be justifying it. BJP national secretary H Raja later in a Facebook post said the statues Dravidian movement icon E V R Ramasamy, popularly known as Periyar, will be the next target.
Raja, however, deleted the post and offered his regret but not before it had ignited a major controversy in Tamil Nadu. 
(With inputs from Agencies)