Karnataka election 2018: Petrol price freeze stays in place; consumers gain is OMC's pain
India gave up on petrol, diesel subsidy and linked prices to the international markets in hope that consumers will benefit as crude oil prices were trading at a third of their lifetime highs. It was also directed at getting rid of massive subsidies on the fuels.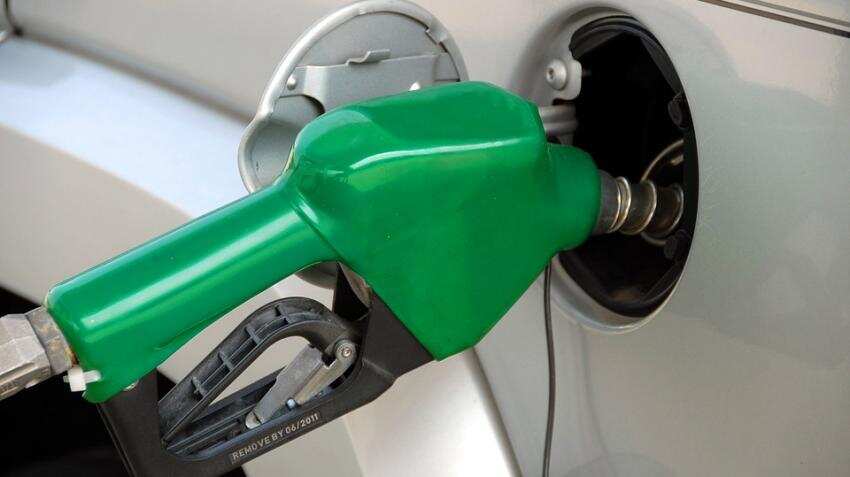 Representational Image: Photo: Pixabay
Updated: Sat, May 12, 2018
11:10 am
Mumbai, ZeeBiz WebDesk
Petrol price in India today: Things are getting intense with the state-owned Oil companies having to keep petrol rates unchanged for nearly three weeks now in various state capitals. It is believed Indian citizens  may see a revision in prices after the Karnataka poll, however, looks like possible change is not near till end of this month. Today, Election Commission of India, announced that Karnataka election has been deferred in 1 constituency. The voting is going on as scheduled in other places. 
In a notification it said, "The Election Commission of India exercising powers under Article 324 of the Constitution and sections 30 and 153 of the Representation of the People Act, 1951 read with section 21 of the General Clauses Act, 1897 and all other powers enabling it in its behalf, has directed that the poll scheduled to be taken on 12th May, 2018 in 154-Rajarajeswari Nagar Assembly Constituency in Karnataka shall be deferred, for the time being."
Further the notification added, "In this light, the Commission further directed that the poll in the constituency shall now be taken on 28th May, 2018 (Monday) and counting of the votes of this Constituency will take place on 31st May, 2018 (Thursday)."
Indian OMCs have disposed of the daily revision in fuel prices that was being carried out from June 2017. The idea of daily revision was to link it with continuous change in global crude oil price, however, that is currently not on the table as the price has soared to over $76 per barrel mark which is highest since 2014 and no intervention from OMCs has been forthcoming. 
Meanwhile on Friday, global crude prices fell in a see-saw session,retreating after early gains as it looked likely that U.S. allies would push to maintain a deal with Iran, which could keep that country`s crude exports on global markets.
OMC including Hindustan Petroleum Corp Limited (HPCL), Indian Oil Corp (IOCL) and Bharat Petroleum Corp Limited (BPCL), decide the final retail petrol price by taking into consideration the international crude basket, plus states' Value Added Tax (VAT) and the government's excise duty.
 
In the light of above factors, India gave up on petrol, diesel subsidy and linked prices to the international markets in hope that consumers will benefit as crude oil prices are trading at a third of their lifetime highs. 
Now one can only expect any change the Karnataka poll outcome. From the above factors, chances of relaxation in petrol prices is unlikely currently, however, with upside in global crude one can expect further rise in the product.
Check petrol prices in various cities today 
 
Petrol price in New Delhi today: The petrol price here stood at Rs 74.63 per litre unchanged from previous day. The petrol price in the national capital is at six-year high. It is already near Rs 75 per litre mark. 
 
Petrol price in Kolkata today: While in Kolkata, petrol price stood at Rs 77.32 per litre. Over Rs 77 per litre mark was last witnessed in May 2012. 
 
Petrol price in Mumbai today: Petrol has remained four-year high in this city since start of 2018, and Monday was the same, as the price stood at Rs 82.48 per litre same as on the previous day. The near Rs 82 per litre-mark here was last seen in March 2014.
 
Petrol price in Chennai today: The  petrol price here stood at Rs 77.43 paisa similar versus previous day prices. The price of this product touched Rs 77 per litre mark which was last seen in May 2012.
 
Petrol price in other state capitals today: Petrol prices in Bangalore stood at Rs 75.82 per litre, in Bhopal at Rs 80.18 per litre, Bhubaneswar at Rs  73.46 per litre, Chandigarh at Rs 71.77 per litre, Dehradun at Rs 76.33 per litre, Gandhinagar at Rs 73.94 per litre, Hyderabad at Rs  79.04 per litre, Jaipur at Rs 77.32 per litre, Lucknow at Rs 75.83 per litre, Patna at Rs 80.13 per litre, Raipur at Rs 75.06 per litre and Srinagar at Rs 79.00 per litre.
 
Moreover, Brent crude settled down 35 cents at $77.12 a barrel, just below the $78-level hit on Thursday, its highest since November 2014. The benchmark contract remained lower in post-settlement trade.  U.S. light crude was down 66 cents at $70.70, off a 3-1/2 year high of $71.89 it hit on Thursday. 
According to Reuters report, crude prices remained just below multi-year highs, with Brent on track for a weekly 2.8 percent gain and U.S. crude a 1.2 percent weekly rise.