Exit Poll results 2019 highlights: Surveys predict win for BJP, NDA; PM Narendra Modi set to return to power
Exit Poll results 2019 Lok Sabha Latest Updates: The exit poll results of Lok Sabha elections have been announced. You can watch exit poll results LIVE on Zee Business TV and Zeebiz.com.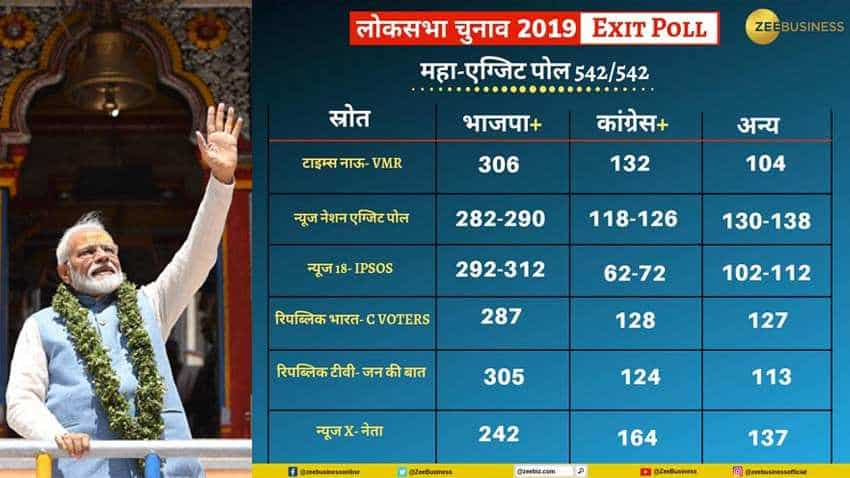 Exit Poll results 2019 Lok Sabha LIVE: The trends suggest a majority for BJP-led NDA. Source - Narendra Modi/Twitter.
Exit Poll results 2019 Lok Sabha Live Updates: 
The exit poll results of Lok Sabha elections have been announced. Most polls have predicted a massive win for the Bharatiya Janata Party (BJP) party-led NDA and suggest that Narendra Modi might return to power as the prime minister. CVoter predicts as many as 287 seats for NDA, Jan Ki Baat says it will win 305 seats while News18-IPSOS Exit Poll says NDA will get anywhere between 292 seats. NewsX-Neta Exit poll has prdicted that NDA will get 242 seats while India News-polstrat exit poll predicts 298 seats for NDA. Zee Business TV experts predict that markets can rise as much as 5 per cent as the exit poll results have come in favour of BJP.  You can watch exit poll results LIVE on Zee Business TV and Zeebiz.com. T
The voting was held in eight constituencies in Bihar, three constituencies in Jharkhand, eight in Madhya Pradesh, 13 in Uttar Pradesh, nine in West Bengal and all the four constituencies in Himachal Pradesh, 13 in Punjab and the lone seat of Union Territory Chandigarh on Sunday. "This week there is an event that is able to produce long-term trends in the market and is the factor that sets the tone for wealth creation. The political events like election results usually produce trends that last for years. Hence, it becomes very important for the economy and investors," said Mustafa Nadeem, CEO, Epic Research.
Check Exit Poll Results 2019 of Lok Sabha elections 
Watch Exit Poll results LIVE
Exit Poll results Live Updates: 
9:20 PM: Today's Chanakya has finally come out with its All India Exit poll. The survey says that BJP will win 300 seats while NDA will get around 350 seats. It says that Congress is likely to win 55 seats and the UPA will get just 95 seats. According to Chanakya, others will get 97 seats.
All India Lok Sabha Tally 2019
BJP 300 ± 14 Seats
NDA 350 ± 14 Seats
Cong 55 ± 9 Seats
UPA 95 ± 9 Seats
Others 97 ± 11 Seats#News24TodaysChanakya

— Today's Chanakya (@TodaysChanakya) May 19, 2019
8:50 PM: Himachal Pradesh Chief Minister Jai Ram Thakur on Sunday said the high poll percentage this time compared with 2014's parliamentary polls clearly indicated the BJP wave in the state. "The way the electorate showed excitement in voting is a clear indication in itself that the party is going to retain all its four seats," he said after the polling was over in the state.
#ExitPollonZee | #Maharashtra के #ExitPoll2019 BJP-शिवसेना का जलवा#ZeeMahaExitPoll #LokSabhaElections2019 #ModiSarkar2 pic.twitter.com/5DVJaSBBGy

— Zee Business (@ZeeBusiness) May 19, 2019
8:45 PM: Meanwhile, the election commission has said that over 62 per cent voter turnout was recorded on Sunday in polling for 59 seats in the seventh and final phase of the Lok Sabha elections, with West Bengal recording the highest turnout of 73.51 per cent. According to the EC data at 8 pm, Jharkhand registered 71.11 per cent voting, followed by Madhya Pradesh 70.33 per cent, Himachal Pradesh 68.46 per cent, Chandigarh 63.57 per cent, Punjab 61.81 per cent, Uttar Pradesh 57.30 per cent and Bihar 53.36 per cent.
8:36 PM: Vijay Mantri, JLR Money told Zee Business TV that these numbers suggest how big brand Modi has become in India. He said that even though BJP has worked hard during the last five years, brand Modi has covered big ground and others need to analyse this.
8:35 PM: The IANS-CVoter Exit Poll reveals that despite the BJP's 407 rallies in India`s biggest state, the alliance led by the Samajwadi Party (SP) and the Bahujan Samaj Party (BSP) seems to be taking away a major chunk of seats in Uttar Pradesh. The alliance(gathbandhan), as per the exit poll, could fetch 40 seats, giving a loss of 31 seats to the BJP which secured 71 out of 80 seats in Uttar Pradesh in the 2014 elections.
8:30 PM: In 2014, the National Democratic Alliance (NDA) had won 336 seats. Interestingly, none of the major pollsters except Today's Chanakya had expected the NDA's tally would cross the 300 mark. Chanakya had projected 340 seats for the NDA and 291 for the BJP. The BJP won 282 seat.
8:20 PM: "Over 47 lakh voters participated in the Neta exit poll while over 2.5 crore voters participated in its opinion poll across all the 542 constituencies. These results are a statistical derivation based on the two," said Neta-NewsX. The exit poll predicted that the Bahujan Samaj Party-Samajwadi Party-Rashtriya Lok Dal Mahagathbandhan will emerge as the third largest force in the Lok Sabha with 43 seats, while the Left parties may get only 5 seats, down from the 10 they had won in 2014.
8:15 PM: Vikas Kumar, Patrolling Magistrate, Polling station - 160, Patna told news agency ANI that Tejashwi Yadav couldn't manage to reach to cast his vote. Kumar confirmed that Rabri Devi, Misa Bharti and Tej Pratap Yadav cast their votes today. Meanwhile, Election Commission has announced an ex-gratia of Rs 15 lakh each to the next of the kin of three polling officials of the state who died on Lok Sabha Elections duty. The deceased officials were Vineet Kumar, Devi Singh, & Lot Ram.
8:13 PM: Market expert Ajay Bagga tells Zee Business TV that so many exit polls can not be wrong. "You cannot argue against 42 per cent trends. It is time for the opposition to think if the country wants anti campaign or a positive campaign," he said.
8:08 PM: National vice president of BJP, Shyam Jaju told Zee Business TV that party expects to cross the 300 seat mark. He said that all the surveys predict that BJP alone will win over 300 seats. "The entire country backed Narendra Modi after his stance on Pulwama attack. This is the first time when an election was contested in India without bringing up the topic of corruption. This is because of the schemes implemented by BJP," he said.
8:04 PM: The CVOTER-IANS exit poll says that NDA will win 22 out of the 25 seats in Rajasthan. It says that the remaining three are seen going to the UPA or the Congress. In the 2014 general election, the BJP swept all the 25 seats in the state. But, the party had lost the state assembly election last year.
8:02 PM: According to ndia Today-Axis My India exit poll, the DMK, which suffered a major debacle in the 2014 Lok Sabha polls, will make a grand comeback in the 2019 general elections as the party-led alliance will get about 34 to 38 seats in Tamil Nadu. The state`s ruling AIADMK, which had won 37 out of the state`s 39 seats, will get around zero to four seats, it said. 
7:55 PM: All the exit polls have predicted a win for NDA. What remains to be seen is how many seats BJP wins alone. Buy, what is clear is that things do not look very positive for Congress and UPA. This is what all the major exit polls have predicted so far -
#ExitPollonZee | #ExitPoll2019 में #ModiSarkar2 के स्पष्ट संकेत..#ZeeMahaExitPoll #LokSabhaElections2019 pic.twitter.com/XIVH7BXClQ

— Zee Business (@ZeeBusiness) May 19, 2019
7:52 PM: BJP spokesperson Gopal Krishna Agarwal told Zee Business TV that BJP has worked really hard over the five years to bring the nation together. 
7:40 PM: The exit poll results come as a good news for the Bharatiya Janata Party (BJP). To rule, a party needs the support of 272 lawmakers. The counting of votes will take place on Thursday. However, people need to keep in mind that exit polls are only predictions and have a mixed record in a country. But, it won't be easy for opposition parties to close such a massive bag. With the majority of the polls indicating a clear majority NDA, equity markets are expected to rally sharply on Monday, while the Indian rupee is also likely to strengthen again the US dollar.
7:30 PM: Here is what Zee Business TV poll of polls predict -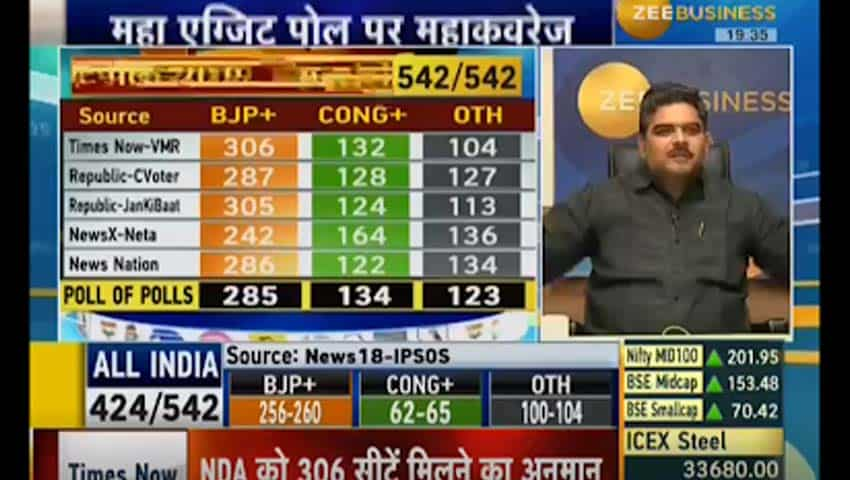 7:10 PM: Chanakya has also come out with its exit poll. It predicts BJP win in most states. According to Chanakya, BJP will win 9 seats in Chhattisgarh against Congress' two, 26 seats in Gujarat against Congress' 0 to 2 and 27 seats in Madhya Pradesh against Congress' 2. 
#TCPoll
Delhi LS Seat Projection
BJP 7 ± 2 Seats
AAP 0 ± 1 Seats
Congress 0 ± 1 Seats
Others NIL#News24TodaysChanakya

— Today's Chanakya (@TodaysChanakya) May 19, 2019
7:02 PM: According to NewsX-Neta Exit poll, the NDA will get 242 seats. This is the least number of seats predicted in any survey so far. It says that UPA will win 165 and 136 will go to Others. The NewsX-Neta Exit polls have predicted that the BJP is most likely to win 33 seats in Uttar Pradesh while the Congress can get only 4 seats. Meanwhile, India News-polstrat exit poll predicts 298 seats for NDA and 118 seats for UPA. It says that others will get 126 seats. 
6:59 PM: According to News18-IPSOS Exit Poll, the NDA will get anywhere between 292 and 312 seats. It says that BJP is expected to bag 242-252 seats, with allies making up the other 50-60 seats. In Uttar Pradesh, it said that NDA is set to repeat the performance of 2014 by winning 50 to 54 seats out of the 67 seats at stake. The mahaghatbandhan may secure 11 to 15 seats of the 67 seats that went to polls in first six phases. 
6:55 PM: Zee Business TV expert Ajay Bagga expect market to open at least 5 per cent high on Monday. This means that both Sensex and Nifty can touch all time high on Monday. Vijay Mantri, co-founder JLR Money told Zee Business TV that these are huge numbers as no party has been able to form government for two consecutive tenures in a long time.
6:53 PM: So far, three exit polls have predicted a big win for NDA. Two exit polls predict that BJP-led NDA will win more than 300 seats and return to form its second successive government. In the last general election, the NDA had formed government with 336 seats. The BJP swept all seats in Gujarat, Rajasthan, Delhi, Uttarakhand, Himachal Pradesh and Goa.
6:52 PM: The India Today-Axis survey suggests that YSR Congress is expected to win anywhere between 18 to 20 seats in Andhra Pradesh while TDP will be down to 4 to 6 seats. In 2014, N Chandrababu Naidu-led TDP had bagged 16 and emerged as the single largest party.
6:47 PM: Jan Ki Baat has predicted that NDA will 305 seats, UPA is likely to get 124, MGB should get 26 seats and others are likely to win over 87 seats. It has predicted 254 to 270 seats for Bharatiya Janata Party.
6:39 PM: The exit polll data from C Voter is alreadt out. It predicts 287 seats for NDA, 128 for UPA, 40 for MGB and 87 for others. The C-voter survey says that Bharatiya Janata Party will get 236 seats itself.
6:37 PM: The exit poll numbers from TimesNow-VMR are out. According to the poll, BJP-led NDA is expected to win 306 seats, Congress is tipped to get 132 seats while others are predicted to get 104 seats. 
6:33 PM: West Bengal has witnessed the highest voting so far. The state has witnessed over 73 per cent voting while Jharkhand has seen over 71 per cent voting.
#LokSabhaElections2019 के सातवें और आखिरी चरण में 61% मतदान हुआ।#ZeeMahaExitPoll #ExitPollonZee #ExitPoll2019 pic.twitter.com/U2WIujzboB

— Zee Business (@ZeeBusiness) May 19, 2019
6:26 PM: BJP spokesperson Anila Singh told Zee Business TV that BJP's top leadership has already said that NDA will perform better than 2014 this year. She said that party has united with the voters on the basis on their work. "We are not contesting over religion or caste, like other parties," she said.
#ExitPollonZee | क्या अबकी बार भाजपा की नैया में 300 से ज्यादा सीटें होगीं सवार? जानिए इस सवाल पर अनिला सिंह, प्रवक्ता, BJP#ZeeMahaExitPoll #LokSabhaElections2019 #ExitPoll2019 @AnilSinghviZEE @AnilaSingh_BJP pic.twitter.com/ismNgJUiMc

— Zee Business (@ZeeBusiness) May 19, 2019
6:23 PM: Senior journalist Avdesh Kumar told Zee Business TV that more people have come out and voted this year. He said that BJP won most seats with a huge margin last year and it won't be easy to close that gap for the opposition this time. 
6:19 PM: Lok Sabha Speaker Sumitra Mahajan is confident of Prime Minister Narendra Modi returning to power with absolute majority for the second time. "There is an encouraging atmosphere for the BJP in the country. I have full faith that the Modi government will once again form the government with full majority," Mahajan said, after casting her vote at a polling booth in Old Palasia.
6:16 PM: Punjab Chief Minister Amarinder Singh has told media that by and large polling for all 13 Lok Sabha seats in the state was peaceful on Sunday. "One murder was reported from Tarn Taran. As per the initial police report, it was a case of personal enmity," he told reporters. He said the law and order situation was good.
6:10 PM: Market expert Sudip Bandyopadhyay told Zee Business TV if the exit polls suggest over 270 seats for the Bharatiya Janata Party (BJP), the market should go up by at least 300 or 400 points on Monday. He said that it will be interesting to see if those levels are sustained or not. "If BJP doesn't emerge as the single largest party, there will be a huge correction in market," he said.
The seven-phase Lok Sabha elections end today. The final results will be announced on May 23.
READ | Exit poll results 2019 Lok Sabha in Hindi
A new government may take oath later this month. 
Get Latest Business News, Stock Market Updates and Videos; Check your tax outgo through Income Tax Calculator and save money through our Personal Finance coverage. Check Business Breaking News Live on Zee Business Twitter and Facebook. Subscribe on YouTube.
Updated: Sun, May 19, 2019
09:23 pm
New Delhi, ZeeBiz WebDesk