Can Centre and state govts find middle ground over GST?
Most states' financial ministers agreed that there should not be constitutional cap on the Goods and Service Tax (GST).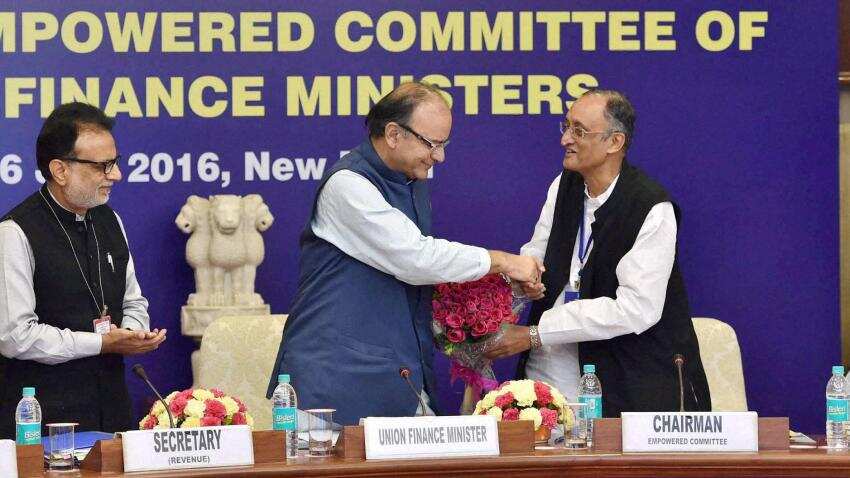 Finance Minister Arun Jaitley with chairman of the empowered committee Amit Mitra during a meeting with the Empowered Committee of State Finance Ministers at Vigyan Bhawan in New Delhi on Tuesday. Photo: PTI
Updated: Tue, Jul 26, 2016
08:14 pm
Mumbai, ZeeBiz WebDesk
A meeting between Arun Jaitley, Finance Minister of India and finance ministers of state governments took place in New Delhi on Tuesday. 
The meeting didn't decide on the rate of tax but the state governments said the tax rate shouldn't be too high for citizens and don't harm state revenues. 
The state finance ministers agreed that GST tax rate shouldn't be part of constitution but should be itemized in an act or a rule. 
The cap on the GST was something that the Congress Party has been pushing for, however many of the other opposition parties have not been so keen on it. 
The state finance ministers also said that the GST rate should not be so much that the State loses revenues. 
Amit Mitra, Chairman of the Empowered Committee said that the government promised that states will be compensated for a period of five years in case of revenue loss arising after GST. 
Mitra said that the government agreed that businesses with turnover of less than Rs 1.5 crore will pay tax to state governments. 
Telangana finance minister said that there is unanimity on most issues but another meeting is required to iron out all issues. 
Finance Minister of Himachal Pradesh said that there is no conclusion over dual administrative control on small traders but said that the majority was against dual control. 
"The consensus is that the GST rate should not be such a burden on the common man and theStates may not suffer any loss oftaxes," added Mitra. 
Watch Zee Business report on Empowered Committee meeting with Finance Minister and government officials here: