Why pre-GST discounts offered by car makers fail to sway buyer in June as sales fall
Car companies in the month of June saw a decline in sales even despite offering large discounts due to the implementation of GST from July 1.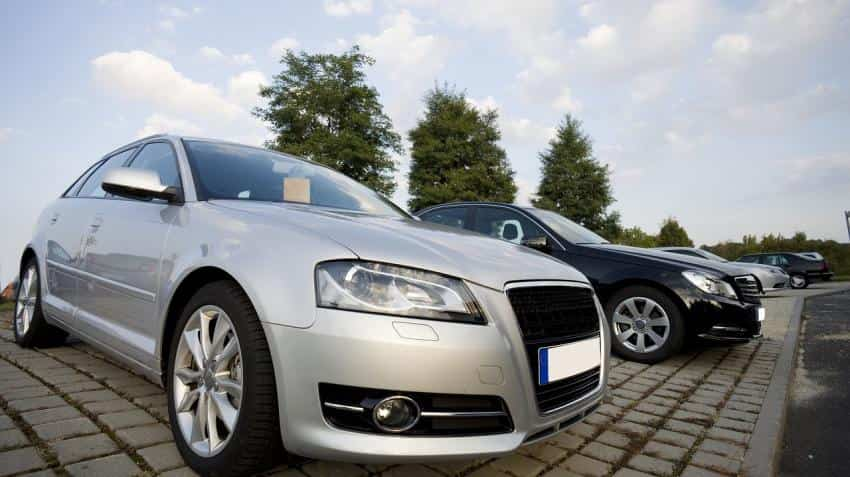 Cars parked outside a dealership. Photo: Pixabay
Updated: Mon, Jul 03, 2017
06:32 pm
Mumbai, ZeeBiz WebDesk
Key highlights:

Some of the car companies offered discounts as high as Rs 40,000
Maruti Suzuki posted only a 1.2% rise in domestic sales in June
Hyundai reported a 5.6% decline in domestic sales
Several car companies were offering huge discounts as part of their pre-goods and service tax (GST) sale. This was in order to get rid of as much pre-GST inventory as possible before July 1. Some of the discounts were as high as Rs 40,000 offered for certain car models. Despite this, car companies reported a low growth in sales in July.
The largest car manufacturer in India Maruti Suzuki posted only a 1.2% rise in domestic sales in June. It sold 93,263 units in June this year as against 92,133 units in the same period last year.
While other top car companies such as Hyundai, Tata Motors and Mahindra & Mahindra (M&M) reported a decline during the month. Hyundai reported a 5.6% decline in domestic sales as it sold 37,562 units in June 2017 in comparison with 39,807 units in the corresponding month last year.
Tata Motors' passenger vehicle sales were down 10% to 11,176 units from 12,482 units in June 2016. While Mahindra also reported a decline of 3% in domestic sales during the month.
Maruti Suzuki's Alto was being offered at a higher discount of Rs 35,000 to Rs 40,000 prior to the rollout of GST. Even Maruti Swift was offered for a pre-GST discount of Rs 25,000 and WagonR at discount of Rs 30,000-32,000.
ALSO READ: Pre-GST sale: Car and bike companies offer huge discounts on last day
Hyundai dealerships offered discounts on the Eon up to Rs 35,000-Rs 37,000 from earlier Rs 30,000-Rs 32,000 earlier. Hyundai Grand i10 was being offered at a discounted price of Rs 22,000 to Rs 27,000 and even premium hatchbacks such as the Elite i20 were being offered by dealers at a lower price.
While the Tata Zest was being offered at a discount of Rs 70,000 to Rs 75,000, Mahindra was offering discounts of up to Rs 65,000 on XUV500, among other discounts on other models.
However, this did not seem to have worked as with prices of models already expected to reduce due to the lower taxes many preferred to defer their purchases to the following months post implementation of GST.
Mixed consumer sentiments in June 2017 towards the implications of GST have impacted the passenger vehicles business sales, said Tata Motors in a statement. "In June 2017, Tata Motors passenger vehicles sales were impacted by the mixed reactions towards GST resulting in low buying sentiments. The passenger vehicle business recorded sales of 11,176 nos., lower by 10%, over 12,482 nos. in June 2016. This drop in volume is seen temporary and will be recovered in the quarter to come based on 11% growth in April-June 2017 quarter compared to the last year," it said.
Rakesh Srivastava, Director - Sales and Marketing, Hyundai Motor said, "In a challenging market fueled with speculations on the GST tax structure; Hyundai registered highest ever half year (H1: Jan –June 2017) domestic sales at 2,53,428 units with a growth of 4.1% on account of strong acceptance of super performer brands Grand i10, Elite i20 and Creta in Pre-GST business environment. We expect a positive demand pull post the successful implementation of GST in the coming months as industry will witness heightened level of customers' interest in a seamless unified single market."
Even Rajan Wadhera, President, Automotive Sector, Mahindra & Mahindra acknowledged the impact of GST during the month. He said, "Our focus has been to minimise channel stocks to reduce the transition losses, on account of GST implementation. We are closely observing GST and strongly believe that once we tide over the initial uncertainties, GST is set to usher in a new era for the economy in general and the automotive industry in particular. Going forward, we expect that our wide product portfolio will drive our growth."