V-Mart has a target to open 60 stores in FY20: Anand Agarwal, CFO, V-Mart
Third-quarter accounts for more than 50% of the annual profits and the one-third of the sales of the year for V-Mart, says Anand Agrawal, CFO, V-Mart.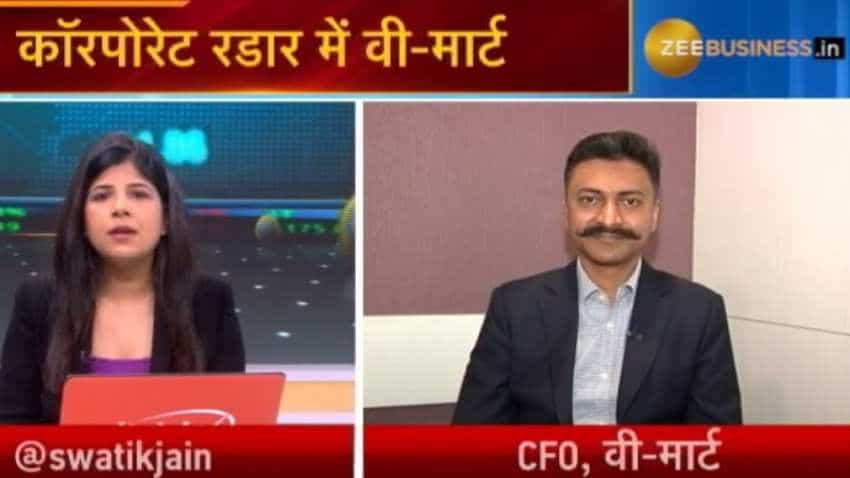 V-Mart has the target of opening 60 new stores this year of which 44 stores were opened by end of October, said Anand Agarwal, CFO, V-Mart.
Edited By:
Jitesh Kumar Jha
Updated: Tue, Nov 19, 2019
12:24 pm
New Delhi, ZeeBiz WebDesk
Third-quarter accounts for more than 50% of the annual profits and the one-third of the sales of the year for V-Mart, says Anand Agrawal, CFO, V-Mart. In a candid chat with Swati Khandelwal, Zee Business, Mr Agrawal said, "V-Mart has the target of opening 60 new stores this year of which 44 stores were opened by end of October". Edited Excerpts: 
Was the second-quarter numbers, which is not so good, was on expected lines or you are quite disappointed with the quarter's performance?
Quarter two was slightly low then expectations as the festive season began in September end but heavy rains and floods in Bihar and East Indian Market in the period, especially in the Durga Puja market, has weakened our sales. Quarter two generally remains the smallest quarter but footfalls and new stores have provided good growth to us. We have grown by 22% in the quarter, although, the same-store sales growth has remained weak by almost 1%. However, the third quarter, the main festive season - when Durga Puja, Diwali and Chhath are celebrated and the winter season starts - is performing well. But, delayed winter is pushing the sales further, however, footfalls are strong and customers are out in the market to buy things.
See Zee Business Live TV streaming below:
Besides, we saw something good in the second quarter and it was that our average selling price went up by 16%, which means customers are not weak but they are demanding something better. Possibly they are buying less number of pieces but they are willing to buy better and costlier products during the festive season. Thus, we haven't seen any weakness in the buying power in the market and we have seen similar performance in October and November. But, we haven't seen a great push in sales due to delayed winter at least in North India.
Update us about the discounts at V Mart and the impact it will have on your margins?
Most of the retailers do not offer discounts during the third quarter and we have same goes at our end. Secondly, we have always been an honest price shop and that is why we offer the least discount in the market and I don't think that we will have to go for such discounts this year as well. In the second quarter, our gross margin went up by 2% due to less discounting from our end. And, I don't think that there is any need to increase discounting in the third quarter. However, we will be a bit more aggressive in customer promotions, advertising and marketing but when it comes to discounting then I don't think that we will do a lot in the segment. We wish that our average selling prices average continues to be strong. Secondly, the winter period is a full-price sale period and that's why we don't believe in offering a lot of discounts.
What is your outlook for the third quarter and what is your expectation in terms of performance?
I can't provide any guidance but would like to say that the third quarter, traditionally, remains the longest quarter of the year for us and it will remain the same one this year as well. Quarter three roughly accounts for more than 50% of the annual profits and the one-third of the sales of the year because of the festive and winter seasons. This is a period when the costlier products are sold more and least discounting are offered. This is why the third quarter turns up to be the most important quarter for us. When it comes to average selling price, then it has increased by 16% in the second quarter but this increase has happened after a long interval. On a full-year level, then there can be an improvement of about 3-4% when compared to the last year, as we can't get an increase of 16% for the entire year neither we want to have it.
Talk about store expansion plans and the number of stores that will be opened this year and the geographies where they will be opened?
We, generally, add 20-25% retail area to our base. 44-45 new stores were added to our list last year and 60 new stores will be added to the existing base by the end of this year. We have added 44 new stores by the end of October 2019 and this shows that we are on a track and will be able to add at least 60 new stores by year-end. Our investment and CapEx plans will help us in achieving our goal. Our strategy for opening new stores is based on the Cluster-formation expansion model, this means we open a new store either in the city or small towns where we have our stores or within 50-150 kilometre radius from it. We are operational in 19 states, at present, and the cluster-based approach will be used to expand in other states as well. However, in the near term, we will majorly focus on North East, East and other core areas of central India like UP and Bihar. Besides, we have opened four new stores this year in Rajasthan of which 3 are based in Jaipur. Thus, we primarily focus on the existing areas instead of marching into new areas.
As far as our growth plans are concerned, then there is a short-term slowdown in the market. And, on the demand front, what we have seen in the last 7-8 months, the slowdown has had a slight sentimental and psychological impact on the customers. However, our long-term plans and expansion through new stores are planned for the upcoming 5-20 years and there is no change in those plans. And, whatever investment is being made and whatsoever will be planned for the future will be planned accordingly as we the market is still very big and has the potential. Possibly, the next 4-6 months may remain weak but our plans for opening the new stores will remain intact. However, we have a caveat for it and that is that all the new stores will be opened from the internal cash generation as we don't want to open them through the debt mechanism. Thus, we will use our profitability and the cash that is generated at our end to open a new store. Secondly, these stores will be opened either in the cities where we are functioning or in nearby cities. The third and the most important factor is that we will never chase the top line to open the stores and it will just depend on the profitability and this is how we have performed. 80% of the stores which were opened in the last 17years have turned profitable in just the second month after they were launched and this is something that we want to carry in the future as well.  
Update us about your digital penetration and what is your strategy to deal with the competition from the organised and unorganised sectors?
Digital is a big opportunity for us and we have been working on it since last year. Omni-Channel has been launched, it is a soft-launch, and it is in the test phase. Interestingly, every product that is available in our stores is available on the Omni site vmartretail.com and customers are ordering on it. Besides, our app is also available on the android store as V-Mart retail. Digital space, might not be in the next one-two years, is going to be an important part of our retail strategy in the time to come. We are investing in it, the digital platform, as we do while opening a new store to make sure that it strengthens our growth plan in future. 
Get Latest Business News, Stock Market Updates and Videos; Check your tax outgo through Income Tax Calculator and save money through our Personal Finance coverage. Check Business Breaking News Live on Zee Business Twitter and Facebook. Subscribe on YouTube.