Top four firms corner 26% of audit business in India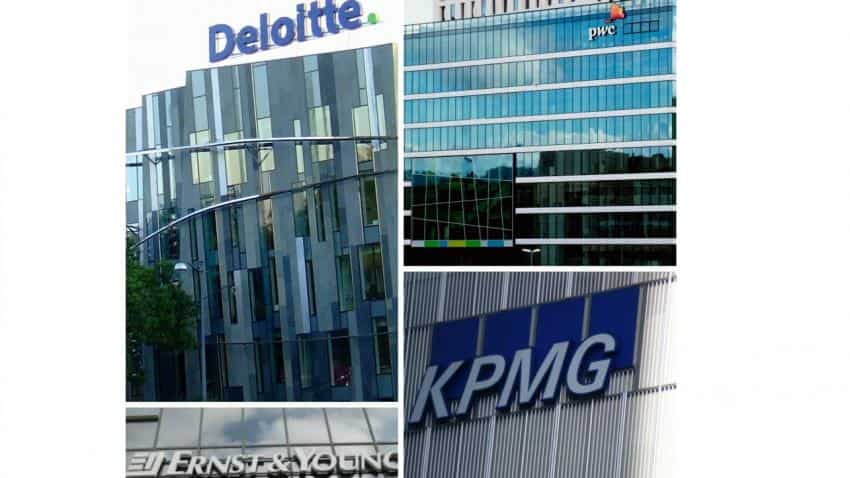 Deloitte led the market with audits of 158 companies in FY16 from 147 in FY15. Image Source: Wikipedia
'Big 4 auditing firms' - Deloitte, Ernest & Young Group, KPMG and Price Waterhouse Group (PwC) continue to dominate the Indian market with 26% share by volume and 30% by overall fee. 
The top 10 audit firms accounted for audit of as many as 549 companies or 36% of the total. Leading the league table was the Deloitte group with 158 companies, followed by EY Group (114), KPMG Group (66) and Price Waterhouse Group (65).
PRIME Database, in a statement, said, "The Big 4, between them, handled a high 401 assignments of the total 1,519 companies, or 26 per cent of the total. Their dominance was even stronger in the Nifty-500 subset wherein they handled 234 of the 500 audits or 47% of the total." 
 Deloitte led the market with audits of 158 companies in FY16 from 147 in FY15.
The company also had the highest earnings from auditor fees which was up 20.76% from the same period last year at Rs 245.65 crore in FY16.
"Auditor rotation, as mandated by law (including addition/deletion of one or more auditors for companies with joint audits), has picked up momentum. Changes were made in as many as 178 NSE-listed companies from 2014-15 to 2015-16 and in 152 companies from 2015-16 to 2016-17, said Pranav Haldea, Managing Director of PRIME Database.
He said, "From 2013-14 to 2014-15, auditor changes were seen in 171 companies, from 2012-13 to 2013-14 in 141 companies, from 2011-12 to 2012-13 in 141 companies, from 2010-11 to 2011-12 in 142 companies and from 2009-10 to 2010-11 in 141 companies."
Tenures of 99 auditors in 94 companies shall expire in 2017-18, 172 auditors in 168 companies in 2018-19, 125 auditors in 117 companies in 2019-20 and 129 auditors in 127 companies in 2020-21.
Updated: Mon, Sep 19, 2016
02:50 pm
Mumbai, ZeeBiz WebDesk