Sriram Transport Finance has tied with BPCL, HPCL to offer credit-based fuel refiling services: Umesh Revankar
Umesh Revankar, MD & CEO, Shriram Transport Finance says talks about the slowdown in the auto sector and company's Q1FY20 results.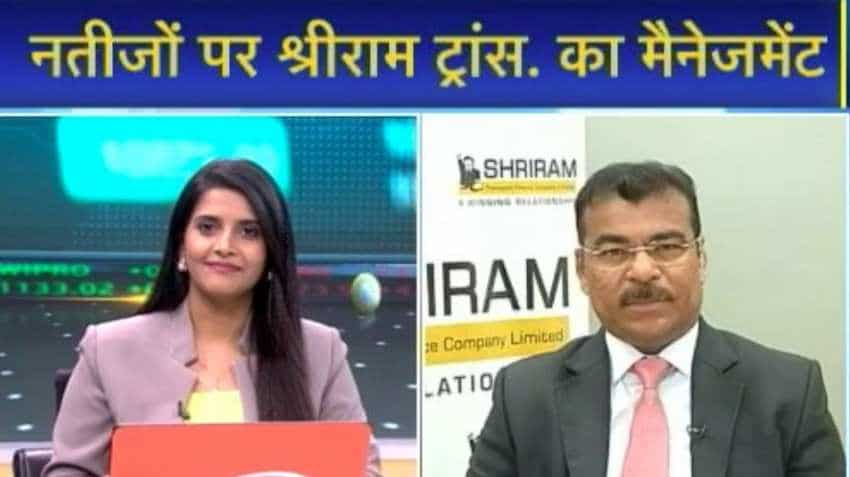 Umesh Revankar, MD & CEO, Shriram Transport Finance says that AUM growth of 5-6% is okay kind of thing for them under the present situation.
Updated: Fri, Jul 26, 2019
02:33 pm
New Delhi, ZeeBiz WebDesk
Umesh Revankar, MD & CEO, Shriram Transport Finance, spoke about the decline in AUM growth, growth in the working capital loan, competition in the second-hand truck business and the slowdown in the auto sector during an interview with Pooja Tripathi, Zee Business. Edited Excerpts:
Can you highlight the concern areas that led to a decline in the assets under management (AUM) growth of the company?
I think the AUM growth of 5-6% is okay kind of thing for us under the present situation, where maximum time and economic activities were diverted towards the election. Little improvement can be seen in the near future and we have provided an expected AUM of 15% for this year. BSIV demand will pick up in the second half of the financial year 2020 (H2FY20) because BSVI is a costlier affair and this demand will help in taking the growth rate up to 15% in H2FY20. 
See Zee Business Live TV streaming below: 
While going through the total AUM numbers, we found 52% growth in the working capital loan of the company. Can you tell us about the segment that was benefitted from it?
Denominator was small last year and that is a reason that the growth rate seems to be a big one, but we have tied up with BPCL and HPCL for fuel credit under, which can be used by the customers' who needs fuel in absence of cash. The service will be available at each and every petrol pump. This has led to an increase in the working capital of the company. Customers are happy with the facility. 
You are a market leader in the second-hand truck business, and you were a kind of pioneer in this segment, but the competition has increased amid a slowdown in the new loan demand in the auto segment. So, what is your outlook on the competition in this segment?
Used vehicles are demanded maximum in deeply rural areas and we are growing in the deep rural pockets. In the process, the rural centres are being turned into branches of the company. Thus, we will continue to gain market share as far as used-vehicle is concerned. Interestingly, the competitors are also paying attention to the used-vehicle segment, but I feel that our reach and network is very big and that is why our growth rate will continue to be more. 
During our last conversation you said that the slowdown in the auto sector will come to an end after the elections are over and the union budget is announced. So, let us know a timeline by when things will return to normal and there will be an increase in loan demand for auto?
Normally, we don't focus a lot of new vehicle financing and if our customer upgrades himself and want to buy a new vehicle, then we go for it. So, we don't have a tie-up with any manufacturer or dealer and that's why we will not keep attention on new vehicle financing at least amid the ongoing slowdown in the sector. In fact, we will continue to pay attention to used-vehicles and used-vehicles will be the largest contributor in our future growth rate as well. 
What led to this slight increase and tell us about the accounts that turned up to be a matter of concern and what were the accounts where you found the need of provisioning?
There is a slight increase in NPA if seen from quarter-on-quarter (QoQ) aspect but it has gone down of seen from year-on-year (YoY) aspect. I think there were challenges of cash movement during the election season and that can be one reason that led to this increase, but we will try to reduce it from here. I think the good monsoon and improvement in economic activities can help us in reducing the gross NPA further. However, the credit cost is in control under the rate of 2% and this will continue for the entire year. 
NBFCs were struggling with liquidity crunch but the conditions are improving now. Let us know about the existing environment-related to liquidity and does the problem of ALMs persist in the company? What is the borrowing portfolio of the company? 
We are raising funds and our fund-raising program was good for this quarter. We have also raised the dollar bond internationally have raised $750 million that was approved and have plans to raise an additional $750 million. Thus, we don't find challenges in raising funds, but the cost of borrowing will be a little high compared to the normal domestic borrowing. It will be more by around 15-20 bps, but it is a long-term borrowing and that is why it is good. The RBI has reduced the REPO rate by 75 bps, and banks have reduced just by 10-15 bps and that's why I think there is a lot of scope for banks to reduce the lending rate. Reduction of the lending rates from banks end will be advantageous to us but we don't know by when it can happen. But we hope that in the next 6 months there will be an improvement in the cost of borrowing and liquidity.  
Do you think that new regulations of the Reserve Bank of India (RBI) that strengthens provisions for the deposit-taking NBFCs will have an impact on your cost of fund in the near future?
No, it will not have any impact on it. In fact, our deposit raising program is on our end and there is an improvement in our net accretion and fresh deposit. 
What are your plans to raise capital for FY20?
It depends on the market conditions. Securitisation is high on demand at present and we were able to securitise around Rs5,500 crore in the last quarter as well. I feel we will continue with this program of securitisation. Plus, we will also continue the fund-raising process from the banks and remaining international sources. 
What is the new strategy of the company at a time when Piramal Enterprises Ltd has sold its entire stake in Shriram Transport Finance Co Ltd? Will some new company will make an entry into the company?
No, we don't have any such plan yet. In addition, the stake sale of Piramal was bought by public institution mostly mutual fund and FIIs. However, a new partner may join us, if we raise new equity but we don't have any plan to raise new equity at present.
Get Latest Business News, Stock Market Updates and Videos; Check your tax outgo through Income Tax Calculator and save money through our Personal Finance coverage. Check Business Breaking News Live on Zee Business Twitter and Facebook. Subscribe on YouTube.