Right Governance Mechanism can drive economic growth in India: Harsh Mariwala, Marico Limited
Harsh Mariwala, Chairman, Marico Limited, speaks about his hopes from 2019, the impact of GST reduction on business, the contribution of the rural and urban region in his business among others during an exclusive interview with Zee Business.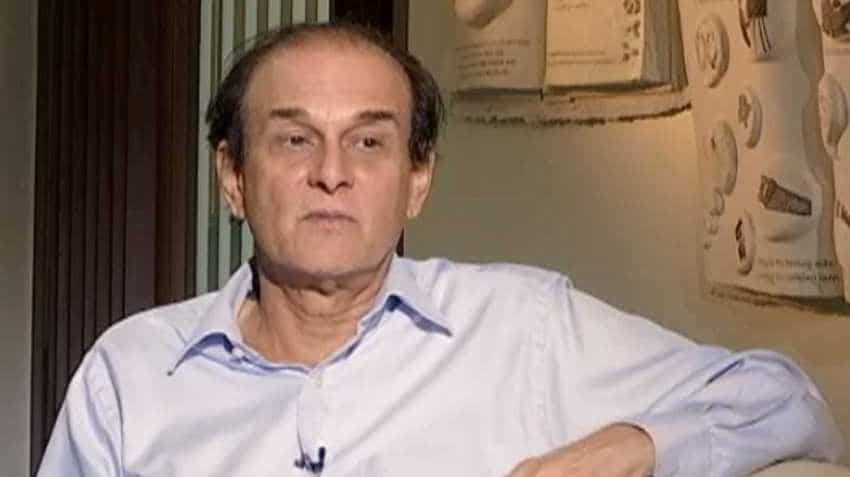 India has the potential at least when there are talks that we will grow by 6-6.5 per cent growth and I feel that we have capabilities of growing by 8-10 per cent. Image source: Zee Business
Harsh Mariwala, Chairman, Marico Limited, speaks about his hopes from 2019, the impact of GST reduction on business, the contribution of the rural and urban region in his business among others during an exclusive interview with Swati Khandelwal, Zee Business. Edited Excerpts: 
Q: What are the hopes from 2019?
A: General election is the biggest event to be held in 2019. But, there are pre and post uncertainties related to it. Results of three states, Madhya Pradesh, Chhattisgarh and Rajasthan, went beyond expectations, which means that we will have to wait and watch what comes out. But, it is going to be an interesting election due to talks of formation of Mahagathbandhan by opposition parties and BJP's strategy to retain it. That is going to be the highlight. I feel, that no big reforms will occur for the next 4-6 months. 
Q: It means some actions can be seen in the later half of 2019?
A: Yes, but it will depend on the government that comes to power and number of coalition and how they work together. 
Q: What is going to be industries approach towards it? Will you be in a wait and watch mode or will continue your processes at your end?
A: Government comes and goes but we will continue with our processes. People sitting in Delhi are sensitive about who comes and who goes, but it, the sensitivity, decreases with the distance. Interestingly, any change on that front, hardly has any impact on our business, as it is a consumption story and don't need to go to the government. I think the economy should grow whosoever comes to power. 
Q: Government says that India is growing but there is a lack of employment opportunities. Where do you see India's growth story, at present, and what is your opinion on the growth potential of the country?
A: See, India has the potential at least when there are talks that we will grow by 6-6.5 per cent growth and I feel that we have capabilities of growing by 8-10 per cent. But, this will depend on the role of government and the kind of freedom that is provided to businesses. Why it is running industries and operates Air India? It should focus on governance instead of business. The economy will change if the government withdraws itself and comes with a right governance mechanism. I don't want to say that the government is not trying to do so, improvement in ease to do business ranking is an example to it but there are several other things to look forward. 
Q: Will the reduction in GST rates have an impact on the industry, if yes, do you think there is a need for more reductions in rates?
A: Reduction of the GST rates is good for both the consumer as well as the industry as it will lead to a reduction of rates, which will increase affordability leading to increased demand. I feel, it is a right thing and more reductions will help the industry. 
Q: But, economists are saying that such reductions will have an impact on the fiscal deficit?
A: Let's see the kind of revenue the government gets from it. For the purpose, it will have to close certain loopholes in the system that leads to leakages. Plugging off the loopholes will help in increasing their revenue. Besides, the government will have to watch the impact of such a reduction on the demand of the products, whose prices have been slashed. 
Q: Is there something else that needs rate reduction?
A: Haven't studied on it and that's why can't comment on it. 
Q: Earlier, you have said that the rural economy is the torchbearer of Indian economy. What is your outlook on the growth of the rural economy?
A: You read about rural economy and farmer crisis as the rural economy depends on farming to some extent. But, the growth story of the rural economy can be accessed by having an eye on the results of FMCG companies. They present their rural and urban growth data in the results and interestingly, almost every company has reported a better growth in a rural area vs urban area in the last 6months to a year. So, the condition of rural economy is not as bad as it is being said or else rural growth data would have not been better than the urban data. Perhaps, the importance of the service sector and industry has increased in rural area and employment has increased in the sector. So, rural is not as bad as it is being told. 
Q: Can rural growth be positioned at a better place in 2019, if yes, what are going to be the key growth drivers of the year?
A: Productivity of farming should be improved. Farm loan waiver is an effect, but one should identify the root cause for the demand of the waiver like farming of wrong crop and productivity issues among others. Increased productivity will lead to a reduction in production cost leading to an increase in farmers margin. Secondly, removal of some restrictions related to rural commodity sales, like it should pass through APMC, will help in improving the earnings of the farmers, which will help them out. 
Secondly, ongoing improvement in infrastructures like telephone connectivity and road connectivity has helped in linking the rural and urban areas. In fact, this linkage, that is ending the artificial barrier, is profiting both the urban and rural economies. 
Q: FMCG sector is catering to everybody of society, may it be the rural area or an urban area. What is your strategy for growth of the business? How it will evolve along with the technology?
A: Being in India, we are supposed to create a balance between rural and urban area as we can't say that we want to serve the only rural or urban population. In the process, we should tap into the new opportunities, modernism, trends and new habits of the millennials in the urban area while product level penetration is required in the rural area.  
Q: Rural contribution to your business? 
A: Rural has a contribution of 30 per cent to our business. 
Q: Tell something about international contribution to your business and what is your outlook on it?
A: International business has a contribution of around 22-23 per cent at present. We have spread our reach in the Middle East, Egypt, South Africa, Vietnam, Nepal and Myanmar among others. International business is under stress in certain geographies while is growing well in other geographies. 
Q: Put a light on Aqua centre that was launched in recent past?
A: It has been almost 4-5 months when our first centre was launched in Andheri and we are providing rehab services for different types of issues like ortho issues, arthritis, knee injury and back issues among others. At present, we have three pools, Aqua Therapy, at Andheri, and they are fitted with underwater equipment like the treadmill and current flow among others. One can exercise easily within the water as our actual weight reduces 
As our weight turns up to be one-tenth of our original weight in the water, .i.e. 10 per cent of the weight is in water allowing a person to exercise at an ease facilitating him to recover at a fast pace. It is an internationally proved fact that aqua plays a very important role in recovery. Thus, we provide ortho, neuro, pediatrics and women health issues like pre and post-natal care and PCOS. We have appointed trained doctors for all these four services that are being provided by us. They have been trained in South Africa and Switzerland. We have at least one specialist in all centres namely neurology, orthopaedics, gynaecology and pediatrics.
In the process, they will counsel you first and will also assist you in the pool. Apart from this, we also have a medical gym that will help a person, who can't walk, to get into the pool by using a hoist. This is a unique concept. People are responding to it. We will start advertising about the facility after expanding our branches. Our second centre will be opened in Worli, Mumbai, near the old passport office, in next one month. 
Q: Is it affordable?
A: It depends on the package and number of session, but it starts around Rs1,500-2,000 per session/hour. 
Q: What is the size of wellness market in India?
A: It is termed as an alternative therapy, where people can cure themselves without taking medicines. But, it is a difficult business as our first centre spreads over 7,000 sq. ft., which means it needs investment as well as training. 
Q: Any plan to expand the facility? 
A: Yes. It will depend on the response of the first two facilities. Will also move to big cities after getting the response. 
Q: Can you update us on Ascent, another foundation that is close to your heart?
A: We conduct an annual Ascent conclave, a full day programme, that is participated by good speakers. Their words add some value to the entrepreneurs.  The last conclave was held on November 22, 2018, and Rajiv Bajaj, Bajaj Auto, started the first session of the conclave. At present, we have 400 members in two centres of Ascent in Mumbai (360-370 members) and Chennai (30-40 members). 
Q: Are you expanding it?
A: Yes. I give my time to the foundation and invest in it. It is a free kind of thing for all the members as I am funding it from my own personal fund. 
Q: How did you get the idea and what inspires you to go with it? 
A: I want to pioneer something in a different way so that it may have a social impact. It is not for money, but it is forgiving something back. It needs time and if you are passionate about the subject than you will have a willingness to give more time to it. 
Q: What is the next thing that you are looking forward to?
A: Now, I am looking towards mental health and my daughter is looking after that. In the process, we will support the organisations that are facing problems and we have worked with Icall, a call centre, run by Tata Institute of Social Sciences (TISS), Mumbai and we fund that, and we have a 14-member call canter, who provide solutions to your problems and they are trained in mental health. Interestingly, the advice will be free of cost and will be confidential and we receive at least 1,200-1,500 calls in a month. So, we have prevented suicides and many other things especially at the times of examination and admission as well as relationship problems, in-law's problem, husband and wife problem among others. 
Q: What is your expectation from your CEOs and tell about the advice that you provide to them at the meetings?
A: We want to grow more in the FMCG segment and it can be achieved by launching new products. In short, growth and how you attain it are an important aspect. The way should be legal and complaint to norms. Also, people working in Marico should enjoy working and thus we want to cultivate the right culture to attract good talent because it is talent that drives results. Thus, talent is very important to drive growth. 
Get Latest Business News, Stock Market Updates and Videos; Check your tax outgo through Income Tax Calculator and save money through our Personal Finance coverage. Check Business Breaking News Live on Zee Business Twitter and Facebook. Subscribe on YouTube.
Updated: Mon, Dec 31, 2018
11:31 pm
Mumbai, ZeeBiz WebDesk