Mallya-IDBI CMD 'holiday meeting' led to sanction of Rs 350 crore loan: ED
The ED probe also found that the considered brand valuation of the KFA, taken as a collateral by the bank for loan security in the said case, was not a sound decision.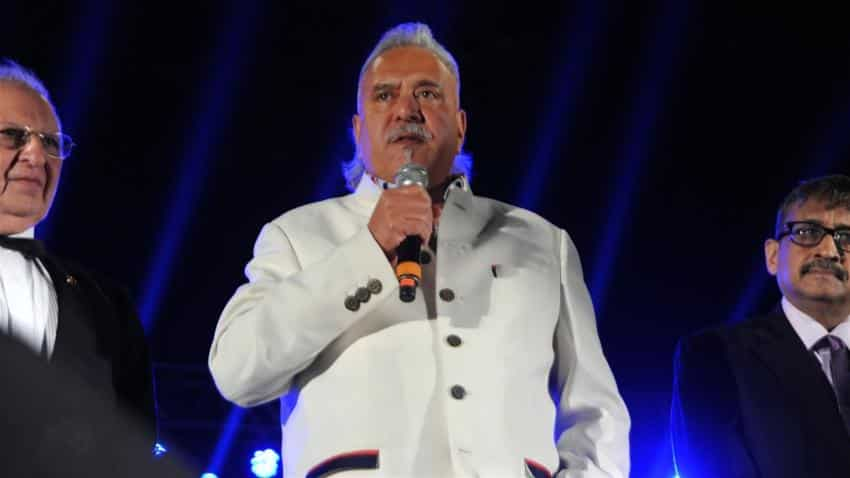 The total loan sanctioned and disbursed by IDBI was Rs 860.92 crore. Photo: Reuters
Updated: Mon, Jan 30, 2017
08:08 am
New Delhi, PTI
Two initial tranches of loan worth Rs 350 crore were hastily disbursed by IDBI bank to Kingfisher Airlines after a "holiday" meeting between liquor baron Vijay Mallya and the then bank CMD as both organisations "criminally conspired" to clear the entire deal despite weak financials of the airline, the ED has said.
The total loan sanctioned and disbursed by IDBI was Rs 860.92 crore. The agency, probing the case for money laundering charges, has said its investigation found that the processes deployed to structure and re-structure the loan by the bank to the now-defunct airline was planned to be defrauded and that Mallya and Kingfisher Airlines (KFA) had "no intent" to repay it.
"PMLA investigation indicates that the marketable value and quality of the collateral security offered by Ms KAL (KFA) and its promoters was not assessed. There is a complete lack of due diligence on the part of the bank coupled with the fact that undue haste was shown while disbursing the initial two tranches of loan amounting to Rs 350 crore.
"It is apparent that the said loans were disbursed post meeting of Mallya with the then CMD (Yogesh Aggarwal) of the bank on a holiday. It does not need an eagles' eye to decipher the cause of immediate disbursement of the loan amount of Rs 150 crore on October 7, 2009 and Rs 200 crore on November 4, 2009," the Enforcement Directorate (ED) probe report, accessed by PTI, said.
The CBI recently arrested Aggarwal and eight others in this case. The report added this specific transaction, where "substantial amounts" were sanctioned to KFA, in an ad-hoc basis and without due diligence points to the "existence of a deep rooted criminal conspiracy between the bank officials and the promoters of KAL (KFA)".
The agency, in its report, has appended the statement of the Aggarwal given to ED on March 23 last year wherein he told the Investigating Officer (IO) of the case that in October 2009, Mallya made a telephonic call to his office and requested for an "urgent meeting the very next day".
"As the next day was a holiday, it was pointed out to him... And he could meet at a later day. However, he (Mallya) informed that he was leaving Mumbai next day evening and as the matter was urgent, he would be grateful if he could meet the next day despite it being a holiday to which he (Aggarwal) agreed," the ex-CMD said, adding Mallya did meet him the next day along with a former MD and current advisor of the bank and an Executive Director of IDBI.
"Mallya informed that Ms KAL (KFA) was in a severe crunch and needed funds urgently to keep flying," Aggarwal said in his statement. 
The report further goes into the disbursal of these two tranches of loans saying when this happened "Ms KFA was having negative financials and negative net-worth and being a new client did not satisfy the conditions/norms stipulated in the corporate loan policy of the bank".
"However, without due deliberations and without following the standard procedure for sanctioning and disbursal of loan, short term loan was immediately sanctioned by the bank in an undue haste," it said.
The ED probe also found that the considered brand valuation of the KFA, taken as a collateral by the bank for loan security in the said case, was not a sound decision.
"Investigation revealed that KFA brand was accepted as collateral security and the valuation for Kingfisher brand as accepted by the bank as Rs 3,400 crore without independent verification," it said, adding the firm that did the brand valuation had submitted three different amounts of this estimate between 2008-12.
"Thus, it indicates how volatile is this (brand value) intangible fictitious asset and needs to be evaluated frequently, particularly in aviation sector which itself is very unpredictable and was going through a very rough phase and brand valuation was wholly based on projections provided by Ms KFA. Hence, it would not be prudent to accept brand value of 2008, while considering loan sanction in 2009," it said.
ED said its "money trail analysis revealed that out of the total loan of Rs 860.92 crore, sanctioned and disbursed by IDBI, Rs 423 crore has been remitted out of India. The said payments were shown to be made towards aircraft rental leasing and maintenance, servicing and spare parts."
The investigations conducted so far, it said, found KFA along with IDBI bank officials "criminally conspired to obtain funds to the tune of Rs 860.92 crore despite weak financials, negative net-worth, non-compliance of corporate credit policy of new client, non-quality collateral security and low credit rating of the borrower, out of which Rs 807.82 crore of principal amount remains unpaid."
ED had registered a criminal case in this deal last year under the provisions of the Prevention of Money Laundering Act (PMLA) and has attached assets to the tune of Rs 9,661 crore till now. 
Get Latest Business News, Stock Market Updates and Videos; Check your tax outgo through Income Tax Calculator and save money through our Personal Finance coverage. Check Business Breaking News Live on Zee Business Twitter and Facebook. Subscribe on YouTube.