Indian smartphone makers to battle for sub-Rs 4,000 4G smartphone segment with new launches
The 4G smartphones priced below Rs 4,000 are expected to see a surge in smartphone launches, in a wake to counter the demand for JioPhone and other 4G enabled feature phones.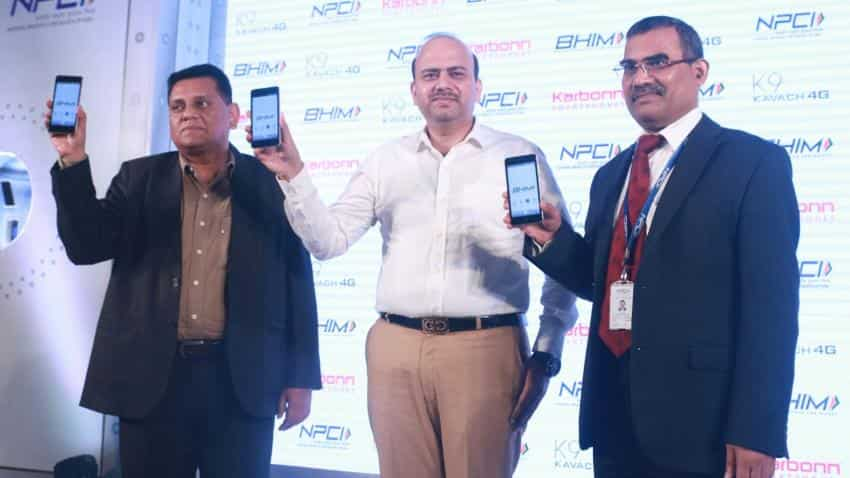 Karbonn Mobiles Executive Director Shashin Devsare, Director Ashish Aggarwal and NPCI CEO A P Hota at the launch of Karbonn K9 Kavach with BHIM app Integration in New Delhi, on July 4, 2017. (Photo: IANS)
Key highlights:

Many smartphone manufacturers coming up with smartphones priced below Rs 4,000
Airtel already in talks with Lava and Karbonn for Rs 2,500 4G smartphone
Pre-demonetisation the sub-Rs 4,000 smartphone segment had about 18-20% market share of smartphones in India
With Reliance Jio launching the JioPhone, a feature phone with 4G capabilities, for just Rs 1,500, it has thrown the sub-Rs 4,000 smartphones category wide open. This is expected to increase the demand of feature phones during the year as other mobile phone manufacturers are expected to come with 4G-VoLTE feature phones in this price range, creating more demand for it.
Not to be outdone, many smartphone manufacturers coming up with smartphones priced in the below Rs 4,000 smartphone category, which is the entry level smartphone category.
Many of the Indian manufacturers are key players here and are looking to keep their dominance in this segment where they are still not overrun by Chinese smartphone makers.
Airtel already seems to be in advanced talks with Indian handset makers such as Lava and Karbonn to introduce a 4G smartphone priced at about Rs 2,500 before Diwali, according to an Economic Times report.
Others could be expected to follow and come out with 4G-enabled smartphones in the same price range soon.
Micromax too in April this year had launched the Bharat 2 4G-VoLTE smartphone for Rs 3,499. And Intex has several 4G smartphones such as the Intex Aqua Zenith for Rs 3,888, Intex Aqua Strong 5.1 Plus for Rs 3,999, Intex Aqua A4 for Rs 3,499 and Intex Aqua 4.0 4G for Rs 3,599.
However, these Indian smartphone manufacturers too could launch cheaper 4G smartphones in order to compete in this segment.
The sub-Rs 4,000 smartphone category was one of the highest selling segments before demonetisation. "Pre-demonetisation the sub-Rs 4,000 smartphone segment had about 18-20% market share of smartphones in India. But post demonetisation its market share slipped to 6-7% and currently had seen a recovery as it climbed to 9% market share," said Neil Shah, Research Director at Counterpoint Research.
He said that this segment will see an increase in demand once again since the effects of demonetisation and the goods and service tax (GST) has subsided. "The sub-Rs 4,000 smartphone segment is a cash driven segment as it sees a lot of sales coming from rural areas and tier-II, tier-III cities in India. With the impact of demonetisation and GST reducing there will more demand for smartphones in this segment in the coming months leading up to Diwali. We expect to see a lot of Indian as well as Chinese brands making a push in 4G smartphones in the sub-Rs 4,000 segment. As people will have more spending power by then and the price confusion regarding GST will have settled," Shah said.
However, the reason why Indian mobile phone producers will come out with cheaper 4G smartphones in this category as this segment too is coming under siege by Chinese players.
While in the June-ending quarter last year saw Intex at No.1 spot with 26.7% market share in the sub-Rs 4,000 smartphone segment, followed by Micromax with 18.7%, Karbonn with 12.6%, Lava with 11% and LYF with 7.93%, according to data from Counterpoint Research. All Indian mobile phone makers.
In the June-ending quarter this year it has changed with Chinese-based phone manufacturer Itel taking 19% of the market share and coming in at No.2 spot in this segment within one year of its entry into the Indian market.
Micromax has moved to the No.1 spot with a 32% market share, while Intex fell to No.3 spot with 11% market share in the segment. Karbonn has a 9% market share and Zen Mobile with 3.4% market share.
"As this market segment grows once again, we will see Chinese smartphone makers making a bigger push into the segment. Even Xiaomi Redmi 4A which is priced at Rs 5,999 can be seen eating to the market share of the sub-Rs 4,000 market," Shah said.
We saw this as a CMR India report released today itself pointed out the growth of Xiaomi and the revival of demand for the Rs 4,000 to Rs 6,000 segment.
"Xiaomi was among ace performers in the quarter not only taking it to No 2 in the smartphone market in India but also contributing to the revival of 4000 – 6000 price segment of the market. The segment witnessed 55% growth sequentially. CMR believes that going forward, the entry level smartphone market will see a lot more action for few quarters from now onwards," the report said.
Faisal Kawoosa, Principal Analyst, Telecom and ESDM, CMR said, "The entry level market of smartphone will see some growth primarily due to attempts by various handset makers to counter the emergence of 4G feature phones. This should also see support of incumbent operators who are seeing revenues eroding at the hands of Jio's entry into the market."
Anshul Gupta, Research Director, Gartner said, "A lot of local as well as Chinese smartphone players are going to be active in the sub-Rs 4,000 segment. But this segment is going to be tricky, as while they are trying to appeal to first time smartphone buyers, they also have to maintain the quality and after sales service for these smartphones in order for them to stick to them."
He further said that the government pushing for higher smartphone penetration there will be a lot of competition in this segment as this cannot be done with Rs 7,000-8,000 priced smartphones.
Still the JioPhone and other 4G feature phones will have a Rs 1,000 price advantage over these smartphones, considering the launch of a Rs 2,500 smartphone. So can we expect cheaper 4G smartphones cheaper than Rs 2,500?
Shah said that cannot be done by manufacturers if they want to maintain the quality of the smartphone. He said with smartphones they have a larger display than feature phone which means that it requires higher RAM and battery, which costs more. "Considering after sales and distribution too, Rs 3,000 is the last price that smartphone makers can give it at."
Gupta said that although it is possible to launch a smartphone cheaper than Rs 2,500, he said it cannot be expected to function well.
ALSO READ:
Updated: Thu, Aug 24, 2017
07:53 pm
Mumbai, ZeeBiz WebDesk