Eight entities of founders to acquire over 118 crore shares of Reliance Industries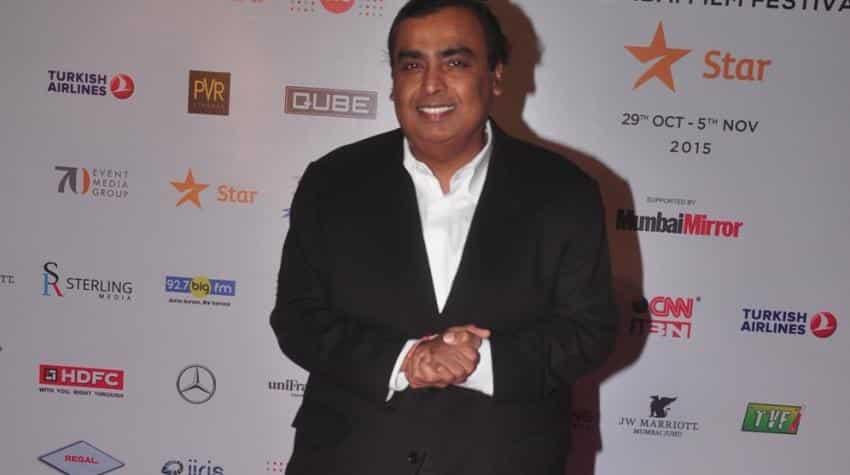 The company said that the shares to be acquired will be at market price on date of acquisition. Photo of Reliance Industries MD, Mukesh Ambani. Image Source: IANS
Updated: Thu, Mar 02, 2017
07:55 pm
Mumbai, ZeeBiz WebDesk
Reliance Industries (RIL) announced on Thursday that eight entities of founder groups will acquire up to 118 crore shares from 15 other founder group entities via 'inter-se' transfer.
"We being entities forming part of the promoter group of Reliance Industries Limited (RIL) intend to acquire from other promoter group entities by way of 'inter-se' transfer aggregating up to 1,189,988,400 equity shares of RIL," the company said in a BSE filing.
The founders that would be acquiring shares will be - Devarshi Commercials LLP, Karuna Commercials LLP, Tattvam Enterprises LLP, Srichakra Commercials LLP, Svar Enterprises LLP, Vasuprada Enterprises LLP, Shreeji Comtrade LLP and Shrikrishna Tradecom LLP.
The spokesperson of reliance industries promoter said that the shares to be acquired will be at market price on date of acquisition.
"The proposed transfers are only among the existing promoter group entities. This is acquisition pursuant to inter-se transfer of shares amongst qualified persons as specified in Regulation 10 (1) (a) (ii)," the company added.
However, the acquisition price will not be more than 25% of Rs 1,100.78 rupees per share, which is weighted average market price for preceding 60 trading days, spokesperson of reliance industries promoter said.
Shares of RIL on Thursday closed marginally lower 0.07% to Rs 1,233.25 per share on BSE Sensex.

The company said that the proposed transfer will not result in any change in founder group shareholding in RIL, Bloomberg quoted founder group's spokesman's statement.
The company further added, "Voting rights of promoter and promoter group aggregate to 47.68% of RIL's voting capital as no voting rights are exercised on 17,18,83,624 shares held by subsidiary companies of RIL."