Bombay High Court allows Tata EGMs without intervention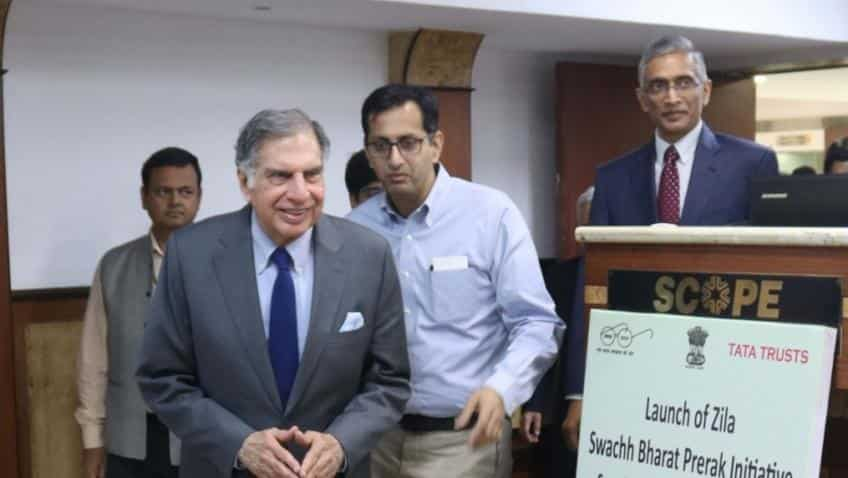 Tata Sons' interim Chairman Ratan Tata during the launch of Zila Swachh Bharat Preraks in New Delhi in December 16, 2016. Image Source: IANS
The Bombay High Court (HC) on Friday declined relief to minority shareholders of three Tata Group companies seeking to restrain promoters from voting at Extraordinary General Body Meetings (EGM) between December 21-23 on a resolution to remove industrialist Nusli Wadia as an Independent Director.
Justice S J Kathawala, who was hearing all the parties concerned in the suit filed by four minority shareholders, also barred Tata Steel, Tata Motors and Tata Chemicals from filling up the vacancy on the board of directors till further orders in the matter.
Posting the matter for further and final hearing on February 6, he directed Tata Sons to file its written submissions by January 15 and the plaintiffs to file their rejoinder to the same, if any, by January 25.
The Tata Sons said in a statement later that the court has allowed Tata group companies to hold their respective EGMs without any intervention and as planned.
The statement came a day after industrialist Wadia -- who is also Director in several Tata Group companies -- approached the high court.
ALSO READ: HC rules in Tata Sons' favour; denies Nusli Wadia claims 
Several Tata Group companies have called EGMs to decide whether or not to remove Wadia and Tata Sons` ousted Chairman Cyrus Mistry from their respective boards.
"The Hon`ble Bombay High Court denied every interim relief as claimed by the plaintiff and Nusli Wadia," said the Tata Sons statement.
"The Hon`ble Bombay High Court, with the consent of parties, passed an order that one board seat amongst the maximum permissible directors as per the Articles of each company, should remain unfulfilled until the resolution of this suit," the statement said.
Four minority shareholders - Janak Mathuradas, Yogesh Mathuradas, Chandra Mathuradas and Pramila Mathuradas in the three Tata Group companies - had prayed for restraining the promoters of these companies from voting on the resolution to remove Wadia, at the EGMs.
Challenging a provision in the Companies Act 2013, their counsel Navroze Seervai argued that only public shareholders should be permitted to vote on a resolution seeking removal of Independent Directors as these directors discharge a fiduciary duty towards minority shareholders and protect their interests.
Accordingly, Independent Directors could not be equated with non-independent directors and could not be removed under the Companies Act` Section 169, they said.
ALSO READ: Tata Chemicals EGM to consider removal of Cyrus Mistry, Nusli Wadia 
Under directions from Tata Sons, the three Tata Group companies have called EGMs to pass a resolution against Wadia under the Section 169.
Appearing for the Tata Sons, Senior Counsel and ex-union minister P Chidambaram argued that Wadia was a director for many years, but if his conduct changes and his attitude is making a doubt, then they could tell the shareholders that this Independent Director is no longer acting in the company`s interests.
He further argued that the body which appoints a director can only remove him, and neither the high court nor the Sebi has the power to stop the removal.
Arguing that the suit as not maintainable since the four shareholders were specific and belong to one family, Chidambaram said Wadia is a defendant in the suit, though he should have approached the high court separately to redress his grievances.
He added that the suit was "an attempt by four members of a family to stall the EGMs of the Tata Group companies," but assured the court that the due process would followed in all the EGMs scheduled next week.
Appearing for Wadia, Janak Dwarkadas said independent directors are the watchdog of investors and cannot be removed abruptly without any specific reasons.
Wadia had on Thursday filed a Rs 3,000 crore defamation suit against Tata Sons in Bombay High Court seeking damages for harming his reputation by proposing to evict him as an Independent Director in the three Tata Group companies.
Get Latest Business News, Stock Market Updates and Videos; Check your tax outgo through Income Tax Calculator and save money through our Personal Finance coverage. Check Business Breaking News Live on Zee Business Twitter and Facebook. Subscribe on YouTube.
Updated: Sat, Dec 17, 2016
04:12 pm
Mumbai , IANS