China's Geely makes $9 billion Daimler bet against tech invaders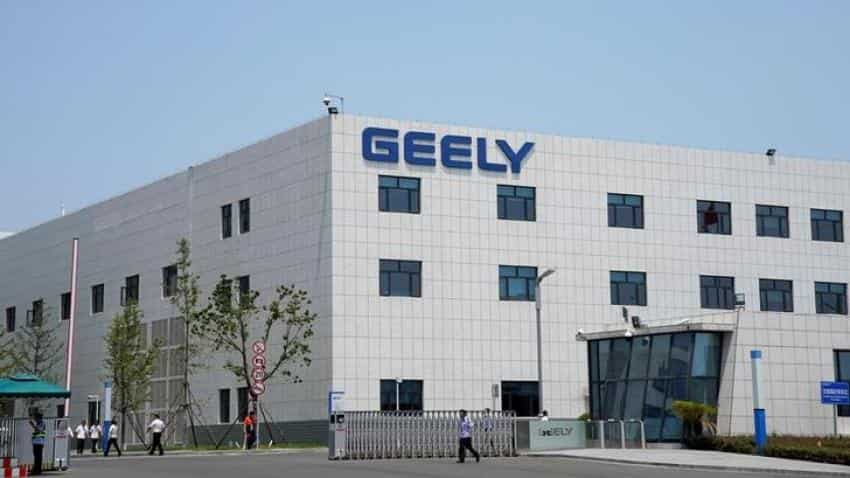 Geely officials plan to travel to Stuttgart to meet Daimler executives early next week and also hope to meet top German government officials in Berlin. Image source: Reuters
Chinese carmaker Geely has built up an almost 10 percent stake in Daimler in a $9 billion bet by its chairman that he can access the Mercedes-Benz owner`s technology in the growing battle for the future of automotives. The purchase by Li Shufu, Geely`s founder and main owner, means China`s largest privately-owned automaker is now the biggest shareholder in Germany`s Daimler.
Geely said on Saturday there were no plans "for the time being" to raise the stake further. Instead, it will seek to forge an alliance with Daimler, which is developing electric and self-driving vehicles, to respond to the challenge from new competitors such as Tesla, Google and Uber.
"No current car industry player is likely to win this battle against the invaders from outside without friends. To achieve and assert technological leadership, one has to adapt a new way of thinking in terms of sharing and combining strength. My investment in Daimler reflects this vision," Li said.
"Daimler is pleased to announce that with Li Shufu it could win another long-term orientated shareholder, which is convinced by Daimler's innovation strength, strategy and future potential," the German company said in a statement.
Geely officials plan to travel to Stuttgart to meet Daimler executives early next week and also hope to meet top German government officials in Berlin, two sources familiar with the matter told Reuters. The Chinese firm plans to use the meetings to underline that it intends to be a supportive long-term investor, they said.
Daimler had no immediate comment on any meetings. Geely and the German economy ministry declined to comment.
Chinese investors in German technology companies have tended to take a consensual approach, buying incremental stakes in companies such as robotics firms Kuka and Kion, typically after long consultation with management and other stakeholders.
In November, Geely asked Daimler to issue new shares so it could buy a stake, as a way to access Mercedes-Benz technology for electric cars and trucks, including battery technology, to help Geely comply with a Chinese crackdown on pollution.
But the German company turned down the offer saying it did not want to dilute existing shareholders, sources at the time told Reuters.
Li changed tactics, and quietly amassed a stake of 9.69 percent worth $9 billion at Daimler`s current share price.
The sources said former Morgan Stanley Germany CEO Dirk Notheis was the architect of amassing the Daimler stake, working with former Morgan Stanley China executive Yi Bao. Notheis declined to comment, while Bao was not reachable.
German state secretary at the economy ministry, Matthias Machnig, said separately that EU trade ministers meeting next week in Sofia would discuss how better to protect strategically important European companies from unwanted investors.
"It is important that Europe keeps a close eye on which key European technologies foreign strategic investors are setting their sights on," he said.
Machnig did not comment specifically on Daimler.
EXPANSION DRIVE
Only two or three auto manufacturers will likely survive, a source familiar with Li`s thinking told Reuters, prompting Geely to seek access to carmakers with a technological edge.
Daimler is also the only one of Germany`s three carmakers not to be controlled by a family. Volkswagen is majority-owned by the Porsche-Piech clan, while BMW is 47 percent owned by Susanne Klatten, Germany`s richest woman, and her brother Stefan Quandt.
Geely`s move poses a challenge to the German carmaker, since Mercedes-Benz already has an industrial alliance to develop cars and trucks with Renault-Nissan, which owns a 3.1 percent stake in Daimler, and has announced plans to build electric cars with existing Chinese joint-venture partner BAIC Motor Corporation.
Bernstein Research analyst Max Warburton said: "It`s not clear what Geely wants and how it`s going to work, but we view this move as part of a broader Chinese move to gain involvement in the European automotive industry."
"China wants a payback after spending a decade gifting the European auto industry super-normal growth and profits. Now it wants more direct access to technology, brands and profits," he wrote in a note shortly after the stake was disclosed.
Zhejiang Geely Holding owns Volvo Cars, LEVC, the maker of London`s black cabs, and last year took a majority stake in sports car maker Lotus, a 49.9 percent stake in Malaysian automaker Proton, a $3.3 billion stake in Volvo Trucks and control of flying car start-up Terrafugia.
"NOT SEEKING CONTROL"
Geely sees potential in Daimler because it is developing high-speed connectivity for autonomous cars at a time when Li believes satellite-based internet connections could become more important, the source familiar with his thinking said.
The source said Daimler and Geely had not held concrete talks about how to structure a potential joint venture, adding: "You know we have to become a stakeholder in order to engage."
Swedish truck maker AB Volvo, one of Geely`s other investments, has objected to the Chinese firm`s stake-building in Daimler, citing anti-trust concerns, the source added.
"We will protect interests of both companies by abiding laws in the country and the company`s governance structure. We are not seeking to have a controlling power in Daimler," the source added.
 
Get Latest Business News, Stock Market Updates and Videos; Check your tax outgo through Income Tax Calculator and save money through our Personal Finance coverage. Check Business Breaking News Live on Zee Business Twitter and Facebook. Subscribe on YouTube.
Updated: Sun, Feb 25, 2018
11:07 am
Reuters