UEFA Champions League Semi-Finals 2023 2nd Leg, Manchester City vs Real Madrid: Final before the Final — Preview, Probable XI, Timing, When and Where to watch
UEFA Champions League Semi-Finals 2023 2nd Leg, Manchester City vs Real Madrid: The team that manages to get through will meet Inter Milan at the Atatürk Olympic Stadium in Istanbul on June 11th for the UEFA Champions League Final. Inter defeated AC Milan 3-0 in aggregate to earn their spot in the Champions League Final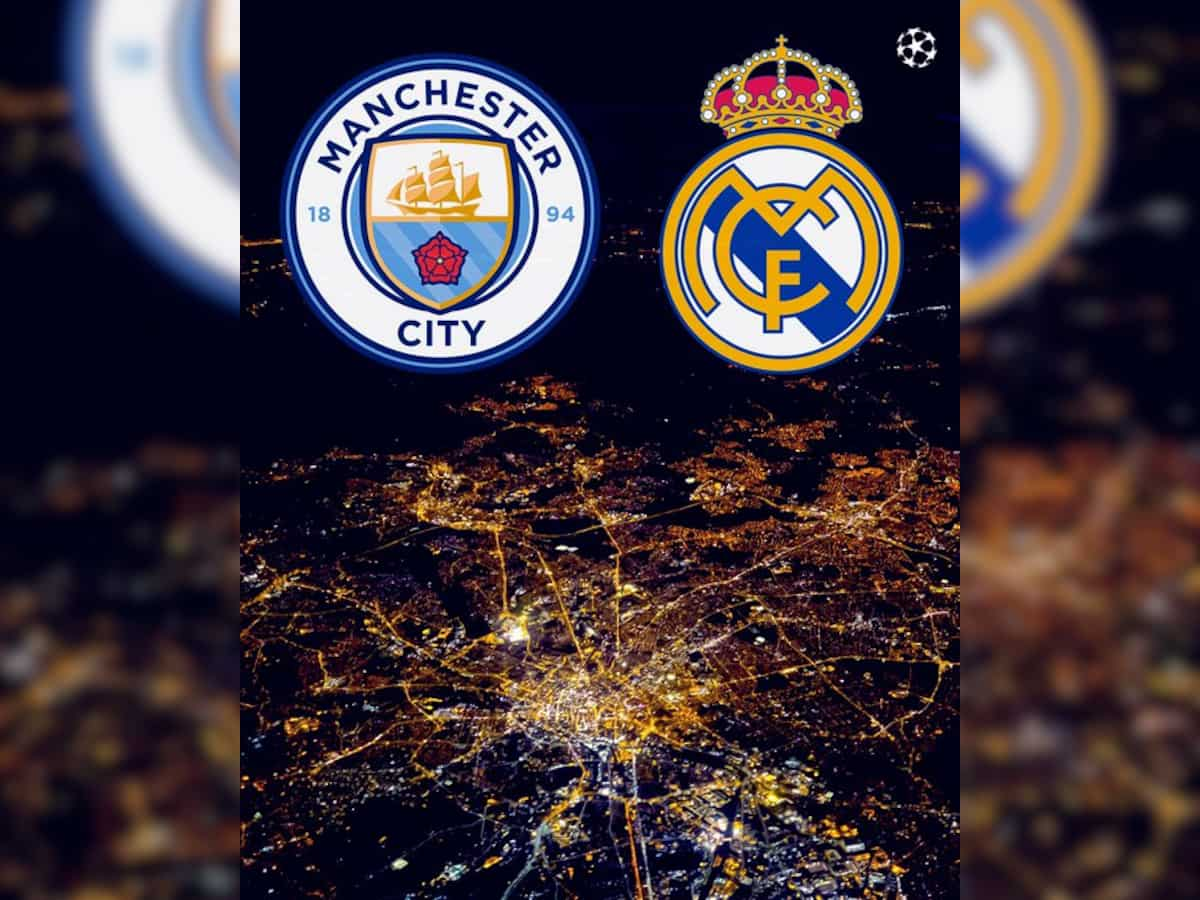 UEFA Champions League Semi-Finals 2023: City manager Pep Guardiola and Madrid manager Carlo Ancelotti, both will try to make the most of their squads to get into the Champions League Final in Istanbul. Image Courtesy: Twitter/ChampionsLeague
UEFA Champions League Semi-Finals 2023 2nd Leg, Manchester City vs Real Madrid:  In the pre-match press conference before the first leg between Real Madrid and Manchester City in the UEFA Champions League semi-finals, City manager Pep Guardiola said that everything would be decided in Manchester. And we bet he is not wrong.
After a thrilling 1-1 draw in the first leg at Santiago Bernabeu, both teams will be giving their best to win the 2nd leg. The match will be played at City's fortress, the Etihad Stadium. It will be a match that all the fans around the world have waited for. The sheer magnitude of the contest may eclipse even the Finals, as two of the world's best and most in-form teams play each other in the semi-finals on Thursday. It also defies the mere premise of a win or a loss — it will either hold a redemption story for Pep or a tale of endless glory for Ancelotti. One team will fight for their first Champions League title, and the other will try to get hold of their "La decimoquinta" which translates to "The Fifteenth" in Spanish. Not only that, but fans will be fortunate enough to witness two of the most tactically genius managers in the world of football going at it against each other. City manager Pep Guardiola and Madrid manager Carlo Ancelotti, both will try to make the most of their squads to get into the Champions League Final in Istanbul.
The team that manages to get through will meet Inter Milan at the Atatürk Olympic Stadium in Istanbul on June 11th for the UEFA Champions League Final. Inter defeated AC Milan 3-0 in aggregate to earn their spot in the Champions League Final.
UEFA Champions League Semi-Finals 2023: Manchester City vs. Real Madrid: When to watch? Match timing
The match is scheduled to be played on Thursday, May 18th, at 12:30 AM IST. 
UEFA Champions League Semi-Finals 2023: Manchester City vs. Real Madrid: Where to watch? Live streaming
The match can be viewed on the Sony Sports Network in India. Fans can watch the live streaming of the UEFA Champions League matches on SonyLIV and JioTV.
UEFA Champions League Semi-Finals 2023: Manchester City vs Real Madrid: Head-to-Head Record in UCL
This will be the tenth time both teams will face each other in the Champions League. Both teams are equally matched in the Champions League. Both have won, lost, and drawn three times each in their last nine meetings.
UEFA Champions League Semi-Finals 2023: Manchester City vs Real Madrid: Current Form
Currently, Manchester City has been in stellar form going into the semi-final. They are now on a 22-match undefeated streak, winning 18 of them in all competitions. Apart from that, they have never lost a match they have played at home in the UCL since Lyon defeated them 2-1 back in 2018. On the other hand, Real Madrid has been inconsistent with their performance lately. They have just won three out of their last six matches played in all competitions. However, one of the wins saw them lift the Copa Del Rey trophy. 
Besides, Ancelotti is a master of tactical nous when it comes to big occasions like the business end of the Champions League. And Real are the most successful club in this competition. Manchester City will also not hold back; they have won it all, barring the Champions League trophy. Pep will also go all out to win the elusive prize, that has eluded him since 2011 with Barcelona.
UEFA Champions League Semi-Finals 2023: Manchester City vs Real Madrid: Injury List
Real Madrid will be in big trouble with its list of players who have not recovered from their injuries suffered in the previous leg. Defender David Alaba, winger Rodrygo, and charismatic captain, Karim Benzema, are doubtful starters. Besides, there is concern regarding their midfielder, Eduardo Camavinga, as he received a blow to the knee in the first leg.
Manchester City has all of its players who started the first leg fully fit for the match. However, it is doubtful if defender Nathan Ake will be included in the squad for the match. 
UEFA Champions League Semi-Finals 2023 - Manchester City vs Real Madrid: Squads, Playing 11
In most cases, it has been seen that Guardiola overthinks his strategy in big matches. But in a recent press conference, he said that he would not be repeating his mistakes, and it is expected that he will start with the same starting 11 as in the first leg. He is likely to play a 3-4-2-1 formation with the Brazilian Ederson Moraes between the sticks. Kyle Walker, Ruben Dias, and Manuel Akanji will play as the back three, with two holding midfielders in John Stones and Rodri. Bernardo Silva and Jack Grealish will be on the flanks, giving support to Kevin De Bruyne and Ilkay Gundogan, who will be in the midfield. Erling Haaland will be up top as the striker.
If all goes well for Real and their players are fit to start the game, Ancelotti will also start the same starting 11 as in the first leg. It is expected that he will play a 4-3-3 formation, with the Belgian shot-stopper Thibaut Courtois starting in the goal. Eduardo Camavinga* and Dani Carvajal will feature as the full-backs, along with Antonio Rudiger and David Alaba* as the center-backs. In the midfield, Luka Modric, Federico Valverde, and Toni Kroos will start, along with Vinicius Jr. and Rodrygo* on the wings. With Karim Benzema* as the lone striker.
UEFA Champions League Semi-Finals 2023, Manchester City vs Real Madrid: Pep Guardiola vs Carlo Ancelotti
It will be a treat to watch as two of the greatest managers in the football world will duel against each other to get one step closer to the UEFA Champions League glory. Both are known for their tactical nous, and it will be quite interesting to see how one can get the better of the other on the pitch. They have faced each other for a total of nine matches. Pep has the upper hand so far. He won five out of the nine games, while Ancelotti's teams have won the remaining three. 
Updated: Thu, May 18, 2023
12:48 pm
ZeeBiz WebDesk